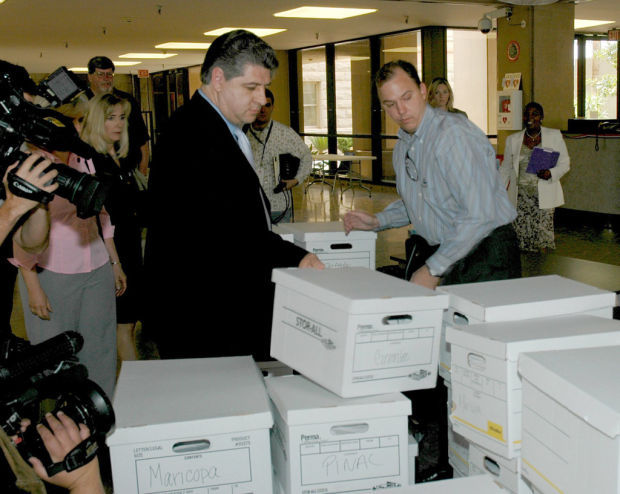 PHOENIX — Republican lawmakers advanced legislation imposing a new hurdle on the ability of citizen groups to propose their own laws to voters.
HB 2404 would make it illegal to pay initiative petition circulators based on the number of signatures they gather. Already passed by the House, the measure cleared the Senate Judiciary Committee Thursday and goes next to the full Senate.
Rep. Vince Leach, R-Tucson, who is carrying the bill for business interests, told the Senate Judiciary Committee that the process is considered by some to be "rife with fraud" and Arizonans have "lost confidence" in it.
"I'm wondering where you got that belief from and if you have some sort of way to back that up," responded Sen. Martin Quezada, D-Glendale. Leach said he got it from a political newsletter.
What Leach has advanced under his name is the top priority of the Arizona Chamber of Commerce and Industry. The chamber made "reform" of the initiative process its top legislative priority in the wake of voter approval of increasing the minimum wage.
The organization brought out attorney Brett Johnson to argue in favor of the measure. But Johnson, under questioning from Quezada, conceded he had no actual evidence of fraud in any Arizona initiative. Instead, he cited some studies from other states.
Interests that have had relative success getting what they want from the Republican-controlled legislature have lined up behind the legislation. Those includes all major utilities, the Center for Arizona Policy, the hospital association and a group that lobbies on behalf of building owners and managers.
Supporters of the new restriction also include groups that have been the target of successful initiative efforts, ranging from the Arizona Cattlemen's Association, which opposed the 1994 voter-approved ban on leghold traps, to the Arizona Restaurant Association, which led the unsuccessful fight to quash the just-approved increase in the state minimum wage.
The measure drew opposition from Teresa Ulmer, who lobbies for Living United for Change in Arizona, which got the minimum-wage hike on the ballot.
Sierra Club lobbyist Sandy Bahr, who has been involved in several successful initiatives, said it's already difficult to get a measure on the ballot. "Making it more difficult and more expensive is the opposite direction we should be moving relative to this important constitutional right," she told lawmakers.
Bahr did not dispute figures cited by Leach that show close to 36 percent of the signatures checked on petitions this past year turned out to be invalid. But she said it would be wrong to equate that with fraud, saying even technical flaws with someone's signature can invalidate it.