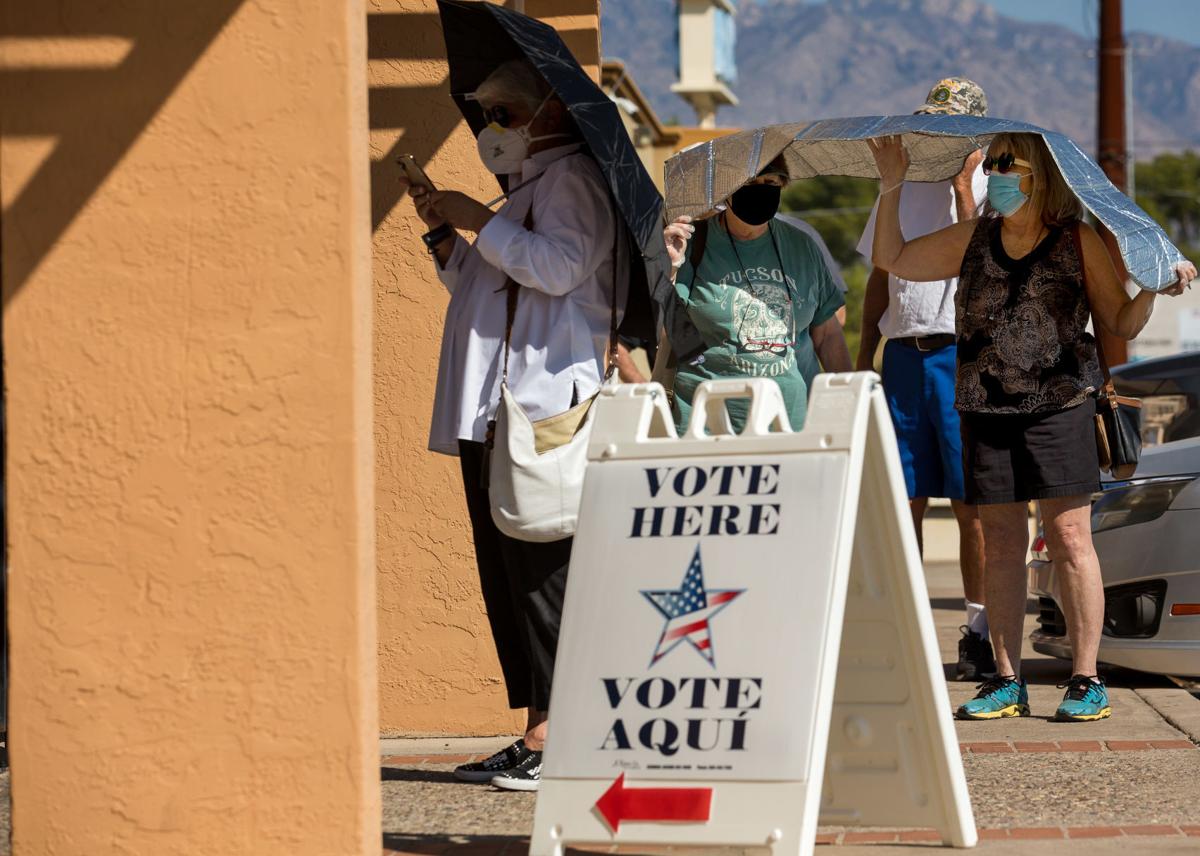 A federal judge will decide whether the Pascua Yaqui Tribe in Southern Arizona is entitled to have its own early voting location.
Attorneys for the tribe, which has between 3,000 and 4,000 of its enrolled members who live on the 2,200-acre reservation, say Pima County Recorder F. Ann Rodriguez is violating the federal Voting Rights Act with her decision not to set up these sites where residents can drop off their early ballots or cast their votes ahead of the Nov. 3 general election.
The result, according to attorney Mary O'Grady, is that the nearest site is 8.5 miles away. And with many residents lacking their own transportation, that leaves only the option of taking two buses, a process she said can take at least 60 to 90 minutes each way.
"Rodriguez has displayed an alarming lack of responsiveness to the particularized needs of Yaqui voters," she wrote. And O'Grady said the recorder's communications with the tribe over the issue "are dismissive and disrespectful, rely on stereotypes about Native Americans, and suggest racial animus."
But Rodriguez said there just aren't enough early voters on the reservation to justify such a site which she said takes time and resources to set up and staff.
"The location of Pima County's early voting since since at least 2006 has tracked demand for early voting, not racial animus or insensitivity," she responded to the lawsuit.
She said early voting turnout in the precinct reached a "record low" in 2016, with only 44 voters using the site over an entire week — and only 29 of whom lived in the precinct. And Rodriguez said there is no evidence that a single tribal member has been unable to vote since the site was discontinued two years ago.
Rodriguez also said there are alternatives, like the tribe using its own resources or seeking outside funds to transport voters to the Mission Library, near West Ajo Way and South Mission Road.
And then there's the simple fact of having waited until now to file suit, right before the election — and mere days before it wants the remote location set up on Tuesday, Oct. 20.
"Plaintiff could have brought its claim years ago," attorney Brett Johnson wrote on her behalf.
"The Recorder's Office informed plaintiff it was closing the on-reservation early-voting site at the tribe's radio station on July 18, 2018, more than two years ago," he continued. "And between 2018 and 2020, Recorder Rodriguez conferred with tribal leaders multiple times to look for viable solutions, but came up empty-handed."
None of this affects where tribal members will be able to vote on Election Day. The county still intends to operate its regular polling place at the Azul Room in the Tribal Wellness Center.
But O'Grady said offers to use either that site or the Tribal Council Chambers have gone unheeded by Rodriguez. With time running out, she said, the tribe filed suit to force the issue.
What U.S. District Judge James Soto will have to decide Monday is whether the actions — or inactions — by Rodriguez run afoul of federal voting laws.
Those laws bar states and their political subdivisions from imposing any voting qualification that "results in a denial or abridgment of the right of any citizen of the United States to vote on account of race or color."
O'Grady told the judge he has to decide, based on the totality of the circumstances, whether the political processes "are not equally open to participation by racial minorities in that they have less opportunity than other members of the electorate to participate in the political process and to elect representatives of their choice."
In this case, she said, the decision by Rodriguez to close the tribe's only early in-person voting location has "a severely disparate impact on Native American voters in Pima County."
It starts with her argument that the reservation is in the only neighborhood in the entire metropolitan Tucson area that has seen a loss in early voting sites. Yet O'Grady said the reverse is true for the rest of the county.
"Early voting sites in Pima County are clustered in the racially white areas of the city and away from the Native American parts of the city, favoring access for white populations of the city," she wrote, citing the findings of an expert hired by the tribe to study the issue. Then there's the lack of vehicle ownership and the long bus ride.
And then there's the pandemic, with Native American communities at greater risk of contract and spreading COVID-19. O'Grady said the tribe has reported 532 confirmed cases in the Tucson area and 30 deaths among its members.
"And because voting by mail is not a trusted or reliable option in most Native American communities, shuttering the tribe's only in-person early voting site forces its members into impossible choices: abstain from voting altogether to keep themselves and their communities safe, risk a crowded polling place on Election Day, or spend hours confined to a public bus to vote early in person," she said. "Faced with those choices, many Yaqui voters may be unable to vote at all."
But Johnson, writing on Rodriguez's behalf, said all that is legally irrelevant.
"They merely speak to tribal members' alleged inconvenience in casting an early ballot," he told the judge. And that, Johnson said, does not violate the Voting Rights Act.
O'Grady, however, said that Soto also needs to consider of what she said is a "long history of race-based discrimination" against Native Americans, including the Yaquis. She said Native Americans were not considered citizens until 1924 and the Arizona Constitution barred reservation residents from voting in state elections until 1948.
There also are other factors, she said, like discrimination in education, employment and health as well as a 46% poverty rate on the reservation and an unemployment rate of 26.2% even before COVID-19.
Johnson told Soto that is not germane. He said examples of historical voting-related discrimination "are not contemporary and ignore positive trends in minority voting (including mail-in voting), turnout, and consideration of minority interests in the redistricting process."