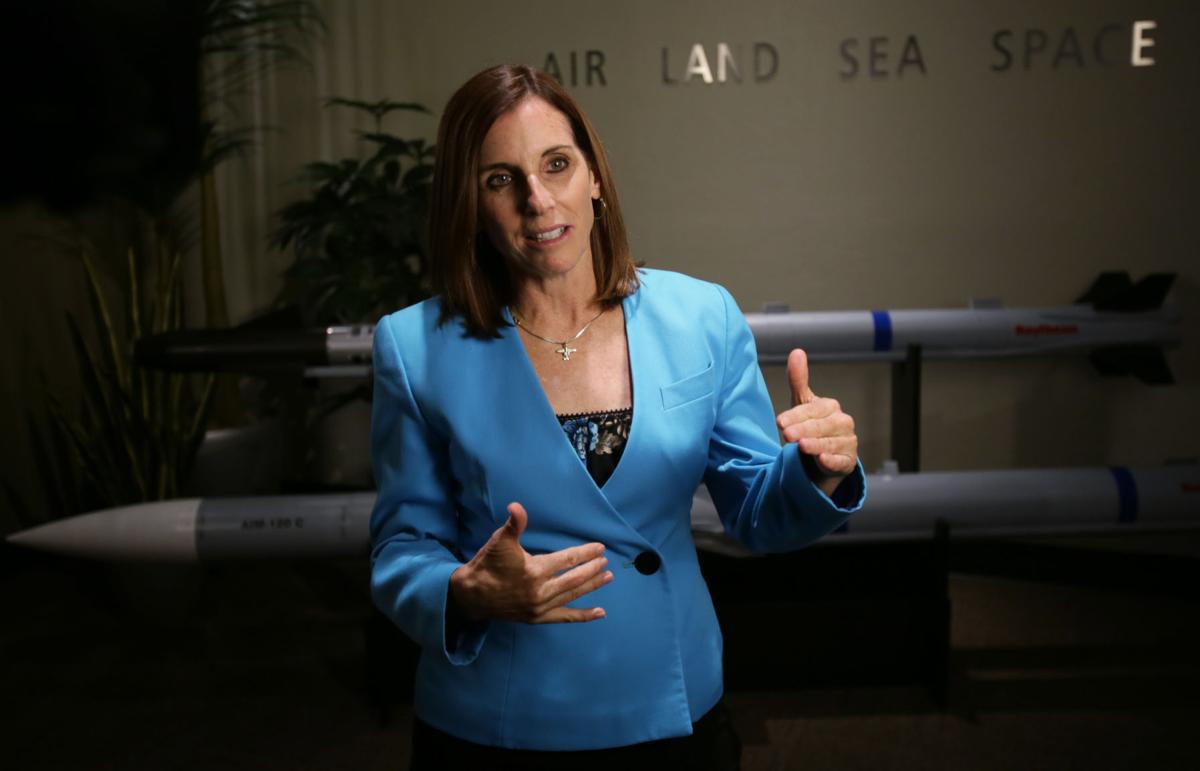 U.S. Rep. Martha McSally held her second telephone town hall on Tuesday night, talking with about a dozen people while thousands listened.
The two-term Republican spent most of the hour-long phone call trying to stay on message, talking about repealing and replacing the Affordable Care Act, addressing national security issues and helping her constituents, and repeatedly giving out her office number.
But McSally again found herself on the defensive as some callers pressed her to take a position on whether she'd support a congressional inquiry into President Trump's alleged ties to Russian investments.
Here are five takeaways of McSally's positions from the telephone town hall:
Congress will repeal ACA
McSally was short on specifics on how Congress would repeal and replace the ACA, and largely echoed comments she made on the campaign trail.
During comments before taking questions, McSally told callers that she has been talking to the House GOP leadership about the issue.
She cited various flaws of the ACA, including policies in place that only cover catastrophic coverage and the relatively few choices in the ACA marketplace, especially in rural counties.
Flynn's resignation was the right decision
Asked to weigh in on Michael Flynn's resignation Monday as national security adviser, McSally noted she met with Vice President Mike Pence over lunch on Tuesday. She didn't disclose the details but said Flynn was discussed.
"I believe it was the right decision," she said of the resignation.
She added she hopes a new adviser will be appointed quickly.
Won't commit to a congressional inquiry
A caller from Sierra Vista asked McSally to support a formal congressional investigation into Trump's business interests, specifically in Russia.
McSally was noncommittal, saying she has to read such legislation before she would support it.
"I'd be happy to take a look at it," she said. "We will give it a look."
Defends vote to repeal Obama rule on guns
McSally defended her recent vote to repeal an Obama administration rule that would block gun sales to certain people. McSally railed against what she called inaccurate media coverage — even asking the caller for the source of her information — before saying why she voted to reverse the Social Security Administration rule.
The flawed rule, McSally said, automatically forwarded names to the National Instant Criminal Background Check system of anyone on Social Security disability or SSI who received assistance from a representative payee to help manage their benefits.
Labeling them as mentally ill is unfair and gives too much power to unelected bureaucrats, McSally argued.
She isn't backing down on town halls
Anyone expecting McSally to apologize for declining to participate in an in-person town hall next week left disappointed.
At Tuesday's telephonic town hall, McSally didn't specifically discuss her last telephone town hall, in which she labeled the organizers of a Feb. 23 town hall as activists seeking to "ambush" her.
McSally talked up various public meetings she has had, noting she has met with numerous groups, including those that disagree with her, since taking office.
Earlier in the evening while talking to a different caller, McSally said she hopes for more forums where people could discuss issues and disagree but without personal attacks.