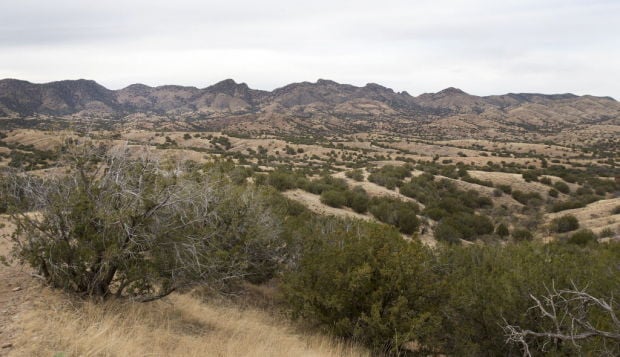 A former Rosemont Copper lobbyist served as the head of President-elect Donald Trump's Interior Department transition team before being removed this week in an apparent purge of lobbyists from the team.
David Bernhardt lobbied for the mining company from 2011 through 2015, among numerous other lobbying contracts, and remains a consultant to Rosemont. He was appointed to the Trump transition team before the Nov. 8 election. But last week, numerous national media outlets reported that Vice President-elect Mike Pence had decided to get rid of all lobbyists from the transition team.
On Monday, Bernhardt was replaced by David Domenich, who like Bernhardt had worked for the Interior Department during George W. Bush's presidency. Bernhardt was the department's solicitor during much of the Bush era.
Bernhardt's role in the Trump transition may not be over, however. On Nov. 18, he officially ended his last publicly recorded lobbying role, for the powerful Westlands Water District in California's Central Valley. That could be seen as an effort to remove his sudden stigma of being a Washington, D.C., lobbyist.
The Interior Department won't be making the final decisions on the Rosemont Mine proposal. But its Fish and Wildlife Service, Bureau of Land Management and U.S. Geological Survey all have played major roles in the protracted controversy over the mine. Fish and Wildlife, for instance, wrote a key biological opinion concluding that the mine won't jeopardize the existence of endangered species or illegally damage their critical habitat.
Bernhardt's employer, the law firm Brownstein Hyatt Farber Schreck, has spent $1 million lobbying on Rosemont's behalf since 2011, according to the website OpenSecrets.org, which tracks federal lobbying efforts and campaign contributions.
Rosemont Copper, now owned by Hudbay Minerals Inc., has been trying since 2008 to obtain state and federal permits to mine copper and dispose of its waste rock and tailings on private and federal land in the Santa Rita Mountains southeast of Tucson. While the company has pledged to be more sustainable than most mines, it has drawn major opposition and has run into numerous delays in its quest for permits.
Most recently, in July, the U.S. Army Corps of Engineers' Los Angeles office recommended to Corps higher-ups that a Clean Water Act permit be denied to the mine. A Corps decision — which Hudbay could appeal — is expected within months.
On its website, the Brownstein firm says of Rosemont: "The firm is assisting Rosemont in development of one of the largest copper mines in the world. Specifically, we are advising the company on all aspects of obtaining NEPA (National Environmental Policy Act) and endangered species permitting issues. We are also working closely with Rosemont to promptly obtain all necessary air, water and land use approvals."
Scott Brubacher, a spokesman for Hudbay Minerals, said this week that Bernhardt remains a consultant to Rosemont.
Bernhardt's representation of Rosemont and Westlands were mentioned in a stinging letter to Trump on Nov. 15 from Sen. Elizabeth Warren, a Massachusetts Democrat, that accused Trump of betraying his promise to "drain the swamp" in D.C. by eliminating the influence of lobbyists and other insiders. Bernhard was one of 21 lobbyists and Wall Street executives mentioned by Warren.
At roughly the same time, various news outlets reported Pence's efforts to remove lobbyists.
Bernhardt's office referred an inquiry from the Star about his future transition team role to the Trump transition office. The office hasn't returned emailed questions about Bernhardt's status.