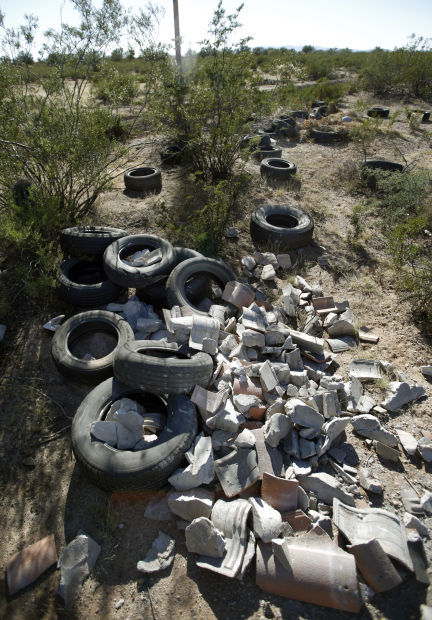 Plastic bags, bottles and cans. Phone books, mattresses and clothing. Needles, tires and manure.
All these items and more are routinely, illegally dumped in Pima County.
In Arizona, it is illegal to store waste in a manner that is hazardous to public health or to dispose of waste anywhere but landfills, transfer stations, or through a permitted waste hauler.
Over the past three years, about 2,000 complaints of illegal dumping, also known as "wildcat dumping," have been filed with the Pima County Department of Environmental Quality.
While there was a spike in complaints last year, 2014 seems to be on track to register a decrease in complaints. Violation notices have been generally declining since 2011.
Illegal dumping has many possible negative effects on the community. Dumpsites can become safety hazards and breeding grounds for disease carriers likes flies, roaches and rats. They can cause pollution and disrupt wildlife habitats. Illegal dumpsites can also lower property values and the quality of life in an area.
Almost all sites are inspected and violations issued within a week of a complaint. Over the past three years, 40 percent of dumpsite inspections have resulted in a violation.
K.C. Custer is an environmental investigator who conducts inspections and has been with the Pima County Department of Environmental Quality for 26 years. When he goes out to inspect a site, Custer said he looks for evidence that could lead to whomever is responsible for dumping the waste, such as anything with a name or an address.
"It used to be common, but not anymore," he said. "Now they're getting smarter."
If a violator is identified, responsible parties are required to remediate the site, pay county court costs, and document the proper disposal of the waste to the PDEQ.
Compliance deadlines vary according to the severity of the violation.
Repeat violators could face court-ordered fines or even jail time for contempt of court if ordered by a judge. If a responsible party isn't identified, Custer said the burden falls to others to clean up the site if it's on public property.
"We usually work with the government entity associated with the property and either they do a cleanup or we help arrange a cleanup through the adult probation program," said Beth Gorman, senior program manager at the PDEQ.
Over the past three years, the illegal dumping program has spent more than $735,000 on cleanup, court costs, overhead, postage and staff costs. So far the cleanups on public land have removed 52 tons of waste.
If the illegal dumping occurs on private property, the owner of the property is responsible for the cleanup.
WHERE IT HAPPENS
While dumping happens all over the county, some areas see heavy activity, such as washes, which yield about 13 percent of complaints.
"Complaints come from all over in the county, people complain everywhere," Custer said. "But there are more on the south side than the north, more on the west than on the east.
"It all depends on money, I guess."
Most of the violations occurred on the south side of Tucson, with 63 percent of violations issued in supervisor districts 2 and 3.
"The problem is much bigger than people realize," District 2 Supervisor Ramon Valadez said.
Valadez said the areas of Littletown, Old Nogales Highway Colonia, and areas that are removed from urbanization see a lot of illegal dumping activity.
"It happens a lot in places that are still easily accessible, but remote enough that someone's not going to drive by," Valadez said.
MEASURES To combat illegal DUMPING
In early October, the PDEQ had to deal with a cleanup at a particularly problematic location on the south side.
Previously, Custer had constructed a berm — large mounds of dirt that act as a barrier — in an attempt to discourage violators from dumping in the area between the Hughes Access Road and Old Vail Road.
"But folks took them down to continue dumping," Valadez said.
Custer suggested that those responsible for the property could construct another fence and that the Pima County Sheriff's Department, the Border Patrol and he himself could routinely patrol the area.
Custer cleaned up the dumpsite and removed 10 tons of waste.
Valadez said the district has done regular cleanups for years. Over the past three years, it has conducted 16 cleanups, totaling 240 manpower hours and resulting in the removal of around 122 tons of waste.
Tires have been a recurring problem for Valadez's district. Since 2000, officials have disposed of 1,241 tires from illegal dumpsites, including 590 in 2010 alone.
EXTREME CASES
People will often dump animal feces or manure.
One entry in the PDEQ's illegal dumping complaint database reads, "Putting manure on roadway in front of his property. Trying to fix road with horse manure," while another one says, "This guy is out here filling potholes in road with horse manure."
But Custer said he has seen things worse than manure and feces.
"The worst is when they dump an animal," Custer said. "They get kind of rank."
There are multiple records of dead horses, dogs, cats, cows and even a "tub of dead chicken carcasses" being dumped illegally around Pima County.
One complaint about a dead animal carcass said, "The smell is atrocious by his son's bus stop … the animals are all (in) the extreme state of decomposition."
There are restrictions in Tucson when it comes to burying a dead animal because of environmental concerns, even if it's in a person's own backyard.
One complaint cites concerns about a water well being contaminated because of dead animals.
If the animal found isn't large, like a horse or a cow, the body is removed along with the rest of the waste and taken to the landfill to be buried and properly disposed of so it won't cause a nuisance or public health problem.
If it is livestock, the state livestock inspector will attempt to identify a brand or tattoo on the animal so they can contact the animal's owner and investigate.
For the rare violation that presents an imminent threat to health and welfare, such as raw sewage, the department issues an Order of Abatement.
This requires the person to immediately cease the pollution-causing activity and clean up the problem.
Other times, the PDEQ will refer dumpsites to other government agencies like the city of Tucson's Department of Natural Resources or the Pima County Regional Flood Control District if they're better equipped.
Get Government & Politics updates in your inbox!
Stay up-to-date on the latest in local and national government and political topics with our newsletter.