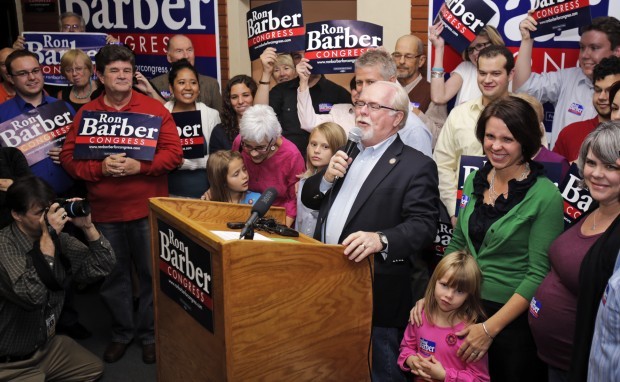 Republican Martha McSally has conceded the race to represent Arizona's second Congressional District in Congress to U.S. Rep. Ron Barber.
McSally, a former Air Force pilot, held a news conference this afternoon to announce she was admitting defeat in the extremely tight race, where since election day the two have been running neck and neck. Both were invited to an orientation session for new members of Congress last week.
McSally said she called Barber to congratulate him today. She described the race as an "amazing journey."
Barber easily won a June special election to finish out the term of former U.S. Rep. Gabrielle Giffords, who resigned to focus on her recovery after being shot through the brain on Jan. 8, 2011. Barber, who was Giffords' district director, also was shot that day. She endorsed his candidacy.
Despite the endorsement, this race was so tight that a winner could not be determined for more than a week and, at times, the number of votes separating the two were in the double digits.
No ballots are being counted today, but as of Friday night, Barber was ahead by 1,402 votes out of more than 285,000 ballots counted. That gave the Democrat 50.15 percent of the vote to McSally's 49.66 percent.
About 16,000 provisional ballots remain to be counted in Pima County, but there is no way to determine how many of those fall within CD2 rather than Congressional Districts 1 and 3. CD2 also includes Cochise County, where all votes have been counted.
Provisional ballots are required if a voter receives an early ballot and then decides to vote at their polling place instead, which means workers have to check to make sure they didn't vote twice. Provisional ballots are also cast by voters who may not have shown up on polling place rosters, those who reported to the wrong polling place and those who didn't have the proper identification. All those potential problems have to be checked out before the votes can be counted.
Barber's victory means Democrats have the majority of the state's congressional delegation, holding five of the state's nine U.S. House seats, while Republicans' only congressional victories in Arizona were in districts safe for GOP candidates.
The Republicans had a 5-3 advantage in the state's U.S. House delegation going into the Nov. 6 election, which filled a new ninth seat.
Democrat Krysten Sinema won the new Phoenix-area 9th District over former Paradise Valley mayor Vernon Parker, while Democrat Ann Kirkpatrick regained her old congressional seat by beating Republican Jonathan Paton in the 1st District.
With Rep. Jeff Flake's victory over Democrat Richard Carmona, Republicans will continue to hold both of the state's U.S. Senate seats.
Barber said he was not surprised that the race was so tight, considering the state redistricting commission intentionally designed it and two others — the ones won by Sinema and Kirkpatrick — to be winnable by either party. The other five Arizona congressional seats are basically winnable by only one party, four Republican seats and two Democratic.
"We just worked really hard to get our message out, and to make sure that we could say who we are and what I'm about to voters," he said.
The Associated Press contributed to this report.