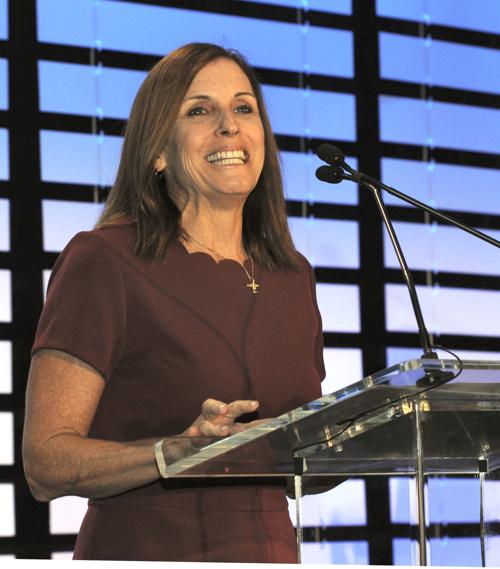 Though U.S. Sen. Martha McSally supports President Trump's goal to secure the border, she has some concerns on how his administration plans on paying for it, she told reporters during a visit to Tucson on Friday.
Listed in the Washington Post as one of 22 senators with "no declared stance" on Trump's national emergency declaration, McSally continued to defend that she has no position a week after his announcement.
"I think people want their senator to not make knee-jerk statements or reactions to a very complex legal and funding issue. So I still have some questions that we are working with the administration — my staff as we speak is actually meeting with White House officials," she said. "Specifically about, there's the legalities of the national declaration of emergency, but then there's the funding mechanism and the pots of money and the issues related to that."
McSally told reporters that she was skeptical of a list of projects that are floating around in Washington of military projects that could be impacted, saying it was distributed by House Speaker Nancy Pelosi, D-Calif.
"Pelosi handed out a list to all the Democrats to start doing scare tactics about all the projects that weren't going to happen. That's not necessarily accurate," she said.
However, as a four-year veteran on the House Armed Services committee, McSally said there was a possibility that several projects on Arizona military bases could be impacted, including at Davis-Monthan Air Force Base.
"As far as I can tell, there are four Arizona projects that are un-obligated. Two at Luke Air Force base, related to the F-35. One at Davis-Monthan," she said. "And then there's another one at Camp Navajo."
The project at D-M McSally referred to was a $15 million project for a new aerospace ground-equipment facility.
The defense authorization bill signed by President Trump in August authorized funding for the facility.
She vowed that the emergency declaration would not impact the projects.
"I will tell you, I'm going to continue to go to the mat to fight to make sure that our military and our military bases here in Arizona are funded and not impacted, and I am going to make sure that that doesn't happen," she said.