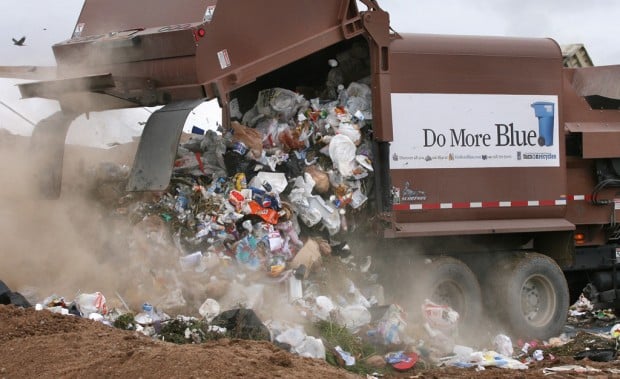 Tucson would like us all to just bag it.
The city code says residents are supposed to bag and tie their trash before throwing it in the bin - but that's not happening.
All that litter you see around the place? Sure, some of it was tossed from car windows. But a lot of it, said the city's environmental services spokeswoman, Cristina Polsgrove, is the result of folks just letting their empty bags of chips and soiled paper towels run free.
"If it's not bagged, when you're dumping it into the hopper, it can fly off with wind gusts that come up. It attracts flies and odors. It's just messy," Polsgrove said.
The city last week distributed 3,000 garbage bags, one per door, in two south side neighborhoods in the initial round of a pilot program designed to encourage those with naked trash to do something about it.
Other neighborhoods, to be identified by waste truck drivers, will subsequently receive door hangers. There will be a newsletter article and an insert in the March and April water bills as well.
Polsgrove said it is not only a matter of responding to increasing complaints about litter across the city, but a matter of staffing as well, since drivers are instructed to stop and clean up messes when trash makes a run for it.
Joan Lionetti, the executive director of Tucson Clean and Beautiful, said her organization is fielding more and more calls about litter.
"We can see a pattern in phone calls and complaints, and you can see it along the roadways," Lionetti said. "Our city is in a severe blight at this point. When family comes to visit, you really have to figure out which route to take."
Lionetti said she would like to see the city devote more resources to cleaning up medians and the sides of the roads, but said at a minimum, education is a good supplement. "I think there really has to be a consistent reminder."
Polsgrove said it doesn't have to cost more. For those who don't want the added expense of buying bags, she said, that's a good use for those ubiquitous plastic bags.
After all, a plastic bag is a terrible thing to, er, waste.