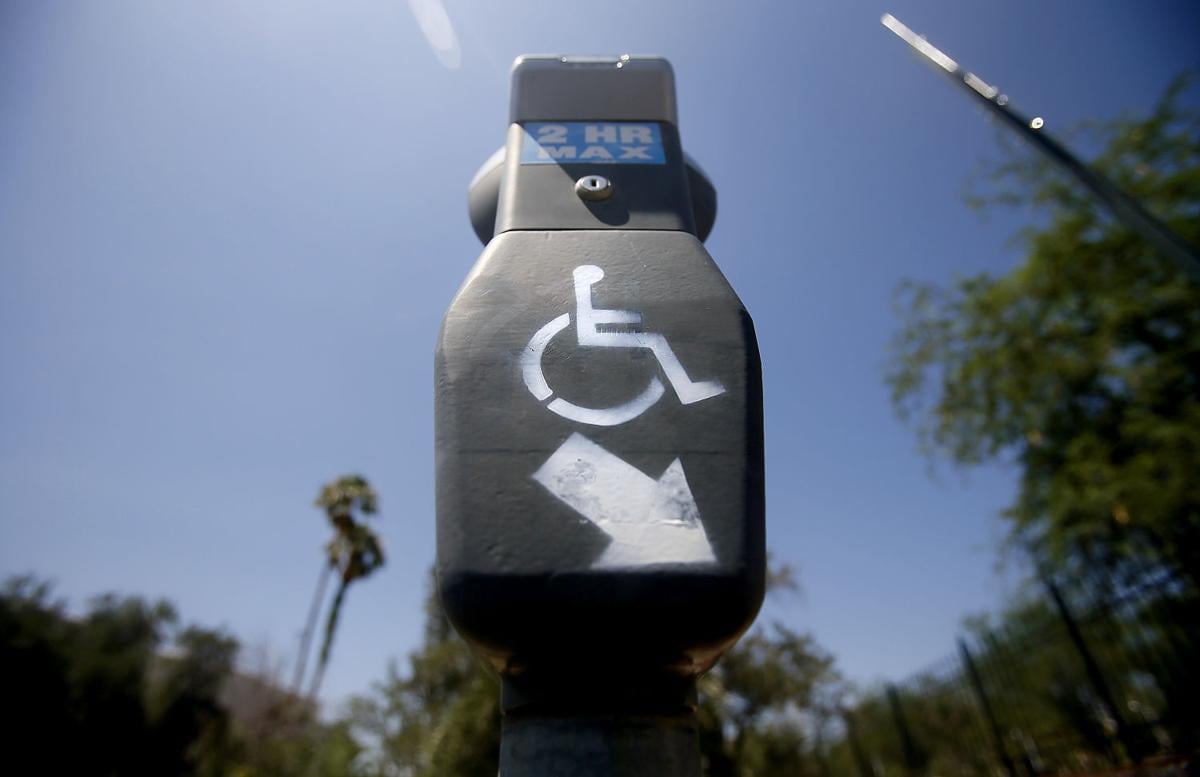 Tucson may have installed 1,500 new parking meters at the wrong height, making them hard to use for people in wheelchairs.
Tucson resident Jim Diller filed a complaint about the meters last week with the city's ADA coordinator, Matthew Larsen.
Diller said Americans with Disabilities Act standards say the "operable parts" of a parking meter must be no higher than 48 inches from the ground. He said he has seen some keypads on Tucson meters as high as 56 inches.
The display screens also may not meet ADA visibility standards for accessibility, he said.
Diller pointed out that several other cities, including Pittsburgh; Reno, Nevada; Louisville, Kentucky; and Newark, Delaware, all had to lower newly installed smart meters following complaints and lawsuits.
Park Tucson, the parking division of the city's transportation department, paid $472 for each meter. They were installed mainly on existing poles — in place long before the 1990 Americans with Disabilities Act — in the downtown, Main Gate Square and University of Arizona campus areas this past winter. New poles and meters were installed in the Fourth Avenue area.
Park Tucson administrator Donovan Durband said the city is working on a response to the complaint and was working to address the problem even before Diller's complaint was filed.
The city lowered the height of the poles for meters at some designated handicapped parking spaces, he said, because staff members thought only designated spaces needed to meet the ADA standards.
Arizona Center for Disability Law legal director Rose Daly-Rooney said alterations to existing infrastructure must meet ADA standards.
"Based on our interpretation of the Americans with Disabilities Accessibility Guidelines definition of alteration, changing out the parking meters could constitute an alteration that would require a city to meet applicable accessibility guidelines, such as reach range," she said.
The city has a different interpretation of the ADA requirements and is working with the meter manufacturer, Durband said. The meters were manufactured by IPS Group and installed by IPS and its contractor with help from Park Tucson.
The meter installation is an ongoing project, and the city still plans to standardize the meters and improve the looks and the signage, Durband said.
Diller, who has filed a number of ADA-related complaints with the city over several years, said the city is finding excuses to avoid meeting standards.
"The parking meters are just the latest slap in the face," he said. "With a tape measure, you could have done this job right."
If the city can't afford to do the work, it certainly can't afford to do the work twice and settle a lawsuit over it, Diller said.
With the new meters and higher rates, Park Tucson expects to collect $1.49 million from parking meters this fiscal year, up about 35 percent from the fiscal year ended June 30.