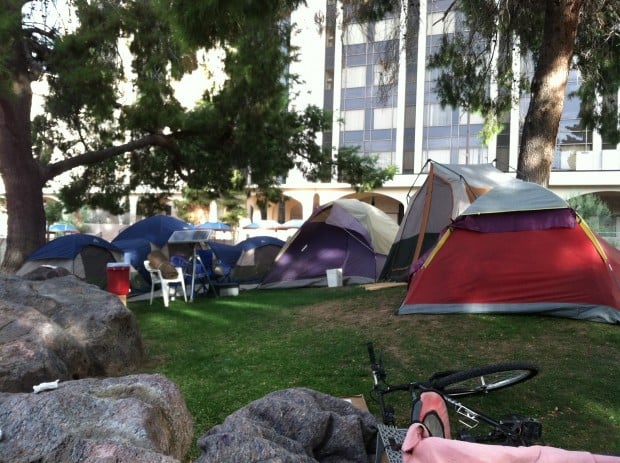 Occupy Tucson protesters have filed a complaint in federal court, asking a judge to prevent the city from taking any action to evict them from city parks or issue any more tickets for violating curfew.
Civil rights attorney Paul Gattone filed a complaint in the U.S. District Court on behalf of seven plaintiffs taking part in the national resistance movement, which is protesting the impacts of corporate influence in the political scene.
Some have been arrested multiple times, such as plaintiff Samuel Agger, who has been arrested nearly 30 times, and sometimes three times in a single night, according to the complaint. Others say they've had to curtail their political expression to avoid arrest, such as plaintiff Craig Barber, who leaves camp every night before 10:30 p.m. to avoid getting a citation.
The suit says the law chills free speech protections under the First Amendment and violates freedom of assembly protections under the state constitution.
As of Sunday, police had issued 505 citations since the protest began on Oct. 16, said Tucson Police Department spokesman Matt Ronstadt. Protesters have been cited and released.
Although the suit alleges 100 officers descended on Armory Park on Thursday to evict protesters there, Ronstadt said 65 officers took part, and there was no force used. After protesters were told they would be physically taken to jail if they didn't leave, Ronstadt said they all moved to another nearby park downtown, removing all of their personal property.
Penalties for the cita tions, a Class 1 criminal misdemeanor, can be as much as a $1,000 fine and six months in jail.
A planned City Court hearing Monday aimed to prevent cited protesters from returning to the park and picking up more citations. The hearing was delayed for a week.
The federal suit names the mayor and council, parks director, city attorney and the police chief, personally and in their official capacity.
Gattone, who is doing the case for free because he supports the effort, argued the "occupation" can't be separated from the political message of the movement, which requires solidarity with other similarly minded people. "The occupation is the message, and the message is the occupation," he said in the lawsuit.
"Your right to expressive activities does not stop at 10:30 p.m.," he explained in an interview.
The complaint argues that the city's park permit requirement for events not only restricts the First Amendment, but notes the reservation fees of $155 per day and requirements for liability insurance are unreasonable, because there's no alternative if plaintiffs can't pay. Gattone said he's not necessarily arguing that there shouldn't be permits - saying concerts and events need to be permitted to avoid competing days - but political expression should not require permits.
The lawsuit asks for a permanent injunction preventing the city from removing plaintiffs from the parks, as well as compensatory damages and legal fees.
Gattone, who said civil rights are priceless, did not have a figure, saying his primary goal is the injunction.
City Attorney Mike Rankin said he had not had a chance to review the lawsuit in depth. He said he could not comment except to maintain, "I continue to hold my legal position that our enforcement action of these code provisions is clearly constitutional."