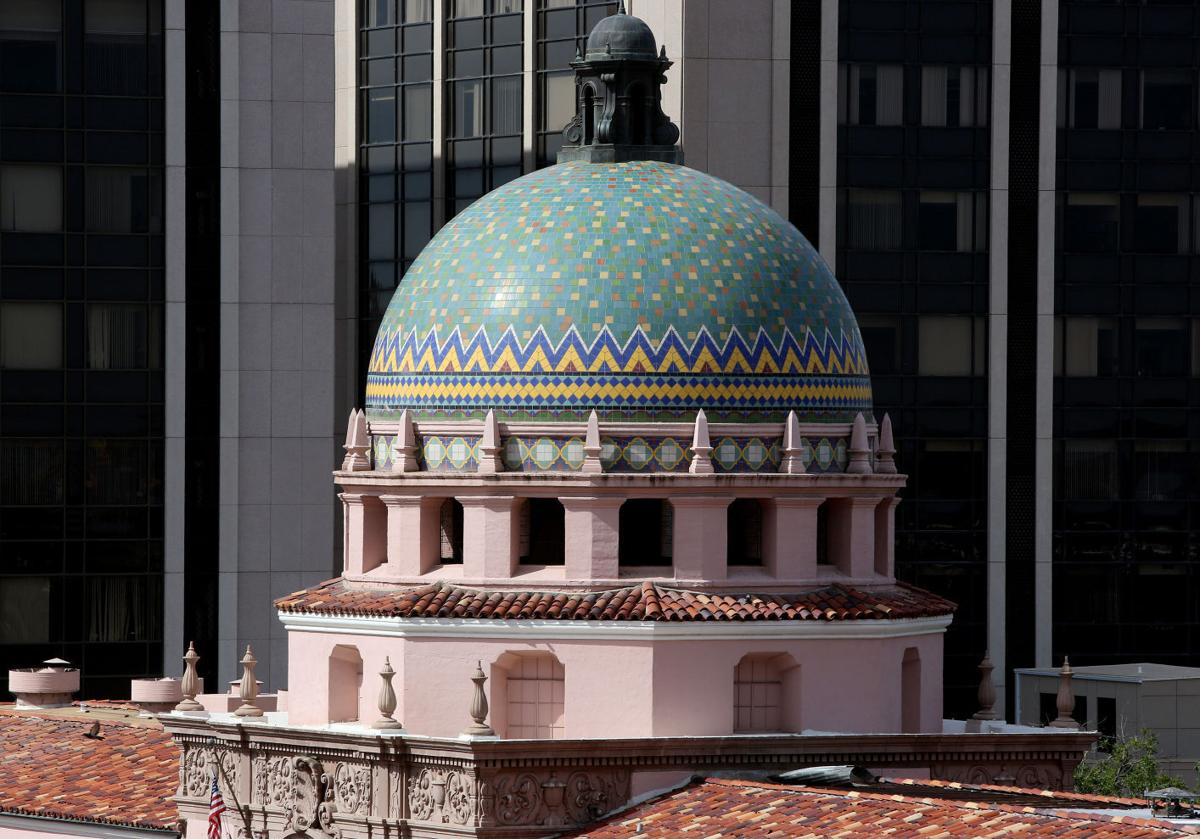 Pima County's assessor has hired his own attorneys with out-of-pocket cash — and successfully billed county taxpayers for reimbursement — to handle two recent legal cases in which he disagreed with property values set by a state board.
Bill Staples says the tactic is needed to ensure he meets his mandate to ensure every property owner in the county pays their fair share of taxes. He is also likely to do it again soon, he told the Star.
County Administrator Chuck Huckelberry, however, says the tactic is unnecessary and that the county attorney's office is more than capable of representing Staples in tax court.
Even before resorting to using his own money, Staples' office has regularly used outside legal counsel, with two private attorneys frequently employed by him earning about $175,000 over the last four years.
The most recent instance of Staples' novel approach to handling some property evaluation appeals dates back to late 2015, when the State Board of Equalization dropped the valuation of a number of Raytheon-owned buildings in Tucson from the county assessor's figure of $42.9 million to $33.5 million.
Staples disagreed with the decision and, as he has done several times in recent years, appealed the ruling to tax court in Maricopa County. In the proceedings he was represented by Terri Roberts, a former deputy attorney with the Pima County Attorney's Office in private practice since 2012.
She billed Staples a little over $2,700 for her services, which the assessor paid at first with private funds, something two other Arizona county assessors said they had never heard of and Staples himself described as "unprecedented." Staples then filed a notice of claim on Sept. 30 against the county seeking to be reimbursed for that payment, a copy of which was obtained by the Star.
"It's unusual to have to pay for it out of your own pocket," Maricopa County Assessor Paul Petersen told the Star, echoing the comments of Yuma County Assessor Joe Wehrle. "I've never heard of that. Like ever."
"I've been county administrator 23 years, 24 maybe, and this is the first time I've ever seen it by an independent elected official," Huckelberry said, adding that the first notice of claim was a "surprise" to his staff.
The county has paid out on the Raytheon case claim, as well as one for another Staples appealed to tax court. He told the Star that he has personally paid out and recouped roughly $10,000 for those cases. With the deadline for similar appeals for the 2017 tax year looming, the assessor said he will likely resort to the practice again soon and is now reviewing cases where it would be appropriate.
Staples told the Star that the unusual course of action was suggested by someone with the county attorney's office. Citing attorney-client privilege, Chief Deputy Amelia Cramer declined to comment on that.
Using personal cash and filing notices of claim is a way to get around a board of supervisors policy — one Staples feels doesn't apply to him or other elected county officials, but that Huckelberry said does — that requires all outside legal representation to be approved by either the county attorney's office or administration, according to Staples. He said he has only done so in cases where he wants to appeal board of equalization decisions, but feels he does not have the backing of administration or the board of supervisors.
"Private counsel retained without compliance with the provisions of this policy … shall not constitute a legitimate charge of Pima County and shall be the personal obligation of the individual retaining private counsel," the board policy reads.
Staples said Huckelberry has pointed to that policy in denying some of his requests for outside counsel, which the assessor argues is sometimes necessary to properly pursue assessment cases. Failing to do so could lead to unfair property tax bills.
"When in my opinion or my office's opinion the (board) rules incorrectly, this office will make sure that everyone's value supports their tax burden and that that burden is not shifted over to anyone else," Staples said.
In the most recent Raytheon case, Staples said, annual property tax payments of over $100,000 were in the balance. Court records show that the full cash value agreed on for the 2015 tax year during settlement negotiations was the same the assessor had originally determined and the following year was set slightly lower at $42.8 million. The 2015 limited value, which is now used for all Arizona property tax calculations, was set at just shy of $37 million and roughly $38.3 million for 2016.
A Raytheon spokesman declined to comment on the case, though Staples said "both sides felt comfortable with the outcome." Supervisor Ramón Valadez, whose district includes Raytheon, was skeptical that taxpayers were benefiting from Staples' actions, but said his board doesn't "have the ability to put a stop to it" because assessor is an elected position.
Huckelberry said he could not recall an instance in which his office denied a request for outside counsel from Staples, and added that the $10,000 in legal expenses would have likely been approved through established channels. By not doing so, Huckelberry added, Staples "precluded" analysis of the conflict that makes the hiring necessary.
A complaint filed several years ago by Staples with the State Bar of Arizona against the county attorney's office is the conflict at play in many of those cases, according to Huckelberry.
No record of such a complaint could be found on the bar's website. If a complaint is dismissed, records of them remain public for six months, after which no information about them can be released, according to bar spokesman Rick DeBruhl.
When asked if he had filed such a complaint, and how that could have impacted his use of outside attorneys, Staples said he had "no comment."
Records show that outside counsel has been regularly approved for Staples' office. Between May 2012 and October 2016, Roberts' office, which the assessor uses most frequently, was paid over $140,000. Another attorney regularly used by Staples has been paid over $35,000 since March 2015, according to vendor histories provided by the county.
Staples said he uses county attorneys for "contracts, employment law and basic legal questions," but has not used them for any board of equalization appeals since 2015.
The county attorney "tries to provide civil legal representation to all county officials and entities as much as we can" because "it is more cost effective," Cramer said. "And because we do have an extensive and highly qualified and capable stable of attorneys."
"We're paying for the county attorney. If the county attorney is capable, they should be the legal representative of the county, not an outside counsel, unless there's a bonafide conflict," Huckelberry said, adding that he has "absolutely full faith" in the office's abilities in tax court.
But Staples does not. If the office had attorneys that were "competent" in the state law at play in tax court appeals, "it would be much easier" to use them, he said.
In the most recent Raytheon case, he said that Roberts' ability to successfully negotiate the settlement for less than $3,000 illustrated the value of attorneys with that expertise. He added that such lawyers are "few and far between."
He would also be more inclined to use county attorneys if their office signed an agreement designating the assessor's office, as opposed to the board of supervisors, as the sole client in assessment cases, something the attorney's office has declined to do, according to a late 2015 email exchange provided by the assessor. Without that agreement, Staples said, the office will likely continue on its current path.
While acknowledging that some taxpayers may not understand his tactics, Staples argued that others may see them as evidence he "is actually taking his job seriously." He also pointed to his office coming in under budget in recent years as evidence he is a "good steward of the taxpayers' money."
Cramer said she could not comment, but Huckelberry said that such an agreement would effectively require the county attorney to "take (Staples') side of an argument, instead of perhaps listening to another side of an argument."
However the impasse is resolved, Huckelberry said it is important to come to "an agreement to use the county attorney as much as possible."