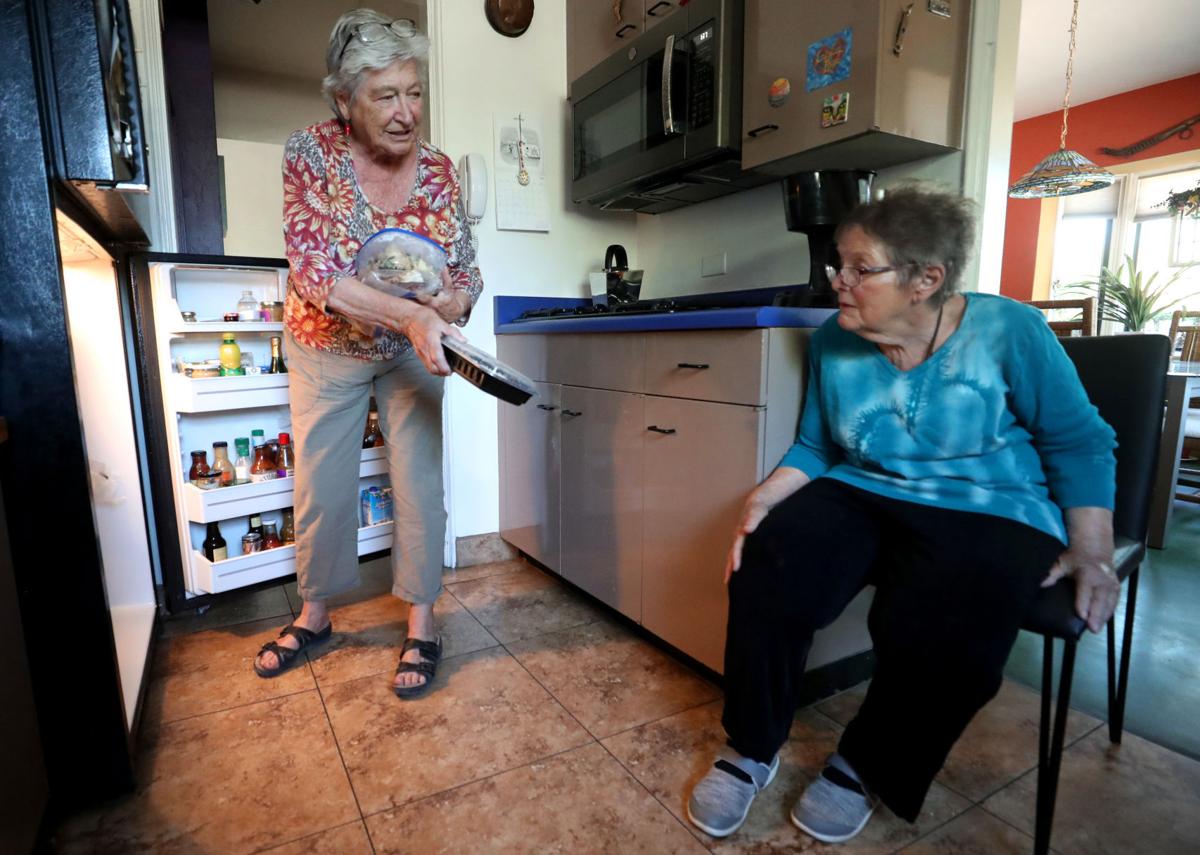 The Pima County Board of Supervisors delayed until next month a decision on whether to approve $200,000 in funding to the Pima Council on Aging for a one-year pilot home sharing program.
The program would help keep older adults in their homes while they shared their abode with a roommate who would help them with their needs in return for possibly no rent or a lower payment. This program would benefit older adults in need of affordable housing, which Tucson is lacking, said Supervisor Matt Heinz, who introduced the motion.
Heinz said he was disappointed the board did not approve the funding after Chair Sharon Bronson raised questions about funding sources, the program's accountability and a business plan showing how the pilot program would work. The board will take up the matter at its June 22 meeting.
Heinz said he will work with Jan Lesher, chief deputy county administrator, and Pima Council on Aging officials to have all questions answered. He said most of the questions were already answered in documentation the board received before the meeting.
Bronson said she is not opposed to the pilot program, but she needs more answers, including why the difference in funding between the city and county for the project. The city awarded the PCOA a $50,000 housing and community development grant for the project this year, and the PCOA will apply for another $50,000 next fiscal year, said Maddy Bynes, PCOA director of public policy and special projects.
The city funding will go toward building the pilot program's infrastructure, and the PCOA is looking for other funding sources as well, said Bynes. She said federal funding PCOA receives through the Older Americans Act is restricted funding designated for certain programs and cannot be used to fund the home sharing pilot program.
Bronson also questioned that the program was not included in the county's tentative budget of $2.1 billion.
The 2021-2022 budget also is up for approval at the June 22 meeting. Lesher told the supervisors the county has $43 million in its contingency budget that could fund the home sharing program. Bronson also said the board needed more community input about the pilot project.
Heinz said dozens of Tucsonans wrote letters to the board of overwhelming support for the pilot program, which will address the affordable housing crisis quickly, and the PCOA would administer the project, including matching homeowners to home seekers, doing background checks on potential clients and facilitating contracts between the homeowner and the person moving into the home. Pima County has a housing shortage of over 50,000 units, and "the problem has been plaguing us for years, and it is getting worse," said Heinz.
A home sharing program would be a significant part of a solution for affordable housing affecting all age groups, but especially older adults who could age safely in their home, said Heinz. He said there are successful home sharing programs in Denver and Ventura, California, that he researched.
He also mentioned the nonprofit Tucson Home Sharing organization founded last year by Sharon Kha and Deborah Knox. Kha, 77, a former broadcast journalist who has advanced Parkinson's disease, is sharing her home with Knox, 76, a self-employed businesswoman. The two women have been sharing a home for years; Kha needed help to remain in her home and Knox needed to get out of a mortgage.
Kha and Knox have been "introducing home sharing to people in Tucson through nonprofit groups, elder organizations and through our Facebook page Tucson Home Sharing," said Knox.
"The last several days have been a whirlwind of phone calls and letters as people are hearing about the idea and calling us for more information about home sharing," said Kha. She said one daughter needed to find someone to live with her mother, and another was from a homeowner who could not manage their home and needed help so they could stay there.
W. Mark Clark, president and chief executive officer of the PCOA, a nonprofit that advocates for older adults and their families, said he and Bronson have discussed the pilot program, and he will work to make sure the supervisors get all their questions answered so they can support the program and believe it is worth an investment. There are active advocates for home sharing in Tucson, and PCOA conducted a study about home sharing and for its need in Pima County last year, he said.
"Shared housing, which exists in other communities and when successfully implemented, assists older adults in being matched safely to a stable, safe living environment," said Judy Clinco, and advisor to Tucson Home Sharing. "It also will open up affordable rental stock in our community. It is a small financial investment that will lead to a high return, and it is one of the pieces of the puzzle to Pima County addressing affordable housing in our community."
---
Contact reporter Carmen Duarte at cduarte@tucson.com or 573-4104. On Twitter: @cduartestar