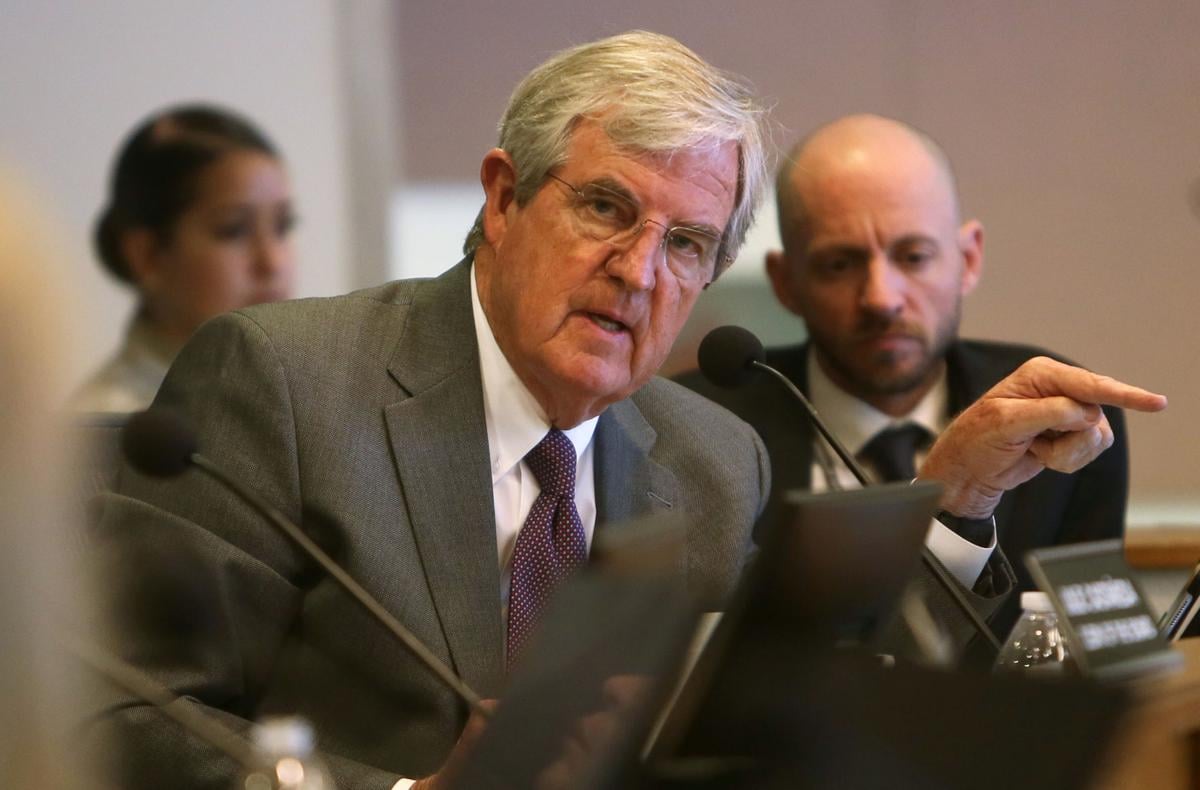 Following a year that brought unexpected financial burdens for local governments, Pima County Administrator Chuck Huckelberry is asking for a salary increase along with a four-year contract extension.
During its first meeting of the year on Tuesday, Jan. 5, the newly elected Board of Supervisors will decide whether to grant Huckelberry a 4.3% salary increase and extend his contract through Jan. 7, 2025.
Huckelberry, 71, has served as the county administrator for the last 25 years and makes a base salary of $301,104. If approved by the board, his salary would increase to $315,000.
Huckelberry is the highest-paid county administrator in the state, making about $30,000 more a year than Maricopa County's top administrator.
The request comes as the county continues to face financial strains due to pandemic. Huckelberry wrote in a memo to the board that Pima County is projected to exceed its federal CARES funding allocation by about $15 million, an amount that will come from the county's general fund. In addition, the county will need an estimated $55 million to continue fighting the pandemic through June.
"Until there is an additional appropriation of an unknown amount, the county will have to carry this additional financial burden through the General Fund, which simply means less funding available for any other purpose and that existing programs and department for those General Fund agencies will continue to be reduced in the latter half of this fiscal year and perhaps into next fiscal year," he wrote.
At the same time, unexpected furloughs continue to impact non-essential county employees. Most recently, about 20% of the county's 7,000 employees were asked to stay home for three weeks to help slow the spread of COVID-19. Those who did not have leave available were either placed on a temporary assignment or furloughed, but it's unclear how many had to go without pay.
In addition to his base salary, Huckelberry's contract entitles him to a number of other financial benefits, which include a $550 monthly vehicle allowance, paid health insurance, at least three weeks of sick and vacation time, $26,000 toward the state retirement plan every year and $15,000 toward a supplemental retirement plan.
In 2017, the board voted along party lines to extend Huckelberry's contract and grant him an $8,000 raise, which brought his annual base salary to $288,000.
Huckleberry said he has received "the same salary adjustments as other county employees during the four-year period since the previous contract was approved," which is why his current annual salary is over $301,000.
Huckelberry and members of the board did not immediately respond to requests for comment Monday.