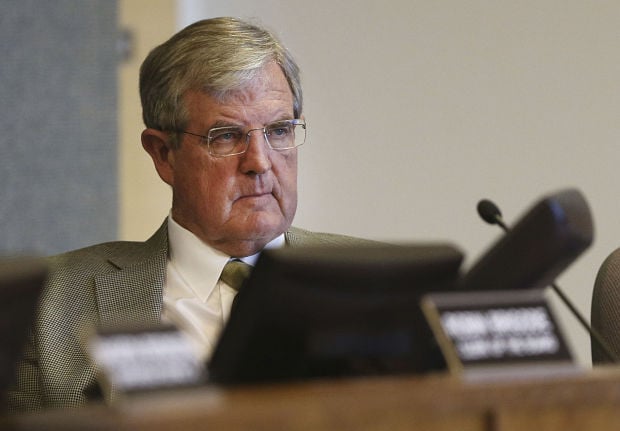 Public salaries are public information, but the unintentional online posting of a database showing the salaries for more than 13,000 Pima County employees last week caused all sorts of consternation until it was yanked down.
A link to the salary list spread quickly through the county building and beyond, including to the Arizona Daily Star. Although county administrators thought the database was posted internally, it was available to anyone with the Web address.
County Administrator Chuck Huckelberry agrees government salary numbers belong to the public, but he still considers the database's unauthorized public posting a security breach and said he is investigating the source of the leak. After the investigation it will go back onto the county website where the public can view it, he said.
The database shows that about 3 percent of Pima County full- and part-time employees, or 219 people, earn more than $100,000 a year. The figure does not include temporary personnel hired, for example, to work for the county Elections Department.
That's more than double the county's median salary of $45,000 and is a higher percentage than other local governments.
Tucson, for example, pays 1 percent of its employees — 63 of them — more than $100,000. In Marana, the figure is 4 percent, with 17 employees over the threshold. Sahuarita and Oro Valley are at 1 percent or below.
The highest earner among the county's 219 six-figure employees is Huckelberry, whose total compensation is $320,000.
Just as the county has to share how much money it needs, it has to share how much it pays its employees.
"Your salary should be a matter of public record," Supervisor Sharon Bronson said. "It's all about transparency."
Pima County Superior Court Administrator Kent Batty said court officials worry the information could make workers susceptible to identity theft and could make it easier for potential criminals to locate people working in law enforcement at the courts, such as sheriff's deputies or probation officers. But state law already allows for law enforcement officials, public defenders, prosecutors and others to have their property information and telephone numbers kept private.
Supervisor Richard Elías said he supports information being available to the public, but adds that it could cause disputes among co-workers. That's already happened at the Pima County Sheriff's Department, where the website circulated widely, said Deputy Kevin Kubitskey of the Pima County Deputy Sheriff's Association.
"They were upset with the disparities they were seeing," he said.
Despite the ruffled feathers, members of the public have the right to know how the government spends their money, said Phoenix attorney Dan Barr, who specializes in First Amendment issues.
"It's a pretty easy call," Barr said. "Public employees' salaries are public record."
Huckelberry agreed, saying openness is part of the business of government.
"If you don't want your salary known," he said, "don't work for the public."
Contact reporter Patrick McNamara at 573-4241 or pmcnamara@tucson.com. On Twitter @pm929. Reporter Joe Ferguson contributed to this report.
Get Government & Politics updates in your inbox!
Stay up-to-date on the latest in local and national government and political topics with our newsletter.