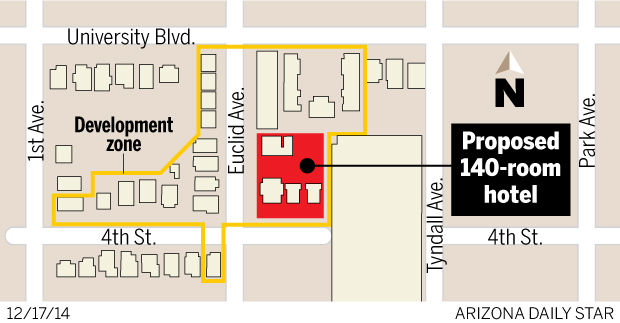 Students might see police officers stationed at select Tucson Unified School District schools when they return from winter break in a few weeks.
Tucson's City Council voted unanimously to amend its contract with TUSD to now prohibit School Resource Officers from questioning minors about their immigration status under any circumstance. The move opens the door for eight Tucson police officers, paid through a state grant, to return to TUSD schools.
Officers should have been in TUSD schools earlier this year, but the city and school district were at an impasse on what language to include when it comes to asking students about immigration.
Ever since SB 1070 became Arizona law, the city attorney and TPD officials insisted officers must follow the law and inquire about a person's immigration status when a reasonable suspicion exists.
Earlier this year, TPD amended its general orders to only question minors on immigration status in the presence of a parent, guardian or attorney.
School resource officers were further restricted in the agreement with TUSD since they could only inquire about a student's immigration status if it is directly relevant to an investigation.
But that didn't go far enough for Councilwoman Regina Romero and some TUSD school board members, who felt officers shouldn't question students on immigration status under any circumstance.
"That question should not be asked at all. Not in any school in Tucson. Not in any school in the country," Romero said.
The amended agreement adopted Tuesday, and already approved by TUSD, eliminated the investigation exception and states, "School Resource Officers shall refrain from asking about immigration status."
City Attorney Mike Rankin said President Obama's November executive order and Department of Homeland Security's subsequent guidelines on what constitutes a priority deportation allowed the city to adopt language restricting resource officers from asking immigration questions.
DEPARTMENT CHANGES
Obama's order will also affect how TPD will enforce immigration matters with the general public.
TPD Chief Roberto Villasenor said TPD policy would change this week to reflect the executive order.
He said officers would perform criminal checks themselves and contact the Border Patrol only if a check shows that a person falls into one of a list of high-priority groups, such as a suspected terrorist, convicted felon or convicted gang member.
Although critical of SB 1070 from the beginning, Villasenor said he had to enforce the law and couldn't order officers to violate it. He said the executive order cleared up when officers should contact immigration officials.
TPD's changes will also free up police resources.
Since SB 1070 took effect, TPD contacted Border Patrol about 11,000 times for immigration checks, Villasenor said. The Border Patrol responded to 94 of those requests. Out of those 94 responses, the Border Patrol took custody in 55 cases, he said.
"So even before this executive order, it feels like our efforts in this area have been somewhat futile," Villasenor said.
Councilwomen Karin Uhlich and Romero requested a study session in January so the council could weigh in on TPD rule changes.
"It's on us to help define parameters on the Police Department to reinforce the public's trust in law enforcement," Uhlich said.
HOTEL COMPLEX
The council also paved the way for a new, six-story hotel and retail complex near the University of Arizona.
The council granted development company 7one4 Tucson LLC permission to tear down four dilapidated, historic buildings on the northeast corner of Euclid Avenue and Fourth Street and replace them with an approximately 140-room hotel and underground parking garage.
Some neighborhood groups opposed the destruction of the historic buildings.
But city code allows an historic building to be torn down if the structure is beyond a "reasonable economic use."
The four buildings, three two-story apartment buildings and a single-story business, fit the description.
Records provided by the company indicate it would cost $2.7 million to rehabilitate the four buildings, but only net $44,250 a year in profit.
Based on those numbers, it would take 110 years on average to break even, records show.​
Contact reporter Darren DaRonco at 573-4243 or ddaronco@tucson.com. Follow him on Twitter @DarrenDaRonco
Contact reporter Darren DaRonco at 573-4243 or ddaronco@tucson.com. Follow on Twitter @DarrenDaRonco