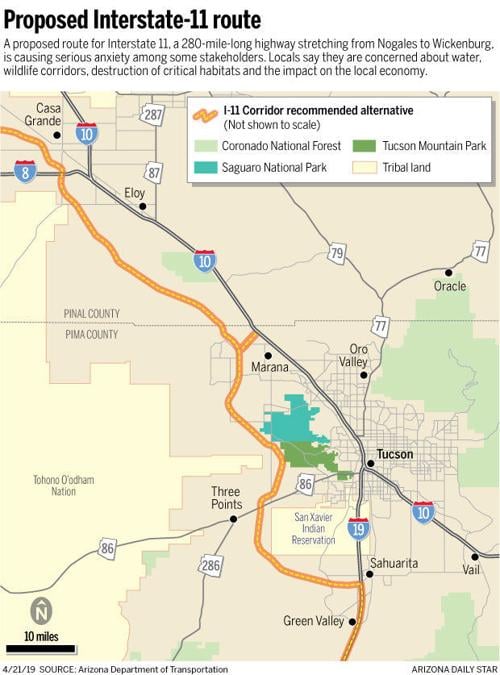 When an Arizona Department of Transportation representative came to brief the Tucson City Council on the controversial Interstate 11 proposal, the council didn't take to kindly to the presentation.
While the presentation was an informational item about the proposed new route that would run between Nogales and Wickenburg and is estimated to cost billions of dollars, the Council was unified in its message: The current proposal costs too much money, goes through sensitive environmental areas and poses an economic threat to countless Tucson businesses.
It is a message that Tucson has been telling ADOT for years. City officials have long advocated in the past that ADOT should consider co-locating the Tucson leg of Interstate 11 through existing routes rather than bypassing Tucson.
Mayor Jonathan Rothschild offered a timeline of comments submitted to the state agency dating back to 2016, outlining a litany of concerns about the proposed route.
In a draft letter to the state agency, City Manager Mike Ortega wrote this week that the 50-mile section of new highway between Sahuarita and Marana would seriously damage the Tucson economy, with Mexican tourists representing "the largest economic driver in Southern Arizona."
Also brought up in his letter were future concerns about Tucson Water being able to access its water in Avra Valley, wildlife corridors and whether the billions spent on construction of I-11 will divert funds that would have gone to much-needed improvements on Interstates 10 and 19.
"I can feel the frustration when we've provided the information, and we get this kind of information (ignoring the city's concerns) back," Rothschild told an ADOT representative. "Why wouldn't we use the existing route?"
With the official stressing that he was reluctant to answer questions while there is an open public comment period, Rothschild was quick to cut him off.
"Why would we hear answers from you when we can make our own comments," Rothschild said.
Councilman Steve Kozachik pressed ADOT officials for a list of who supports a bypass route west of Tucson, but left the meeting with only a promise that the state agency would email him the information.
"It would be helpful for me to know who supports that," Kozachik said, suggesting ADOT wouldn't be backing the route unless it had significant support
Councilwoman Regina Romero made it clear what she thought about the current proposal.
"This could be a devastating economic and environmental blow not just to the city of Tucson but to the region," Romero said.
One of three Democrats running to be Tucson's next mayor, Romero vowed to use all of her political power to fight it.
"I will do everything I possibly can, along with my colleagues, to make sure we find an alternate route," Romero vowed.
Councilman Paul Cunningham, was a little more hyperbolic in his statement as he rattled off names of ghost towns in Arizona destroyed by new highways and the vowed to take the issue all the way to the U.S. Supreme Court.
Councilman Paul Durham turned the rhetoric up to 11 in his message to ADOT.
"Over my dead body will ADOT build a freeway in Avra Valley," Durham said.
Later in the evening the Council unanimously backed a resolution opposed to the proposed Interstate 11 route bypassing Tucson.
The deadline to comment on the draft I-11 environmental document is July 8. The public comment form can be accessed at tucne.ws/i11comment.
Nagy enters Ward 1 race as write-in candidate
One month ago, Sam Nagy was the leading Republican candidate in the race to replace Tucson Mayor Jonathan Rothschild.
Nagy dropped out of the race when he fell short on submitting the required number of signatures to qualify for the ballot, which led to the first time in over 20 years that there wasn't a Republican candidate in an uncontested race to be Tucson's next mayor.
However, Nagy has re-entered the political fray, this time as a write-in Republican candidate for the Ward 1 seat being vacated by Democrat Regina Romero, who is running for mayor.
A peer support specialist for Community Partnership of Southern Arizona, Nagy will need 84 votes in August's all-mail primary from Republicans living in Ward 1 to appear on the November ballot.
If he qualifies, Nagy would face the winner of the four-way Democratic primary to replace Romero in the west side ward.
Democrats running for the Ward 1 seat include Miguel Ortega, a business and media consultant; Sami Hamed, a former staffer for U.S. Rep. Raúl Grijalva; Rob Elias, a banker; and Lane Santa Cruz, an adjunct instructor at the University of Arizona who worked for Romero in her ward office.
Mayoral and Ward 1 debates this weekend
Several candidates vying to be Tucson's next mayor as well as several Ward 1 City Council will debate on Saturday as part of a forum focusing on gentrification and the housing crisis.
The public event, organized by neighborhood groups, will be held at the El Rio Neighborhood Center, 1390 W. Speedway .
The 2½-hour event, which starts at noon, will be moderated by Arizona Public Media's Nancy Montoya.
Get Government & Politics updates in your inbox!
Stay up-to-date on the latest in local and national government and political topics with our newsletter.