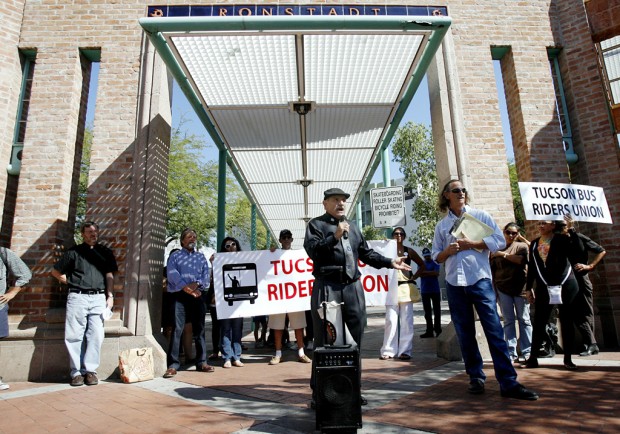 A group of Sun Tran bus riders and advocates, fearing fare increases and service cuts, is forming the Tucson Bus Riders Union to fend off such changes.
Plans for the union, which will meet for the first time today, were announced at a rally Wednesday at the Ronstadt Transit Center.
"This organizing of bus riders needs to happen, and it needs to happen right now, because bus riders are under attack big time in this election season," organizer Brian Flagg said in the announcement.
Although no formal proposals to further raise rates have been brought to the city since rates went up in July, a few candidates for city office have proposed cuts to the transit system as way to solve the city's budget troubles.
"And that is not going to serve the poorest people of this town, the people who need the bus," Flagg said.
The group will use its first meeting today to encourage bus riders to get on board with the union and to schedule another meeting next week to begin to define the union's agenda and structure.
The union will stand against fare increases and service cutbacks and suggest alternatives to city leaders, Flagg said. If fares must go up, perhaps low-income riders could be held harmless, he said.
Union member Tina Rieger, a single mother and college student with low income, said her family depends on the bus.
"Doubling the bus fare would just be devastating to us," she said at the rally.
The union will ask politicians and bureaucrats to "not balance your budgets on the backs of poor people," Flagg said.
Sun Tran will work with the union members, company spokeswoman Michele Joseph said in an email.
Sun Tran is one of only a few transit systems nationwide to offer a discounted fare to low-income riders, she said. In a typical month, the company provides about 25,000 discount passes to low-income riders through local nonprofit agencies, she said.
The union could be modeled on the Bus Riders Union in Los Angeles, which organized in 1992 and won a class-action lawsuit against the transit authority in that city.
These days, the L.A. union is "fighting to protect the gains and the victories" that came about after the lawsuit by writing letters and using other tactics, organizer Esperanza Martinez said.
When the bus agency raised fares last year, the union held a hunger fast to illustrate how fare hikes make low-income people choose between buying a ride and buying food, she said.
Flagg said the Tucson union may use theater as a way to raise awareness about the effects of proposed changes to bus services and costs.
Sun Tran's economy fare has increased twice in 14 years, from 35 cents to 40 cents in 2000 and to 50 cents this summer, according to Sun Tran spokeswoman Michele Joseph.
Tucson Bus Riders Union's first meeting
• Where: Armory Park, 221 S. Sixth Ave.
• What: Organizing information, barbacoa dinner and bus-pass raffle
Get Election 2020 & Politics updates in your inbox!
Keep up on the latest in national and local politics as Election 2020 comes into focus.