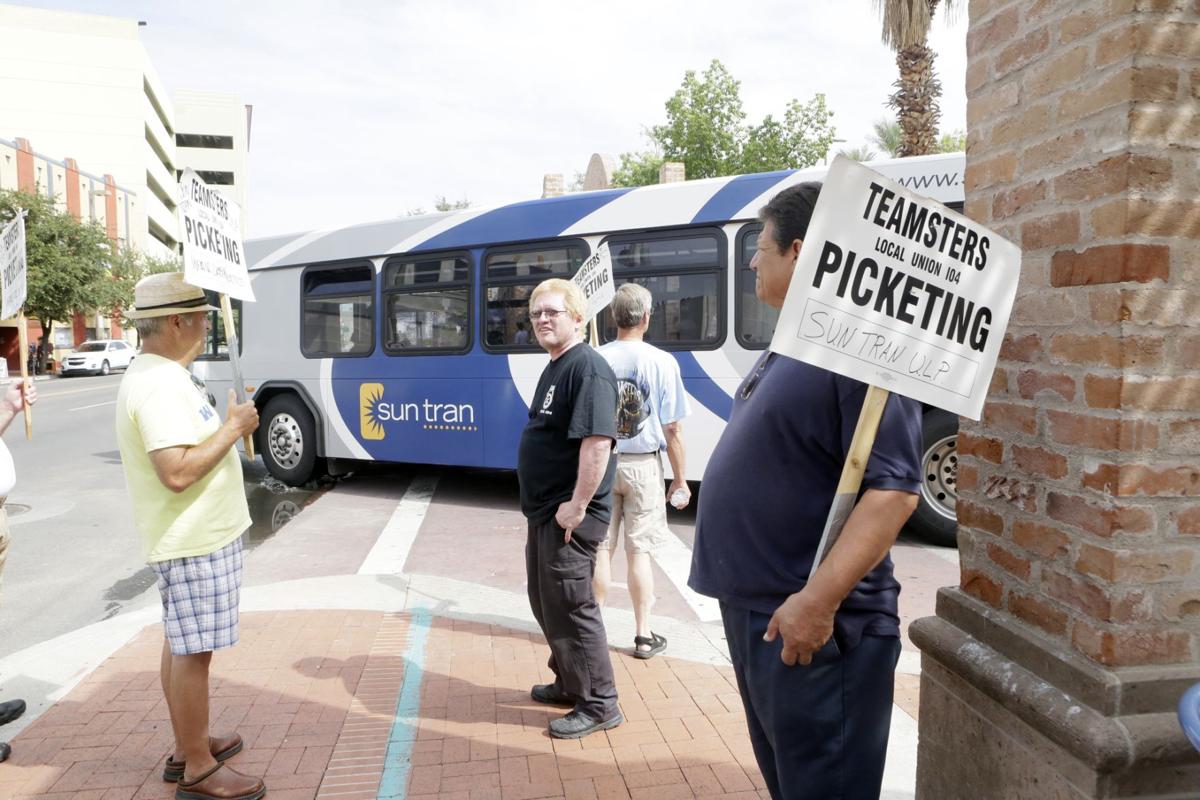 Union leaders on Wednesday issued a scathing rebuke of Tucson and Sun Tran officials over the company's effort to find temporary out-of-state drivers.
But city leaders responded that there's no extra money in the budget to meet union demands, and one city councilman says he'd support Sun Tran setting a deadline for employees to return to work.
"It's unconscionable that Sun Tran would be allowed by the city to bring in out-of-state workers," Teamsters Local 104 President Andy Marshall told reporters during a news conference Wednesday.
Marshall said Sun Tran's search for workers to fill positions as the Teamsters' strike continues into a fifth week amounts to unfair strike-breaking.
He questioned how city officials could allow such tactics.
Sun Tran began working with an outside employment agency last week to advertise for temporary replacement drivers.
The ads were placed on Craigslist in Chicago, Orlando, Dallas and other cities. The ads promised $21 per hour, up to 60 hours per week, $22 per diem, paid lodging and airfare.
At that rate and per diem, replacement drivers could earn as much as $1,400 per week, not including the lodging and travel expenses.
Top pay for current Sun Tran drivers stands at $19.22 per hour.
"We have a contract with the city of Tucson and we're contractually obligated to provide bus service," said Kandi Young, a company spokeswoman, confirming that Sun Tran has sought workers to temporarily replace the striking drivers.
Young said about 15 temporary drivers are needed.
Sun Tran had tapped management-level workers from the Phoenix area's Valley Metro transit system to drive temporarily in Tucson. The workers are employed by TransDev, the same company that operates Sun Tran.
The Teamsters, however, threatened to picket in Phoenix if the replacement drivers didn't leave town.
"They opened themselves up to a lawful primary picket line," Marshall said of Valley Metro. But he added, "They did the right thing."
Phoenix workers are no longer driving in Tucson, Young said.
Meanwhile, City Councilman Steve Kozachik said he supports hiring outside workers to replace striking drivers and end the strike.
"I would absolutely support Sun Tran laying down the gauntlet and setting a date for workers to return," he said.
Doing so, Kozachik added, would force workers to get back on the job or allow Sun Tran to hire permanent replacements. Kozachik said union leaders have led members into a strike they can't win.
"The Teamsters have overplayed their hand," Kozachik said, adding the city doesn't have additional money to put on the table for Sun Tran to offer as a way to end the impasse.
"We have set the budget and it's $30 million," he said.
Sun Tran's total budget is more than $58 million this year, with the city providing about $30 million of that total.
Tucson City Manager Michael Ortega said Wednesday that the mayor and council should not alter the current year's budget to provide more money for Sun Tran to try to end the monthlong strike.
"I would not recommend that," Ortega said.
Sun Tran has put $2.2 million on the table as part of the negotiations, said Young, the company spokeswoman. The union can decide whether the money can go toward raises or benefits, she said.
A union counteroffer seeks an additional $5.5 million to $7.7 million in new city spending over the next three years.
However, Young said Sun Tran officials think the total costs of union demands could be underestimated. She said salary increases would total about $11 million over three years.
Arizona Daily Star apprentice David del Grande contributed to this report. Contact reporter Patrick McNamara pmcnamara@tucson.com. On Twitter: @pm929.