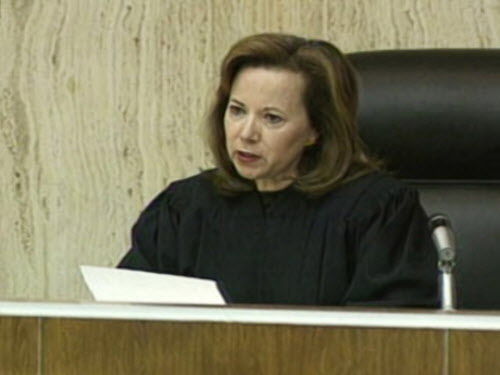 PHOENIX — A federal judge has voided one of the last remaining sections of the controversial package of anti-immigration laws approved by Arizona lawmakers in 2010.
The provision struck down Friday by U.S. District Court Judge Susan Bolton made it a state crime to "engage in the smuggling of human beings for profit or commercial purposes." Bolton said prosecuting people for smuggling remains the exclusive right of the federal government.
There was no immediate response from Gov. Jan Brewer, who had hired outside counsel to defend the law she signed.
The ruling pretty much resolves all the legal challenges by the Obama administration to the controversial SB 1070, a wide-ranging measure aimed at giving the state more power to deal with illegal immigration.
Unless this decision is overturned on appeal, it leaves only one portion of the law intact among portions that have been legally challenged: requiring police who stop people for another reason to question them about their immigration status if there is reason to believe they are in this country illegally. In 2012, the U.S. Supreme Court said there was nothing inherently illegal about that portion. But the justices warned the law could still be struck down if it is illegally applied. Some civil rights groups are attempting to prove just that in a separate lawsuit.
The provision Bolton voided Friday was actually first enacted in 2005 but updated in 2010 as part of SB 1070. It made it a crime to transport or house anyone who someone knows or has reason to know is not in this country legally.
Bolton said there are two legal problems with the law.
First, she said Congress has determined that only it gets to regulate the issue of smuggling.
Also, even if the state has a role, Bolton said, Arizona's laws must be in harmony with the federal statutes. And she said the Arizona law is in conflict.
"It imposes additional and different state penalties than federal law," the judge wrote. "It divests federal authorities of the exclusive power to prosecute these specific smuggling crimes."
Bolton also pointed out that the Arizona law criminalizes conduct that is not covered by parallel federal laws that have a "safe harbor" exception for religious activities. The ability of police to use the smuggling law had already been restricted last year.
U.S. District Court Judge Robert Broomfield, in a separate legal challenge, voided efforts by Maricopa County to use the law to charge migrants with the crime of smuggling themselves into the country. The judge said that criminal action conflicts with federal laws, which make it only a civil violation for a migrant to enter the country illegally.
Earlier this year, the Department of Justice agreed to drop its bid to void what has become known as the "papers, please" provision of SB 1070. That's the one that requires a police officer to check the immigration status of those they have stopped if there is "reasonable suspicion" the person is in the country illegally.
In exchange, Arizona gave up its efforts to enforce another provision of SB 1070 that closely paralleled the language Bolton just struck. It made it a state crime to knowingly transport or harbor someone in this country illegally and made it illegal to "encourage or induce" someone to come to or reside in Arizona if they have no legal right to be in the country.
While Friday's ruling ends the role of the Obama administration in contesting the law, other legal challenges filed by a coalition of immigrant and civil rights groups remain.
Most notable is the "papers, please" provision. Outside organizations hope to prove the measure is discriminatory, contending the purpose behind SB 1070 was not to deal with the effects of illegal immigration, but instead was motivated by racial bias.
To prove that, though, challengers need actual evidence, which is something they hope to find in emails of current and former lawmakers. They have subpoenaed any documents with words like "alien," "illegals," "Mexican" or "undocumented," contending any comments lawmakers were making around the time SB 1070 was adopted are relevant to proving their case.
Bolton, who is handling that case, too, has rejected efforts by several lawmakers and those who have written to them to quash those subpoenas.
There is another outstanding legal question: that of how long people, stopped for other reasons, can be detained solely to check out their immigration status.
"The issue here is basically whether the law means to Arizona and Arizona officials what the Supreme Court said would be problematic constitutionally," said Linton Joaquin, an attorney for the National Immigration Law Center. He said that can be ascertained by determining the written or unwritten policies of various police agencies.
For example, Joaquin said a police department might read SB 1070 to require officers to hold someone stopped for a traffic violation far beyond the time necessary to write the ticket, solely to run a check on immigration status.
"That's unconstitutional," he said.
Get Government & Politics updates in your inbox!
Stay up-to-date on the latest in local and national government and political topics with our newsletter.