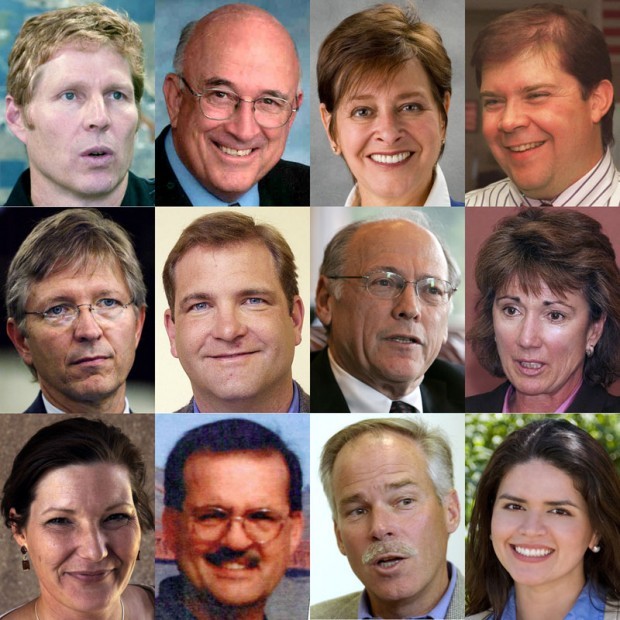 In 10 years the Rio Nuevo downtown redevelopment district has gone from the "last best opportunity" to revitalize an aging city core to the source of so much scorn it is being taken over by the state.
Approved overwhelmingly by voters in 1999, Tucsonans saw little action for the first few years of tax-increment financing, which allowed the city to keep a portion of sales taxes collected in the district and use it to rebuild downtown.
City leaders didn't start the 10-year tax increment financing clock until 2003, planning and replanning the project while they waited for El Con and Park Place malls to start feeding more cash into Rio Nuevo's kitty.
After Tucson got a $500 million extension from the Legislature in 2005, there was a flurry of City Council decisions aboutplanning, consultants and spending on the project.
Some projects did get going downtown in advance of the tax extension - infrastructure improvements, the Fox Theatre and Historic Train Depot renovations, the Martin Luther King Jr. housing project, the Fourth Avenue underpass, and the Mercado at Menlo Park on the west side of the freeway.
More often than not, though, the money came from private developers or other government grants, rather than Rio Nuevo.
And in many cases, millions of public dollars were spent on projects that sputtered. Gov. Jan Brewer and Republican legislators got so fed up they are poised to appoint a new oversight board to take control of Rio Nuevo. Among their complaints:
• More than $7 million spent planning the University of Arizona "Rainbow Bridge" Science Center across Interstate 10 proposal, which was ultimately deemed too expensive to build.
• $6 million for travel, food and gadgets for other UA Science Center plans, which were also scrapped.
• $12 million to refurbish the Fox Theatre, which later had to be taken over by the city because it couldn't bring in enough money to cover its bills.
• $500,000 to tear down a 100-year-old building downtown and give the land, plus an adjacent historic building, to developer Don Bourn for $100 - a vacant lot surrounded by a fence nearly five years later.
• $820,000 for a 12- to 15-minute video to play in the atrium of a museum that officials decided not to build after spending $9 million on planning.
• $2 million on a west side adobe wall that has become a magnet for graffiti.
• $1.5 million to redesign a bridge four times, only to run out of money and decide to build it with $13 million in street repaving money.
• Rushing a bond sale at the height of a terrible market in 2008 to keep the Legislature from taking the money away, which pushed up interest costs by as much as $5 million to $18 million.
The city is now spending $4 million on a new entrance to the Tucson Convention Center to accommodate a new convention hotel, which some believe it may no longer have the money to build even though $11 million is being spent on design plans.
"It's worse than an embarrassment," Dean Cotlow, a commercial real estate broker. "It showed our community off in the worst possible light it could have."
Rio Nuevo history generally falls under two city regimes. One, from 1999 to early 2005, was headed by former City Manager Jim Keene, Real Estate Administrator John Updike, Assistant City Manager Karen Thoreson. The other, from 2005 until the state took over in November, was guided by City Manager Mike Hein, Rio Nuevo Director Greg Shelko, Councilwoman Nina Trasoff and others.
Under Keene's direction, the city waited several years to start collecting Rio Nuevo taxes. It had only 10 years in which to collect the tax, and city leaders felt a delay would increase the total take. The Keene team also rejected plans for a voter-approved aquarium and initiated plans for the Rainbow Bridge.
When Hein and Trasoff came on the scene in 2005, optimism was high things could be turned around, in part because Hein sold the Legislature on a $500 million, 12-year extension.
The new leadership focused more on big-ticket items. Plans for a new arena were scrapped when the projected cost came in at 60 percent more than was approved. Plans for a new convention hotel continue, but amid myriad money concerns. Progress also slowed in a power struggle over whether to build major developments or focus instead on historic re-creations and museums along the west side of the Santa Cruz River.
For a while there was talk of trying to redevelop the east end of downtown instead, but that, too, has stalled.
The one constant between the two regimes is Mayor Bob Walkup, who was elected at the same time Rio Nuevo was approved, and has been a cheerleader for impending progress.
Here are the people who have been involved in Rio Nuevo planning, decisions:
Mayor since the beginning of Rio Nuevo, elected in 1999 when voters approved the project.
He is the only high-level decision maker who has been in office throughout Rio Nuevo's tenure.
Walkup was a backer of most of the major plans that have fallen apart, including the Rainbow Bridge and immediate demolition of the Pusch building for a Bourn Properties condo project that still is not built. He was a leader in getting an arena added to the plan. The arena is no longer being actively considered because of the cost.
Walkup said Rio Nuevo started slow and was disappointing because there was little money. The original state allocation was an estimated $60 million. Walkup said Rio Nuevo didn't truly start until the Legislature approved a $500 million extension. He said projects now on hold, like the Science Center and Tucson Origins, could be revived once the economy recovers.
"The money that we have spent has created the infrastructure to move ahead," Walkup said. "It started slow, but I think Rio Nuevo ... is now properly positioned."
Tucson City Manager from August 2000 to early 2005
Under Keene's direction, the 10-year collection of Rio Nuevo taxes was delayed in hopes that El Con and Park Place malls - both part of the taxing district and both facing renovations - would bring in more sales taxes, to be passed along to Rio Nuevo.
Plans for an aquarium, a popular feature with voters who approved Rio Nuevo, were dropped after city financial analysts found it not viable, although they refused to make their analysis public. Plans were initiated to replace a UA science museum with a $350 million Rainbow Bridge over Interstate 10.
Keene also hired Rio Nuevo Director Greg Shelko from Milwaukee.
Keene said he inherited the Baltimore-based study and felt he used some of it before it was put aside.
The aquarium was killed because economic studies showed its business model wouldn't work, he said, adding many questioned the idea of an aquarium in the desert.
"Moving Flandrau ... seemed to be better than an aquarium," he said.
However, even before he left, Keene said he had "concerns of a bridge of that scale" about the Rainbow Bridge across Interstate 10.
City manager from March 2005 until April 2009
Hein was responsible for the city getting a $500 million Rio Nuevo extension from the Legislature in 2006. But the extra money did little to speed construction, as new conflicts arose over where and when to spend it.
Faced with criticism over the lack of visible progress, Hein's administration tried to fast-track some work, but that led to questions about whether proper cost controls were in place and allegations he was carrying out his own agenda without consulting the City Council.
He backed spending to plan the arena, which has been shelved, a land swap to redevelop the east end of downtown, which fell apart, and spending $9 million on plans for the Tucson Origins Heritage Park, which there is no longer money to build.
Hein noted he was primarily responsible for the $500 million extension from the Legislature, and said the delay to redesign the Fourth Avenue underpass opened up new land for private development.
Hein identified the $9 million Scott Avenue Infrastructure project as one that went well and was on budget. He said he dropped arena plans once the costs were recognized. He said Rio Nuevo is burdened with a false sense of expectations and a lack of community consensus.
"Until someone is granted the authority and the resources, no one will be satisfied," he said.
Assistant city manager in charge of Rio Nuevo from March 2002 to January 2006.
Thoreson spearheaded cutting the number of lanes on Congress Street and Broadway downtown to increase parking and discourage drive-through traffic because the backups made it inconvenient. She headed a highly publicized, but unsuccessful, effort to lure a grocery store downtown and spur residential development.
She initiated the conversion of the Martin Luther King Jr. housing project into a mix of apartments, condos, public housing and commercial space. She secured a $10 million federal grant to pay for it, but the project got bogged down by conflicts and didn't really get rolling until after she left the manager's office.
Thoreson declined to comment.
Councilwoman from 2005-2009, head of the city's Rio Nuevo subcommittee.
All of the city's Rio Nuevo plans from 2006 though early 2009 had to go through her subcommittee for approval. She represented much of the Rio Nuevo area, and guided and supported development plans. During her tenure, she became the public face of the redevelopment effort.
Trasoff strongly backed Hein and criticized city staff members for revelations that general fund money was being used to cover some Rio Nuevo costs.
Trasoff said critics, including the Star, overlook significant downtown progress, including Maynards Market and Kitchen, several new restaurants, the Fourth Avenue underpass, the redevelopment of the Martin Luther King Jr. housing project, the Scott Avenue Infrastructure Project and the Mercado at Menlo Park on the west side.
She said Rio Nuevo was hampered by missteps by its early overseers and by people's unrealistic expectations. "It's just taken longer than people expected," she said.
She said shelved projects on which millions of dollars were spent for planning could still be built.
Director of Flandrau Science Center since 2000
Faust was in charge of planning for the University of Arizona Science Center, which was to be Rio Nuevo's signature project.
She was instrumental in turning a project that was supposed to be funded with $20 million from the city and $60 million in UA money into a planned $350 million Rainbow Bridge over Interstate 10. She directed the expenditure of $13 million for the bridge and a subsequent scaled back $130 million version of the science center, both of which have been killed because of cost and funding issues.
Faust said it was too long ago to remember why the Rainbow Bridge project wasn't built. She said nothing went wrong with the science center project, and that it wasn't built only because the economy tanked.
"We're ready to get back to work" she said. "It's just a matter of when the economy turns around."
Rio Nuevo director from 2004- to mid-2009
Shelko was the city's chief point man and spokesperson during Rio Nuevo's most critical years, and was involved in nearly every problem project. He was seldom the decision maker, but was responsible for making sure things got done. As criticism grew over the lack of construction, he led the counter-attack that people were ignoring obvious signs of progress.
Dispatched to the Capitol to fend off legislative efforts to take back state funding, Shelko's inability to answer questions about Rio Nuevo's finances was rated by lawmakers as one of the worst they had seen, and fueled their determination to take control from the city.
He was fired and then hired back under a $100-an-hour consulting contract with the Rio Nuevo board.
Shelko did not return calls for comment.
Rio Nuevo project manager and real estate administrator Nov. 1999 -Dec 2005
Updike was one of the first Rio Nuevo employees and put together many of the city's early Rio Nuevo land deals.
He was involved in demolition of the Pusch building to provide the land to developer Don Bourn for $100 for an as-yet-unbuilt condo project. He also put together the deal to lease 3.3 acres at West 22nd Street and Interstate 10 from the family of Congresswoman Gabrielle Giffords for $14 million over 55 years for a grocery store, which has yet to be realized.
Updike said the grocery was needed, and the Giffords property was the only place it could go to benefit Rio Nuevo. He said the city had to enter into the lease because the Giffords family didn't want to sell. He said the city should have put a clause into Bourn's land deal to get the land back, but said it would have made the deal harder to finance.
City councilman from 1997 through 2005
Ronstadt preceded Trasoff representing Ward 6, even predating voter approval of Rio Nuevo.
Like Trasoff, he was actively involved in many early decisions. He backed the aquarium but went along with Keene's recommendation to kill it. He backed the city picking up nearly the full cost to refurbish and open the Fox Theatre. He was an early advocate for the Rainbow Bridge.
Ronstadt was a strong backer of both Keene and Hein.
Ronstadt said Rio Nuevo was progressing steadily when he left office, and that's when it went off track. The science center plans, particularly, became "really wacky," he said. . He expressed frustration over the deal that left Bourn's property vacant and over the Fox Theatre, which Ronstadt voted for even though he had concerns about its finances.
"After I left there was a void in leadership and people lost sight of a vision," Ronstadt said.
A major downtown property owner who was selected to develop a city block in downtown's central core
Bourn won a competitive process to develop a property on East Congress, just of Stone Avenue, where the city's oldest commercial building once stood.
He pushed city leaders to tear down the 100-year old Pusch building because it needed to be removed immediately to make way for construction. The city spent $500,000 on demolition, and gave him the land and the historic Indian Trading Post for $100. But the project stalled because he needed to get control of a nearby parking lot, which he was unable to do. Five and half years later the land is vacant.
Bourn said the project has been challenging, and he came close to building it, getting 50 percent of the units sold before his bank withdrew financing when the market crashed. Bourn said he is committed to building something there and has put $3 million into the project already.
A lawyer who promoted Rio Nuevo plans and helped create the Tucson Downtown Partnership
Role: Hecker backed Rio Nuevo plans put together by Hein and Trasoff, and was a vocal spokesman for the city's position that progress was happening downtown.
Hecker helped create the Tucson Downtown Partnership, a group largely made up of developers took over the business improvement district downtown in 2007 and promised action on revitalization. He was part of the group that hired current partnership executive Glenn Lyons.
Hecker said creating the partnership helped forge several deals, including attracting Madden Media to the MacArthur building, and has helped refurbish downtown buildings with its facade program. He said hiring Lyons has brought "a sense of security and comfort level" to attract companies and developers.
"I believe we've made substantial progress and we're making substantial progress," Hecker said, adding a completely revised downtown is "within our reach."
City councilwoman since late 2007
Although Romero's election came late in the Rio Nuevo game, she immediately got into the action.
Romero, who represents the west side, backed every project there including the UA Science Center. As the focus of Rio Nuevo shifted toward a hotel and arena, and away from the historic re-creations and museums that were the heart of what voters approved, Romero helped engineer a council vote to earmark $40 million for those west side projects.
Work was started, but the money ran out and in September 2009 the city started soliciting donations to finish Mission Gardens. Romero backed going ahead with the Cushing Street Bridge across the Santa Cruz River, using $13 million in street repaving money, even though most of the west side projects are now in limbo.
Romero did not return calls for comment.