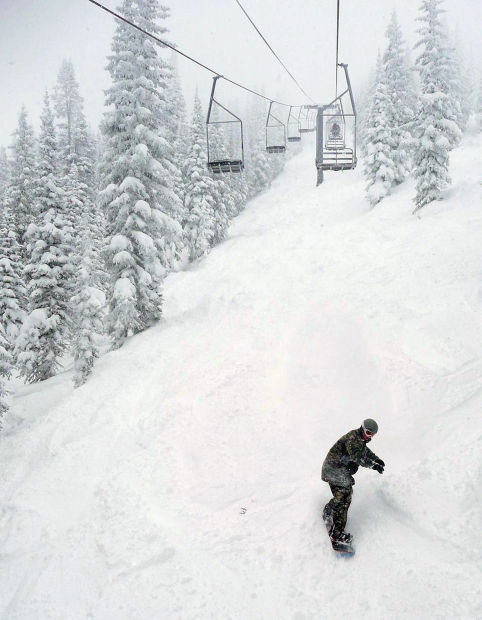 While Californians sell cattle, halt salmon fishing and stop watering lawns due to an unyielding drought, the water picture is brighter — in the short term at least — for Arizona and the rest of the Colorado River Basin.
Snowpack in the Colorado's Upper Basin — the ultimate source of Tucson's drinking water — is good enough that if the pattern persists a couple more months, spring-summer river runoff might be enough to push back the day of reckoning when the river runs short enough to force cutbacks of deliveries to the Central Arizona Project. The project pumps drinking water uphill from the river to Tucson and Phoenix.
At the same time, water officials say that even a good year is no reason to be complacent about water because the Colorado River doesn't carry enough to meet all demands even in normal runoff seasons.
As of this week, the Upper Colorado Basin's snowpack is running at about 95 percent of the median level for this time of year. The median represents a midpoint, between the highest and lowest snowpack levels on record for a given day, between 1981 and 2010.
That portends well for the crucial spring-summer runoff of river water into Lake Powell at the Utah border, federal water forecasters say. The Colorado River Basin Forecast Center in Salt Lake City predicted this week that the April-July runoff will be 101 percent of normal. That compares to 29 and 36 percent of normal for 2012 and 2013, respectively.
If that forecast holds, that could delay CAP shortages for a year, said David Modeer, CAP's general manager. Last year, authorities forecast a 51 percent chance for a shortage in 2016 and a 2 percent chance in 2015.
At the same time, however, the forecast for spring-summer runoff could easily change by April, when the most reliable runoff forecast is typically made, said Brenda Alcorn, a senior hydrologist for the river basin forecast center. That would happen if warm, dry weather overtakes the Upper Basin, which has happened many times in past years .
Right now, however, you can see a clear line on a map separating good snowpack levels in northern Colorado and Wyoming — prime sources for the Colorado — and poor ones in Utah, which contributes little to the Colorado, Alcorn said.
But even if runoff is good and shortages are delayed, "that is not going to prevent shortages from occurring in future years," CAP's Modeer said. "Even in a normal year, without a drought, we have more use of Colorado River water than the river can sustain. We can't avoid looking for more efficiency in how we use water. ... While we don't have a crisis right now, we can see one coming."