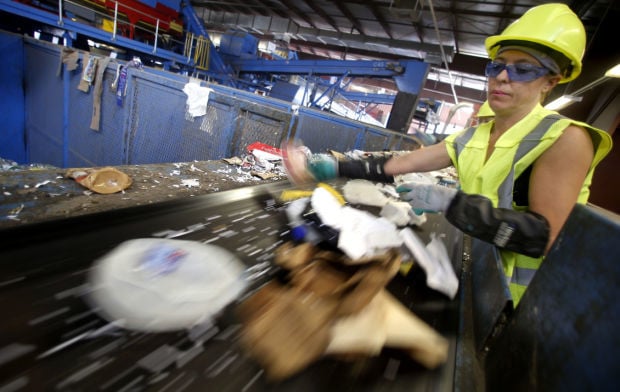 The city Environmental Services Department wants to add 45 cents a month to your trash bill to replace revenue lost when the recycling market tanked.
It costs more than $200,000 for the city to process recyclables it picks up from the big blue bins outside homes and businesses.
Revenue from the sale of recycled items has dropped from nearly $1.9 million five years ago to $405,260 so far this year, with three months left to go in the fiscal year, said Environmental Services director Andy Quigley.
The city is projecting zero revenue from recycling next fiscal year.
Low petroleum prices mean it's cheaper to make new plastic than to use recycled plastic and there's lower demand for recycled materials overseas.
To cover the cost of processing recycled stuff, and to replace lost revenue that helps fund other aspects of trash service, the city wants to charge 45 cents per month — totaling $5.40 per year — as a recycling surcharge to all residential users.
That would raise an estimated $767,100 per year for the Environmental Services Department.
The surcharge would be evaluated monthly and adjusted quarterly if any recycling revenue comes in, Quigley said.
If recycling revenue recovers to $750,000 a year — as it did in fiscal years 2011 through 2014 — the city would stop charging the fee, he said.
The Environmental Services Department did something similar when it charged a fuel fee when gas prices were high and then ended the fee when prices went down, he said.
Quigley said he has no idea when the recycling market could make a comeback. "The recycling surcharge is a response to a particular market condition that's out of our control," he said.
City residential trash fees haven't increased since 2010.
The Tucson City Council is expected to discuss the fee proposals on Tuesday. A final version of the fee schedule would go back to the council in May for a public hearing before final approval.
BUSINESS FEES GOING UP
Under other proposals, commercial recycling customers would be charged a monthly $10 recycling surcharge.
Additionally, the Environmental Services Department is asking for council approval for a 3 percent increase in commercial trash fees. The department raised that rate 5 percent last year.
Monthly service fees for businesses would increase from $63 to $64 on the low end, and from $544 to $560 on the high end.
The extra revenue is needed to replace containers and replace and maintain trucks, Quigley said.
MORE FEE HIKES POSSIBLE
The council will consider two other kinds of fees to help solve a $25 million budget shortfall.
The council could choose to move the $180,000 storm water program out of the general fund and into the Environmental Services Department, and the department would increase the groundwater protection fee to $1.13 per month, up from $1.06 per month, for a typical household.
The council also could choose to move the code enforcement and graffiti abatement programs out of the general fund, to put a $3 million dent in the budget problem, and the department would charge a 67 cent fee per month ($8.04 per year) for a typical household.
Get Government & Politics updates in your inbox!
Stay up-to-date on the latest in local and national government and political topics with our newsletter.