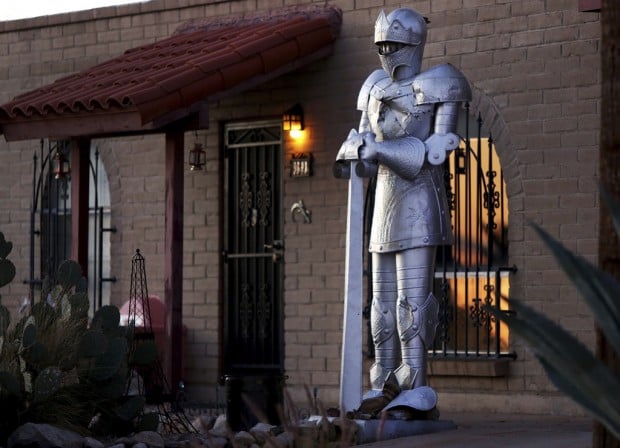 There's a lengthy history behind the boxcars that pop with color and sit on city-owned property along East Broadway.
To start, the graffiti art splashed across the two boxcars wasn't the work of vandals, said Dick Guthrie, Old Pueblo Trolley president and chief operating officer. The boxcars had been stored at a location on East Eighth Street and North Fifth Avenue, but they were moved to 10 N. Park Ave. in September after the city designated the land for other uses, including the future site of a maintenance facility for the modern streetcar, Guthrie said.
Locked inside those boxcars are spare parts for historical trolleys now in service and for other trolleys in the process of being restored, Guthrie said.
"They are very secure," he said.
One-of-a-kind trolley parts from Belgium, Portugal and Japan are housed in those boxcars, Guthrie said.
Trolleys and other Old Pueblo Trolley equipment also moved from the old location to North Park Avenue, and trolleys waiting to be restored are kept locked in a warehouse on the property, Guthrie said.
Old Pueblo Trolley shares warehouse space with the city of Tucson Transportation Department, Guthrie said.
Union Pacific donated the boxcars - or refrigerator cars, to be more exact - in 1992, Guthrie said.
The boxcars were first housed at the trolley barn at 360 E. Eighth St., but they had to be moved when the city paved North Herbert Avenue between two North Fourth Avenue bars, Guthrie said.
Originally painted an off-white color, the boxcars achieved their current look about 10 years ago when Old Pueblo Trolley offered them up as blank canvases to winners of a graffiti art contest sponsored by the Governor's Office, Guthrie said.
"That was our contribution to graffiti art. We felt they would end up with graffiti on them anyway," he said. "It was a community project we felt was worthwhile."
The bold colors on the boxcars now won't be there much longer.
The boxcars will be repainted in the next month or so to look more like they did in the 1950s, Guthrie said.
"We will paint it one color so it's less of a distraction, but a segment of people think (the current look is) neat stuff," he said.
The lot also will be fenced in soon, Guthrie said.
Get local news delivered to your inbox!
Subscribe to our Daily Headlines newsletter.