Addressing the future of farming in an ever-drying climate is the focus of a three-year, almost $4.8 million grant to the University of Arizona and others from the U.S. Department of Agriculture.
The goal is to support a transition to more native and climate-adapted crops that will not only reduce water consumption but curb carbon emissions and help growers weather increased uncertainty when it comes to the weather.
The grant comes as Arizona enters its 27th year of consecutive drought and faces a 21% cut in its Colorado River allocation.
Irrigated agriculture is the largest water user in the state and consumes approximately 74% of the available water supply, according to the Arizona Department of Water Resources.
The grant-funded Arizona Partnership for Climate-Smart Food Crops includes the UA College of Agriculture and Life Sciences and the College of Social and Behavioral Sciences, the University of Maryland Center for Environmental Science, Tucson City of Gastronomy, the Arizona-Sonora Desert Museum and Local First Arizona.
Desert Museum Conservation Research Scientist Erin Riordan credits her nonprofit's participation to renowned ethnobotanist and author Gary Paul Nabhan, a long-time advocate for sustainable desert farming rooted in traditional and indigenous practices.
Nabhan served as the Kellogg Endowed Chair in Southwestern Borderlands Food and Water Security and recently retired from the UA Southwest Center. He and Riordan were colleagues when she was employed at the university.
"When this call came from the USDA, Gary put it on my radar," Riordan said. "We thought, 'Well, probably the biggest thing you can do for climate change and greenhouse gas emissions in Arizona and the arid West is reduce your groundwater pumping.'"
She said the University of Maryland Center for Environmental Sciences will help create models to predict growing conditions in 30 to 50 years.
Greg Barron-Gafford, co-principal investigator on the grant and a professor in the UA's School of Geography, Development and Environment, will look at how to pair food production with solar panels, a practice known as "agrivoltaics" he has been working on for years.
Part of the grant is earmarked for market development, namely how to cultivate consumer interest in these new, desert-adapted crops.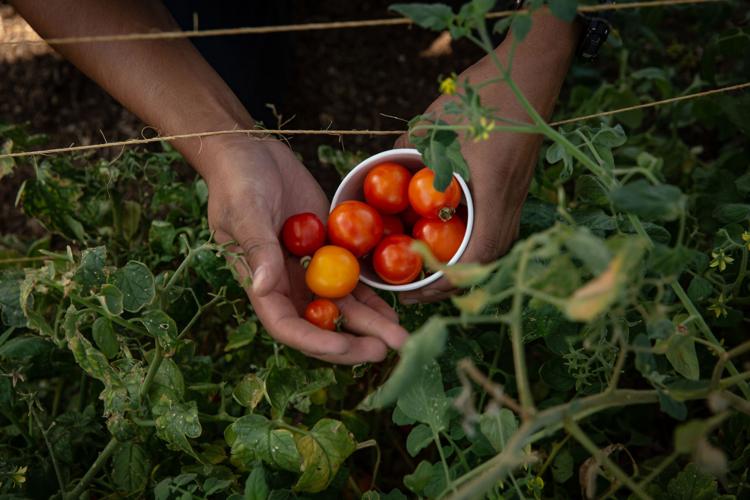 That is where Danielle Corral comes in. She is the farmland preservation program manager at Local First Arizona.
Farmers not only need support with processing and harvesting new crops but with generating demand for what they are growing, Corral said. Making some of these crops affordable will be a challenge, and educating consumers will be key, she said.
"A lot of times people don't understand that when they say, 'Instead of growing this, grow that,' it's not that simple. You have to have that whole chain of a system built for them," she said.
Right now, Corral said, growers are incentivized and subsidized to grow a handful of cheap, water-intensive crops that don't require as much labor.
"I don't know if you know this, but 75% of what we all eat globally are 12 crops and five livestock," she said.
Such a small selection of crops leads to a lack of diversity in our nutrition and leaves our food supply susceptible to pests and diseases.
Growing native and arid-adapted crops using desert-appropriate growing techniques is asking farmers and ranchers to think differently, Corral said.
Things like kale and quinoa were once considered a novelty, Corral said, so why can't we introduce mesquite, prickly pear, agave and other products as potential staples into our food pyramid?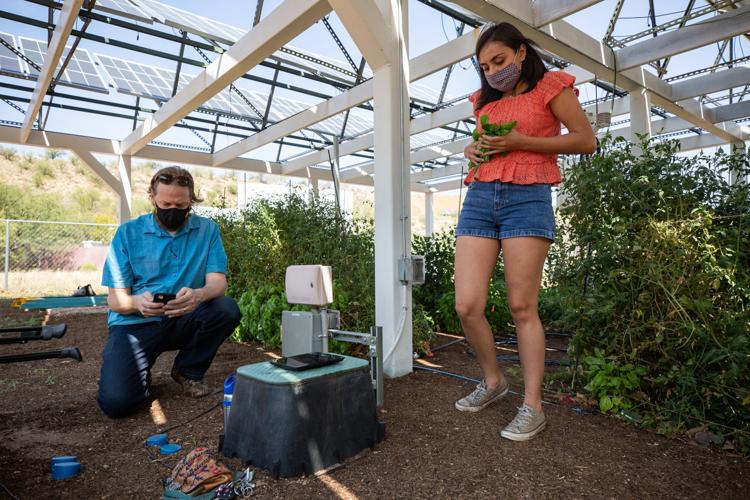 "Instead of having a wheat product that is simply your baseline wheat, why can't we have wheat products from our desert-adapted White Sonoran Wheat, such as what's grown at Oatman Flats Ranch?" she said.
The grant also includes specific benefits and incentives for Native American farmers.
Michael Kotutwa Johnson is a member of the Hopi Tribe in Northern Arizona, who continues to practice Hopi dry-farming. He is also an assistant specialist with the UA's School of Natural Resources and the Environment and is affiliated with the university's Indigenous Resilience Center and Cooperative Extension.
The grant partnership will draw upon the expertise of native farmers, Johnson said, adding that his primary role will be to engage with those growers in Arizona. He also wants to ensure that heritage farming practices are passed on to future generations of native farmers.
Currently, the USDA is proposing an update to school nutrition standards in a few key areas, and Johnson sees this as a chance to introduce traditional crops into the lunch programs of schools that serve the native population.
"This is an opportunity to give growers an economic prospect and to find ways to feed their own people," he said.
Corral acknowledged that it will take more than three years of grant funding to fundamentally change the way food is grown in the Southwest, but she hopes the partnership will help bring together the right people and groups needed to make that change.
After all, she said, our increasingly unsustainable system of industrial agriculture is a relatively new development. A course correction is still possible.
Eva-Marie Hube is a Univeristy of Arizona journalism student apprenticing with The Arizona Daily Star.