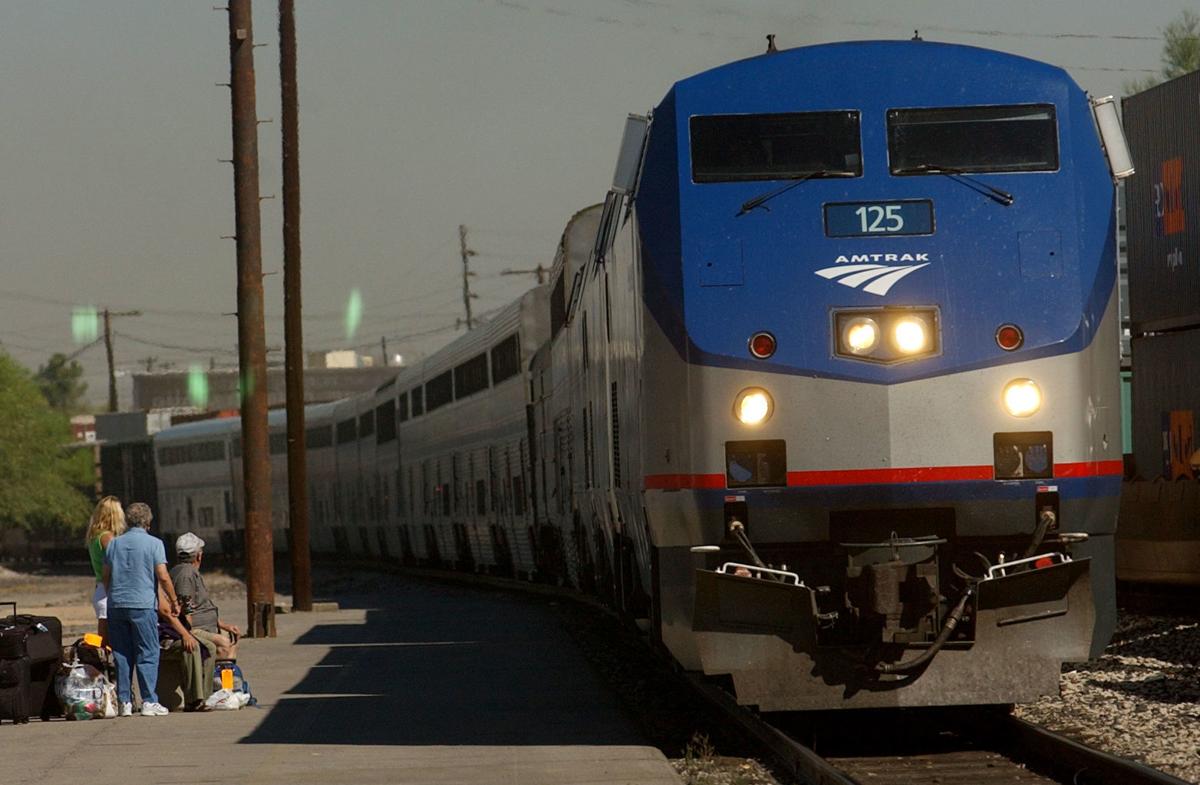 Every Tucson resident is familiar with the guttural groan they make, almost involuntarily, when they realize a trip to Phoenix is in their future.
The next step is the mental gymnastics of either rationalizing an excuse not to go or to find someone else to get behind the wheel for what is going to be a two-hour trip.
Deadly dust storms and near-certain traffic jams on the two-lane sections of Interstate 10 are just the tip of the iceberg for reasons not to climb behind the wheel.
A group known as All Aboard Arizona is making a push this month to offer a viable alternative that doesn't involve air travel: a daily rail service between Tucson and Phoenix.
The group, known as the Arizona Rail Passenger Association up until last year, isn't trying to revive the discussions of a dedicated commuter rail between Tucson and Phoenix, which the Arizona Department of Transportation has estimated would cost billions of dollars the state doesn't have.
Instead, the group is lobbying for Amtrak to change its current three-day-a-week service between the two metro areas, known as the Sunset Limited, to daily service.
The group also wants to see the return of the Amtrak Sunset Limited service to Phoenix and Tempe.
Ken Karrels, a member of All Aboard Arizona, rattles off a laundry list of reasons why there should be daily service between Tucson and one of the largest metropolitan areas in the country.
Adding to my list above, Karrels notes service could eventually be faster, cheaper and much better for the environment then thousands of Tucsonans driving up to the Valley.
Merely adding lanes to Interstate 10 isn't going to be enough.
"How many lanes do we need before saying enough is enough?" he asked.
However, anything involving a federal entity like Amtrak isn't simple. An Amtrak spokesman notes that the Rail Safety Improvement Act of 2008 requires the state to sign off on changes to existing routes less than 700 miles long.
But getting the state to sign off isn't the only issue.
The Sunset Limited offers service from downtown Tucson to the town of Maricopa. The last leg of the trip requires shuttle service, also provided by Amtrak, to one of three destinations — including Sky Harbor Airport. There is a line owned in part by Union Pacific Railroad between Maricopa and Phoenix, but it has been abandoned for more than two decades and fallen into disrepair.
Amtrak would need to work out an agreement to use Union Pacific lines, likely paying more as passenger service could interfere with existing freight service.
Since it is in the nascent stages, no one has approached Union Pacific with a specific proposal, and, therefore, it is unclear how much Amtrak would have to pay to use those existing tracks.
Or, more importantly, how much it might cost to fix the lines between Maricopa and west Phoenix so they could support daily traffic again after 20 years.
A spokesperson at the Arizona Department of Transportation referred all questions back to Amtrak and Union Pacific, saying it is not involved with efforts to increase service between Tucson and Phoenix.
But before you write off such a venture as too expensive, the first half of an ADOT project to widen a 4-mile stretch of Interstate 10 south of Eloy from two lanes to three lanes in each direction is set to cost $54 million.
Down the Road
ADOT is advising drivers to plan on delays along westbound Interstate 10 near Alvernon Way on the evening of Monday, June 11. Crews are to close the right lane from 6 p.m. to midnight for guardrail repairs. All traffic will be forced to merge into the left lane through the work zone.
A lack of oil and asphalt have pushed back when paving will be done on Tanque Verde Road between Sabino Canyon Road and Kolb/Grant Roads, the city of Tucson has confirmed. The work had been scheduled to be completed last Friday, but officials believe that the area will be repaved by late Wednesday afternoon.