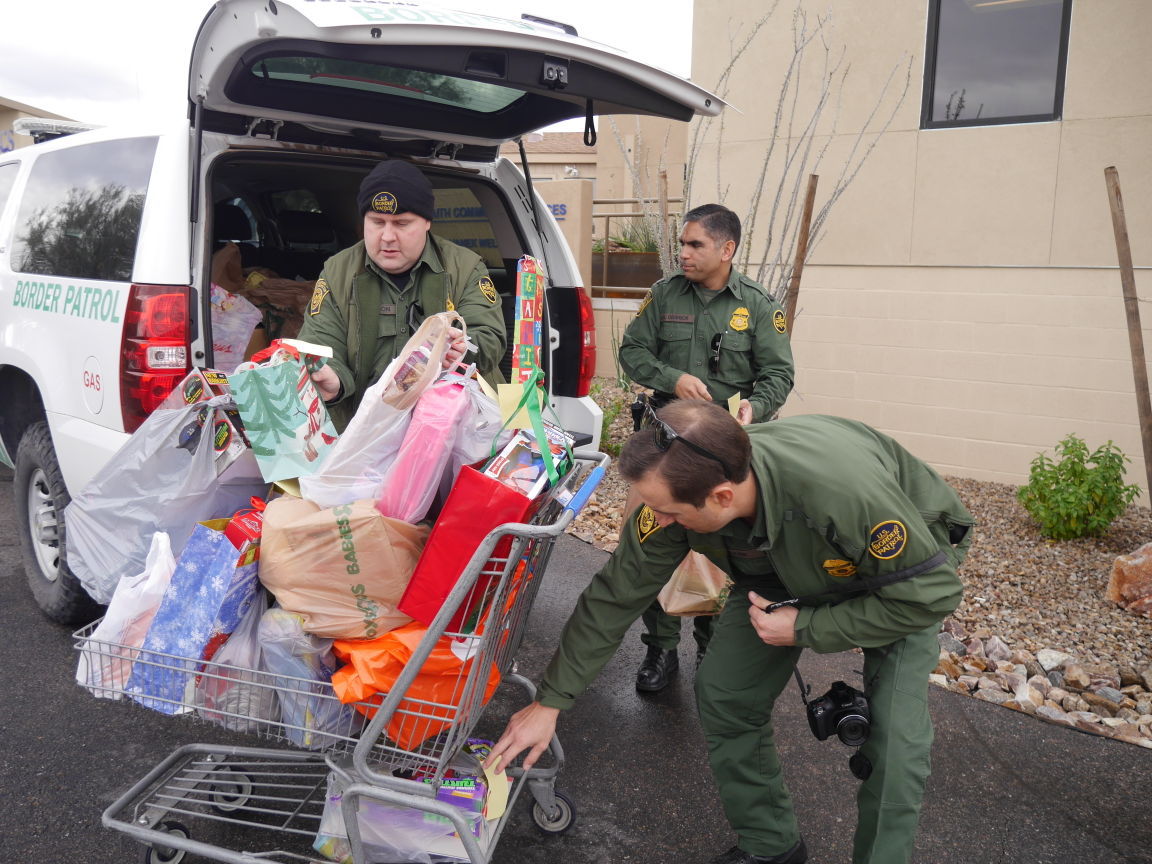 There is no place like home for the holidays, and several groups are providing support and some holiday cheer for homeless and near-homeless families in Tucson.
The Interfaith Community Services Holiday Gifts of Love Program is seeking donors willing to adopt families, optimally through Friday and even as late as Monday.
"If you like going out to shop, we still have families to adopt. If people don't mind battling the crowds as the holidays get closer, I can get them a family even early next week," said Margie Derrick, coordinator for the Gifts of Love program. "If it means getting Christmas gifts for a family, I am willing to do what I can to make that happen."
The program seeks to provide gifts and a holiday meal for about 200 families in need this month; last year, it served 183 families (including 460 children). Families vary in size and may or may not include children. Some consist of grandparents who are raising grandchildren. All families are prescreened and meet income qualifications; the majority are living below the federal poverty level and are receiving services from ICS emergency financial assistance programs.
"These are families that are highly in need and are struggling to meet the most urgent and essential basics, such as housing, food, utilities and medicine," said Deborah Carr, ICS philanthropy and public-relations director.
The gifts program matches each donor with a family of his or her choice, providing donors with clothing sizes and a wish list of gifts or toys for family members. Carr said some donors also opt to provide food and gift cards, while other donors provide partial lists or just one gift.
"Whatever each donor can give, they need to know that these families are so appreciative. The holidays are a particularly stressful, lonely and difficult time for people who are struggling. Many families tell us they would not have otherwise had any gifts in their home for the holidays if it weren't for this program," Carr said.
Donor Angie Ving understands how much the program means to those in need.
Ving and her three children were recipients of gifts from the program in 2006.
At the time, Ving was a single mom who was bedridden as a result of spinal issues. The real estate agent was unable to work and couldn't pay her bills; she was threatened with eviction and with her utilities being shut off.
She said the emergency assistance provided by ICS was a lifeline.
"ICS offered not so much a hand out as a hand up. They helped me bridge the gap so that when I was able to step back in and take care of myself, which I was anxious to do, I hadn't lost everything," Ving said. "So much of society is in that situation where they are living paycheck to paycheck, and when there is a crisis, they lose everything. ICS helps to take care of families during a temporary crisis so they can stay together and they don't lose it all."
She said it was their most memorable Christmas because while they realized they had very little, they still had family. They also had true appreciation for everything that was given to them, including the artificial Christmas tree provided by ICS.
"My children make sure that tree goes up every year. It is a very emotional reminder of what Christmas is really about. That Christmas had so much impact in teaching my children a valuable lesson about the real meaning of Christmas, which is family and love and giving," she said.
Last year Ving and her children were gratified to pay that lesson forward by adopting a single mother and her three children.
"It had always been on my heart that I wanted to be able to give back, and last year was the first time I was in a position to do so," she said.
Homeless help
Tucsonans inspired to assist those living on the streets can find ample opportunity through the Gospel Rescue Mission's Children's Christmas Party and Christmas Street Banquet.
The 10th Annual Christmas Party will provide a celebration and resource fair for about 1,200 families and holiday toys for more than 4,000 children.
Donations of new, unwrapped toys are needed for all ages, particularly newborn to age 2 and children ages 10 to 16. Donations of wrapping paper are also welcome, along with volunteers to wrap gifts.
"These are homeless and low-income families who are struggling to put food on the table, let alone trying to have Christmas with their families. We can't pay their bills or rent, but we can help with Christmas and toys," said Suzanne Williams, Gospel Rescue Mission community ministries director.
Donations of turkeys, ham and nonperishable foods are also needed for the 27th annual Christmas Street Banquet on Dec. 23.
"It is the hardest time for those who are living by themselves or living on the streets and can't afford even a meal. It is important to reach out to them and let them know that there is help and that we can provide a place to stay if they need it," she said.