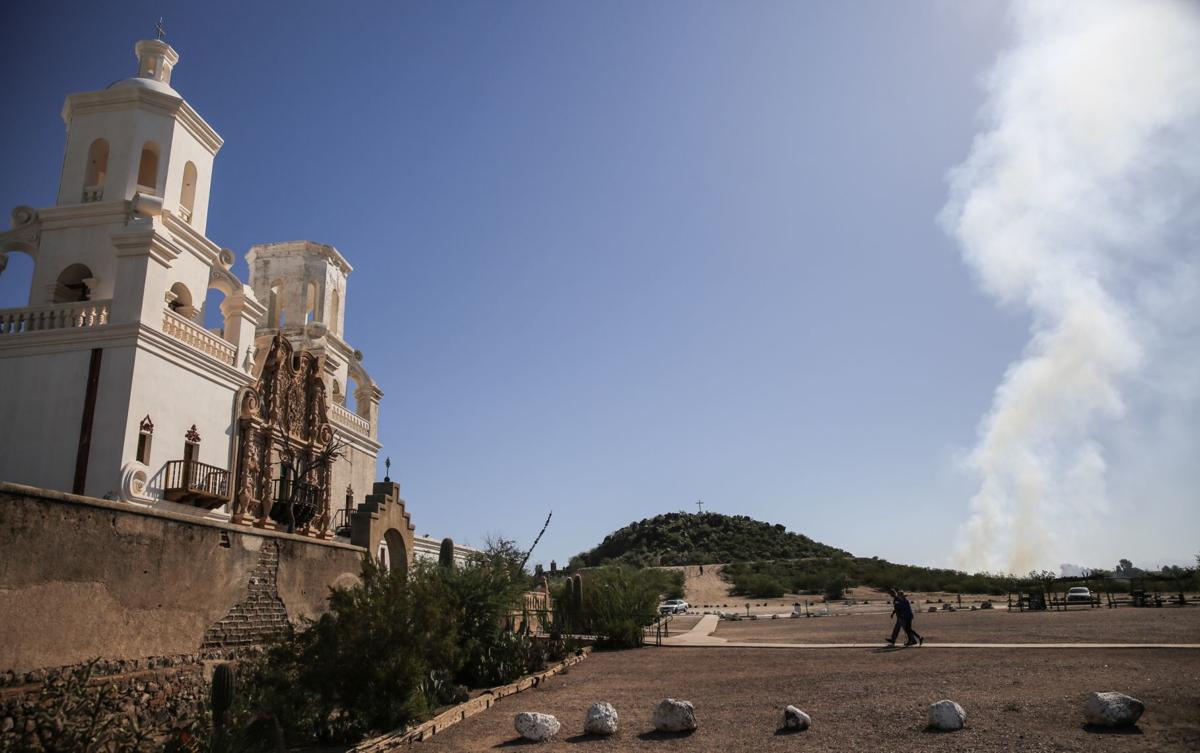 A hay fire about a quarter-mile east of Mission San Xavier del Bac that started Tuesday evening is expected to continue burning for a couple of days, leading to heavy smoke in the area.
Officials said no nearby structures, including the mission, are at risk. There were no reported injuries.
Crews are working on extinguishing the fire at the San Xavier Co-Op Farm on the Tohono O'odham Nation. Fire officials said it burned 20,000 bales of hay, although the nation reported Wednesday that 5,000 bales of alfalfa hay were ignited.
The fire was contained late Tuesday night, officials said.
An air pollution health watch was in effect due to the smoke and elevated particulate matter that may cause respiratory problems to residents in areas west and southwest of Tucson.
The Pima County Department of Environmental Quality says if individuals with heart disease and respiratory sensitivities smell smoke, they should reduce their exposure to particulates by limiting time outdoors.
In addition to the hay, several buildings and metal hay barns were also destroyed, said Tracy Koslowski, a spokeswoman for the Drexel Heights Fire District.
Fire crews from Tohono O'odham, Drexel Heights, Green Valley, Pascua Yaqui and Rural Metro responded to a report of a fire just before 6 p.m. Tuesday at the San Xavier Co-Op Farm.
More than 40 firefighters, including seven engines, were on the scene to contain the blaze.
The fire was deep-seated but was not expected to grow, Joey Kosiorowski, a Green Valley Fire District division chief, said Tuesday night.
"It's hay bales," he said. "There's really no good way to put them out."
Crews will have to use tractors to break apart the hay and extinguish the fire, he said.
"Hay is very flammable, obviously," Kosiorowski said. "It just has to be roughly broken apart with heavy equipment and then it'll have to be extinguished when it's broken apart."
He said the burning hay was stacked about 40 feet high over an area the size of half a football field.
The Tohono O'odham Fire Department took over and continued to monitor the fire through Wednesday.
Get local news delivered to your inbox!
Subscribe to our Daily Headlines newsletter.