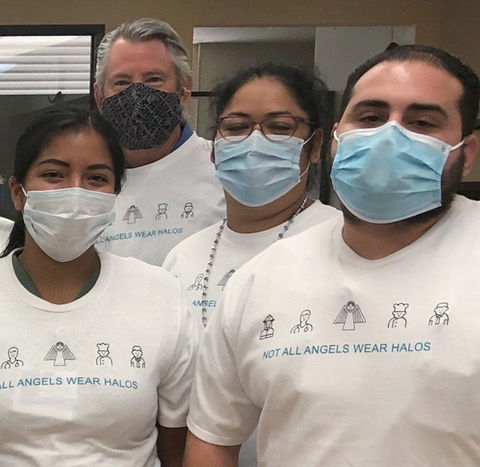 Local angels are tipping their halos to front-line workers during the pandemic and they have the shirts to show it.
The public can help hail the efforts of essential workers — and assist local children in need — by supporting Angel Charity for Children's "Not All Angels Wear Halos" T-shirt campaign.
"This is a nice way to honor those who are working tirelessly on the front lines, whether they are medical professionals; first responders; restaurant or grocery store employees; or those in some other type of service industry. We are all cognizant of how hard they are working to keep our community safe. We want them to know how much we appreciate them and if we can raise funds for our beneficiaries at the same time, it is a win-win for all of us," said Adriana Rincon, the 2020 general chair for Angel Charity.
The shirts cost $20 each (or $15 each for five) and 100% of sales will be funneled into seven local nonprofits. Rincon credited Garment Graphics, a local promotional products company, and their partners — along with graphic designers Leslie Perls and Noah Walker — for making the fundraiser possible.
Rincon said she is optimistic the campaign will raise up to $20,000 as the organization strives to reach its 2020 goal of $1.1 million to fund the Angel Charity Center for Children and Youth for Intermountain Centers and the "World of Play Adventure Zone" for the Reid Park Zoological Society. The 2020 pledge also included $195,020 in smaller grants for Amanda Hope Rainbow Angels; Boys to Men; Jewish Family & Children's Services; Literacy Connects; and Make Way for Books — all five of which were funded last week.
"We were so pleased and proud to present them with checks considering the climate right now," Rincon said. "Like many nonprofits, our beneficiaries are struggling during this COVID-19 crisis to maintain services with reduced budgets and staffing. They are uncertain about the future. We just infused that money into our nonprofit community to help them continue to serve their constituent families."
The uncertainty surrounding COVID-19 has proven challenging not only for beneficiaries, but for Angel Charity itself as members endeavor to raise funds. The organization was forced to postpone Drop In at the Dropout, a pop-up shopping extravaganza that was scheduled for March 22 at Culinary Dropout, until fall 2020 (pending state health recommendations). Planners are optimistic that the nonprofit's annual Big Deal Texas Hold 'Em Tournament, Casino & Entertainment will take place as planned on Sept. 25 at Hacienda Del Sol Guest Ranch Resort.
"Angel Charity has strict timelines and guidelines for all of its events and positions, but so far I can't find anything in my guidelines that says, 'In the event of a pandemic, this is what you do.' We have to be innovative and adaptive and flexible and I am so proud of our membership. They are rising to the challenge," Rincon said.
To that end, the all-volunteer members remain committed to meeting fundraising goals for their beneficiaries, which Rincon said reflect the wide-ranging needs of children in the community.
"What is so incredible about these organizations is that they are so diverse. They cover everything from Amanda Hope Rainbow Angels, which addresses the unique specialty health-care needs of children battling serious illnesses such as cancer; to Boys to Men, which supports and mentors boys into responsible citizens as adults; to literacy programs like Make Way for Books and Literacy Connects and everything in between," said Rincon.
Support from Angel Charity is indicative of the insight and progressive attitude about children's overall well-being that members bring to the community, according to Lorraine Tallman, founder and CEO of Amanda Hope Rainbow Angels.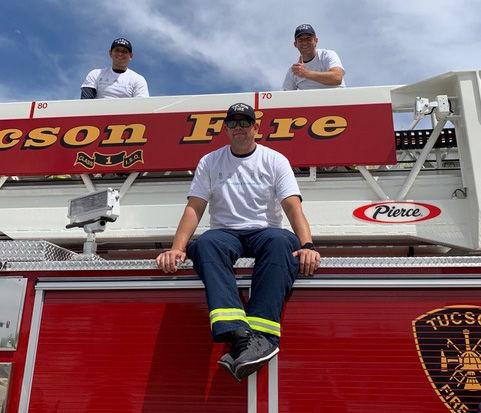 Tallman said the $65,000 grant from Angel Charity will facilitate the hiring of a therapist to provide counseling, play therapy and other therapeutic services for at least 100 children battling cancer and their families annually at Diamond Children's Medical Center.
"We are beyond grateful to all the ladies who actually understood the need for this. For them to really get it — you can support something but when you really are behind it and you get it — that is when the needle moves," said Tallman.
Tallman has forced that needle with her own hands and will. Amanda Hope Rainbow Angels was created to honor her daughter, Amanda Hope, who was diagnosed with leukemia at age 9. Three years of chemotherapy resulted in remission, but shortly afterward Amanda was diagnosed with a brain tumor, necessitating months more of grueling chemo and radiation.
Amanda died on March 30, 2012. A short time later, Amanda Hope Rainbow Angels launched its mission to bring dignity and comfort into the lives of those dealing with childhood cancer and other serious illnesses. It has served more than 10,000 children in the last seven years with free apparel, "mindfulness kits," counseling programs and other services, including assistance with groceries, meals and utilities. During the pandemic, the nonprofit has helped provide free groceries to more than 200 families.
"This charity was Amanda's Bucket List. It was the way she wanted to help other children," Tallman said. "She made me promise before she passed away that we would do it and there was no way I was not going to keep that promise. I think she lived more in her 12 years than some people do in 60."
Tallman said Amanda was particularly excited about Comfycozy's for Chemo apparel, which offers a range of free brightly colored shirts, hoodies, dresses and onesies featuring zippers, buttons, snaps, pockets, and openings to allow easy access during medical treatments and procedures.
"The second time she fought, Amanda was 12 and having her body exposed to everyone in the chemo room was devastating. She dreamed of T-shirts having 'Peekaboo' compartments so people could get to her port easily without her undressing," said Tallman.
Both mother and daughter also recognized the importance of counseling for children undergoing cancer treatment and their families to help everyone involved learn to cope with the pain and fear. Tallman said it also helps to combat the post-traumatic stress disorder that often accompanies major medical treatment.
"Studies show that abuse, illness or anything that causes major disruptions in childhood can cause long-term major health issues," Tallman said. "If children learn breathing skills, communication and other coping techniques to deal with pain and fear from the very beginning, they progress much better throughout their treatments. It is a critical part of care for children and also for their moms, dads and siblings and people are starting to see that."