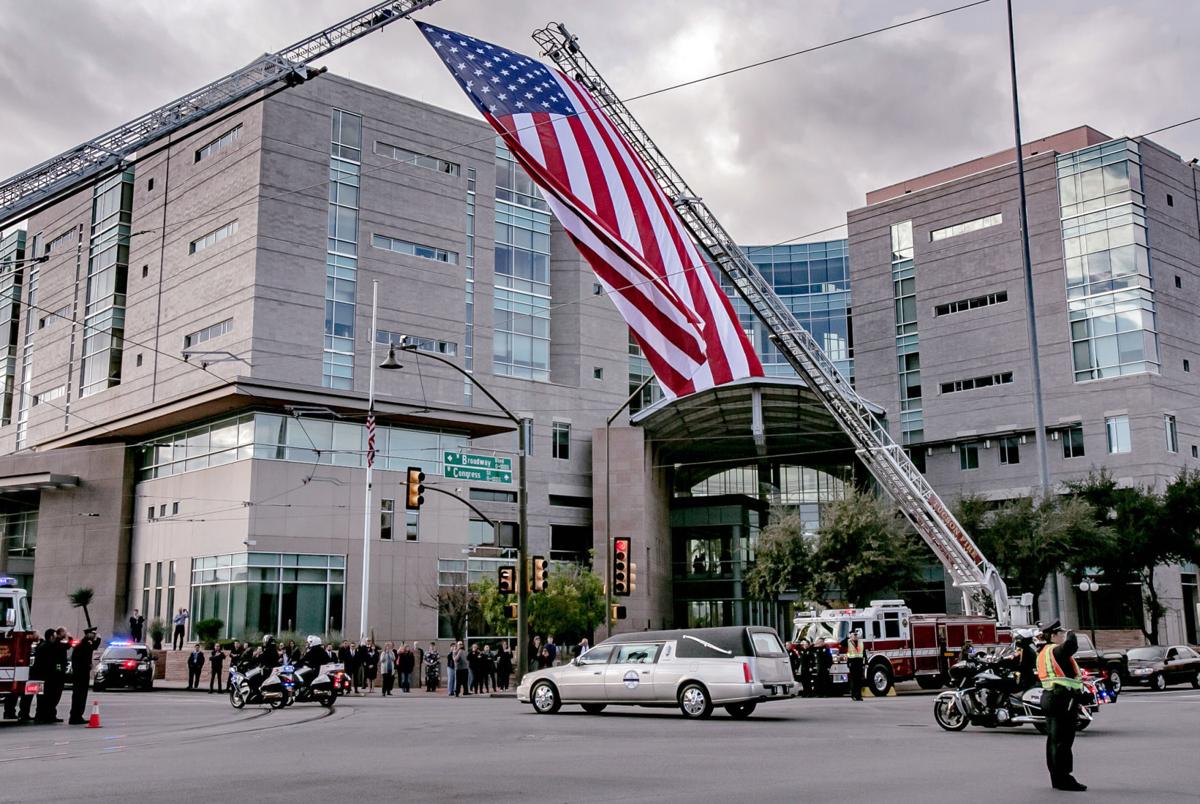 Deputy U.S. Marshal Chase White was a man who lived in service to others, his mother told friends, family and colleagues gathered at his memorial service Friday morning.
The Rev. Lynnda White spoke to nearly 2,000 people who came to say goodbye to the slain deputy marshal during his celebration of life at the Tucson Convention Center. White was shot and killed Nov. 29 while serving a felony warrant at a home on Tucson's north side.
In addition to being a U.S. marshal, White, 41, was also an Air Force reservist who was preparing for a three-year deployment. He was the first deputy U.S. marshal killed in the line of duty in Tucson in 66 years.
Lynnda White said it meant so much for her son to be part of the first responder family. She recounted another first responder telling her, "We all know we might not come home. We all know that someone will be there for our families if we don't."
White leaves behind his wife, Sue Ellen White, and their four children, ages 7 to 14. Speaking at the service while holding one of her children, Sue Ellen told the crowd her husband loved his three years as a federal marshal, and she never would have taken that from him.
"I know he's going to live through his babies," she said. "And I also know he's going to live through each and every one of you."
Each of his three older children briefly spoke. The older of his two girls said her father always told her life isn't fair, but she never knew what he meant until now. His 14-year-old son said his father always encouraged him to be strong.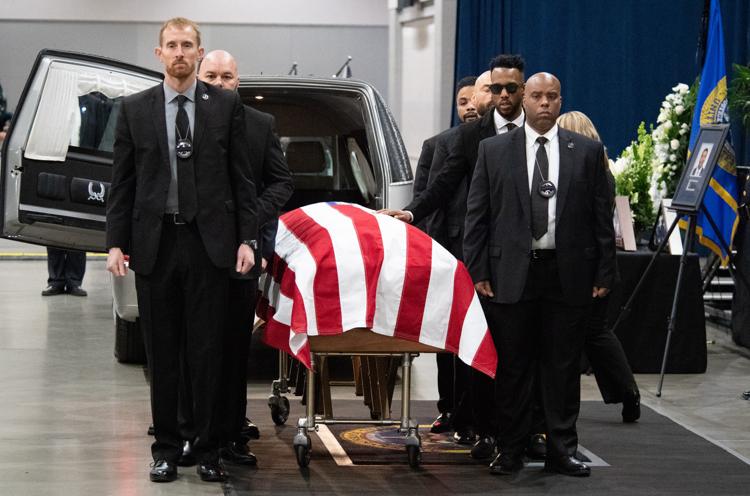 "And if I ever complained or whined, he always just said, 'Do some pushups,'" he said, getting a laugh from the crowd.
White's friends spoke about a giving and brave man who liked to joke around and loved martial arts. He never made excuses or shied away from a challenge. And more than anything, his friends remember how much he loved his family.
Law enforcement officers from around Arizona turned out in uniform for the service as well as officers in uniform from Illinois, where White grew up. Arizona Attorney General Mark Brnovich and U.S. Rep.-elect Ann Kirkpatrick were also in attendance.
Acting U.S. Attorney General Matthew G. Whitaker issued a statement saying U.S. marshals do some of the most dangerous work of all law enforcement.
"They take some of the most violent criminals in America off of our streets," he said. "For the last three years, that's what Deputy Marshal White did for us. On this day of his funeral, the entire law enforcement community mourns his loss and we honor his sacrifice."
When White's best friend, Doug Pipkins, took the stage, he told stories of how White defended him in middle school against bullies, and how they played basketball together, listened to music, went fishing and played Dungeons & Dragons.
"He was actually a super nerd," Pipkins said.
The last time they spoke on the phone, about a month ago, Pipkins ended the conversation by telling White to stay safe. He told the crowd after a lifetime of memories, it was only as husbands and fathers that they began to tell each other to stay safe.
Lynnda White said she's glad officers were able to arrest her son's accused killer, Ryan Schlesinger, adding that even he is not beyond redemption. "We need to be able to provide people with the help they need," she said. "We can't do anything about bringing our son back, but we can each do something about mental health."
Schlesinger, 26, was already well known to the Tucson Police Department's mental health unit and had previously threatened police officers over a gun they seized from him, according to a criminal complaint. He is facing charges of murdering a federal officer.
Lynnda White told the crowd her son attended a high school where not many students were expected to thrive, yet he did. She recalled him saying he could have gone down another path, but he chose service to others, from helping his classmates learn to read in the fourth grade to being in a service organization in college to joining the ROTC and then the Air Force.
"I've been privileged to know him his entire life," she said about her son. "He's my heart."