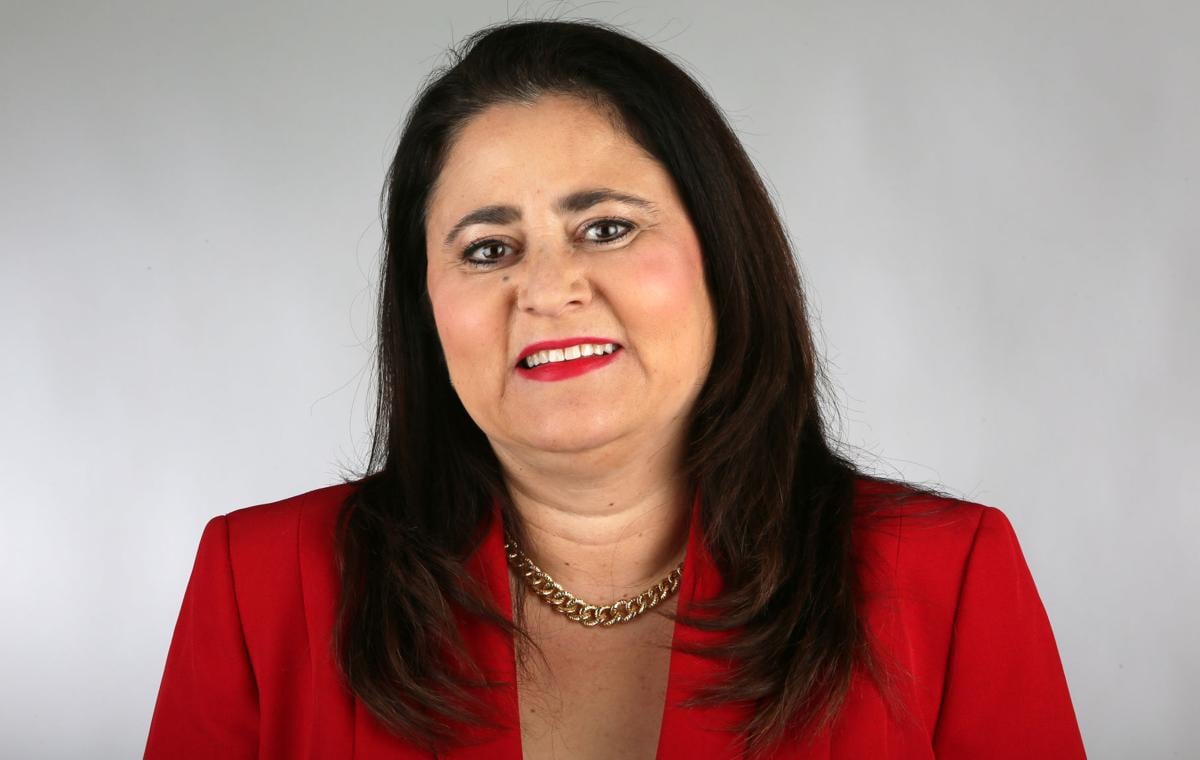 The president and CEO of the Tucson Hispanic Chamber of Commerce, Lea Márquez-Peterson, is the first Republican to announce she hopes to succeed Rep. Martha McSally in Congressional District 2.
A resident of Southern Arizona for more than four decades and a lifelong member of the GOP, Márquez-Peterson formally filed paperwork with the Federal Elections Commission on Wednesday, saying she understands many of the issues facing residents in Pima and Cochise counties.
She adds that her experience as both an entrepreneur and a leader representing businesses in Tucson and Sierra Vista would suit her well in Congress.
The 47-year-old will kick off her campaign Thursday night, Dec. 14, with a party. It is unlikely she will be able to get very far into her speech without having to address the elephant in the room — McSally's future political ambitions.
From Márquez-Peterson's vantage point, she is not challenging the two-term Republican.
"I am not running against Congresswoman McSally, I am a big supporter. This is in the event she runs (for Senate), I am ready and I am prepared," Márquez-Peterson said.
When McSally began to be mentioned in news articles as possibly running for U.S. Senate, Márquez-Peterson said she reached out to her.
"I texted her right away," Márquez-Peterson said. "I told her in the event that she runs for Senate, I am going to run for her seat."
But she said she is in the dark about what McSally will do next. "Right now I understand that she is deciding and exploring and strategizing with a lot of different folks. I don't know the exact timing on her race."
And if McSally decides to stay in Congressional District 2 and run for re-election? "Then I will pull out of the race," Márquez-Peterson said.
For now, Márquez-Peterson is meeting with constituents as part of a listening tour. Last week, she met with ranchers living in the district.
She supports increased border security, which could include a massive new wall touted by President Trump.
"A wall could certainly be a part, along with increased technology, more Border Patrol at the border, along with balancing that with Custom agents at the border to enhance trade," Márquez-Peterson said.
While the economy has gotten better in metro areas of the state, especially in Phoenix, she said jobs are still a huge issue in rural areas of Cochise County where the recovery from the recession has been slow.
Márquez-Peterson said she believes she is a good fit for the district, as her family has long entrepreneurial roots in the community.
"I am not new to this district. I run four Hispanic chambers and three are in this district," she said. Those are in Sierra Vista, Douglas and Tucson. The fourth chamber is in Nogales, in Congressional District 3.
She became the president and CEO of the chamber in 2009, stepping into the role after serving on the board of directors.
"I think that those who know me know that I get things done and I want to be part of the process of getting things done in D.C.," she said.
However, Márquez-Peterson's campaign rollout has come with some criticism, with some Democrats noting her bankruptcy filing in 2005 related to several gas stations she owned. Pima County Superior Court records showed a settlement with one creditor in 2006 for $629,298.
She doesn't shy away from those criticisms.
"When you start a business, you are taking great risks. And not all businesses are successful, unfortunately," Márquez-Peterson said. "I think when I started my businesses, the gas station in particular, at the peak I employed more than 50 employees and did a quite sizable revenue."
She said since those businesses failed, she has had successes with other business ventures and has increased the size of the Hispanic Chamber of Commerce.
She isn't giving up the chamber role while running for Congress. She told her board of directors her plans about a month ago and said they are supportive of her keeping her job while running for the Republican nomination.
There are no other Republican candidates who have filed with the Federal Election Commission, although Pima County Supervisor Ally Miller and Douglas City Council member Danny "DJ" Morales are contemplating running if there is an open seat.
At least six people are vying for the Democratic nomination. They include: Former state Sen. Bruce Wheeler, former U.S. Rep. Ann Kirkpatrick, emergency room physician Matt Heinz, businessman Billy Kovacs, Cochise County rancher Barbara Sherry and retired Assistant Secretary of the Army Mary Matiella.