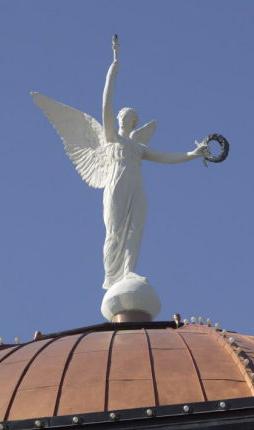 PHOENIX — A bid by House Speaker Rusty Bowers to break the GOP gridlock over the state budget has been rejected out of hand by the Phoenix Republican it's supposed to satisfy.
Bowers, R-Chandler, is proposing to give victims of sexual assault and abuse when they were minors until age 30 to file civil suits against their assailants. That's five more years than they have now under what is one of the shortest statutes of limitation in the country for victims of these types of crime.
But Sen. Paul Boyer, who said Bowers has not bothered to contact him, said that won't cut it. He's holding out for a law that would give victims seven years to file suit from the time they report the incident to a medical or mental health professional. Anything less, Boyer said, is largely meaningless.
"The one thing we know about sexual predators is they don't stop until they're caught or exposed," he said.
Bowers is making the offer to deal with the fact that Boyer has vowed to withhold his vote for the approximately $11.5 billion budget until his bill gets a vote.
More significant, Boyer has the backing of Sen. Heather Carter, R-Cave Creek. And that leaves Senate GOP leaders without the 16 votes needed to adopt a spending plan.
That isn't stopping Bowers and Senate President Karen Fann, R-Prescott, from saying they intend to unveil a spending plan on Monday, at least to their own members. At that point they will count noses to see if they can get the necessary votes.
GOP leaders are coalescing around a plan that would cut income taxes in future years by more than doubling the standard deduction available to individuals and couples.
That, paired with some additional tax credits for dependents, should make up for the windfall the state is getting due to changes in the federal tax code, changes that reduce deductions that can be taken by Arizona taxpayers.
Still, one potential sticking point is what to do with the extra dollars already being collected.
The latest figures from the state Department of Revenue show the income tax payments tallied so far this year were $652.9 million compared with $566.0 million for the same period last year.
Agency spokesman Ed Greenberg said the numbers — and the $87 million extra — are preliminary as tax returns are still being processed. There may be other factors that are affecting payments, he said.
Meanwhile, legislative budget staffers are sticking with their estimate that the changes in federal tax law will result in a net $155 million extra flowing into the state treasury, though an update is planned for later this month.
Republican Gov. Doug Ducey has proposed putting the extra cash into the state's rainy day fund, money set aside in a reserve against future economic downturns. That, however, continues to draw sharp reaction from some Republicans.
On Thursday, Rep. Mark Finchem, R-Oro Valley, said he will not support having the state keep the extra money. The state will already have an anticipated $1 billion surplus without it, he noted.
"I have a problem with the state tax code taking money that the federal tax code put back into taxpayers' pockets," Finchem said.
Similar sentiments were echoed by Rep. Bret Roberts, R-Maricopa, and Sen. Vince Leach, R-Tucson.
There are other problems for the GOP leadership in corralling the votes.
Sen. Michelle Ugenti-Rita, R-Scottsdale, has vowed to withhold her support until lawmakers repeal a $32-a-vehicle registration fee designed to fund the state highway patrol.
Lawmakers authorized the fee last year but left the amount up to John Halikowski, director of the state Department of Transportation, after being told by budget analysts that it likely would be no more than $18.
And Sen. Kate Brophy McGee, R-Phoenix, has said she is holding out for more funding for social-service programs and other priorities.
That doesn't even account for the fact that there are just 31 Republicans in the 60-member House, meaning Bowers cannot afford to lose even one vote given that, as of now, the Democrats have shown no interest in supporting the GOP spending plan.