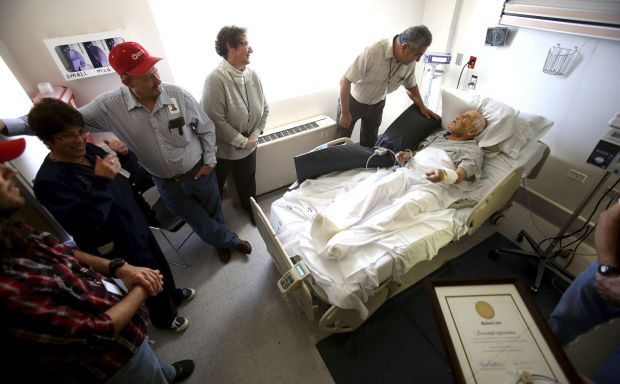 World War II veteran Richard Love, who suffered a brain-stem stroke last week, was shocked Wednesday when several strangers appeared at his bedside at Carondelet St. Joseph's Hospital.
Visitors included staff of the Southern Arizona Chapter of the American Red Cross' Service to the Armed Forces program, members of an Oro Valley American Legion chapter, an airman from Davis-Monthan Air Force Base, and staffers from U.S. Rep. Ron Barber's office. They all came with a common purpose — to say "thank you."
The surprise visitors were tipped off by a Facebook post made Tuesday night by the partner of Love's son asking for help or suggestions from friends about finding someone from the Air Force or the Arizona Department of Veterans' Services who could help honor Love, 91, for his military service.
"There are so few WW2 vets left. Why do we always wait until a funeral to do this?" the post read.
Love, originally from Michigan, piloted 35 missions over Germany with the U.S. Army Air Corps and is one of only a few remaining B-24 bomber pilots alive, said his son, Howard Bisgeier.
"This was wanting to get his story, and not lose the history," Bisgeier said.
One of Love's most memorable missions was in November 1944, when he was piloting one of 30 planes attacked by enemy fighters. Love's plane was among three that returned safely.
On Wednesday, Love was in good spirits, but he couldn't recall some details or find the right words to express his thoughts.
Even small strokes that occur in older patients can cause prolonged symptoms that include confusion, weakness or numbness, said Dr. Hemant Kudrimoti, director of epilepsy and neurophysiology at the Carondelet Neurological Institute.
However, Love is doing well and is expected to be released from the hospital soon, Kudrimoti said.
Love was shocked and appreciative of the "gorgeous group of people" — none of whom he knew beforehand — who came to visit him and thank him for his service to the country.
"I can't get over it," he said. "I'm sitting here, and I can't answer well. It's getting better now, but these people were so nice to me."
Staffers from the Red Cross and Barber's office presented Love with certificates, and the Red Cross gave him a special coin for his service.
"This was the perfect opportunity for us to just say, 'We're going to go over there and honor that
man,' " said Mary Laughbaum, director of the Service to the Armed Forces program.