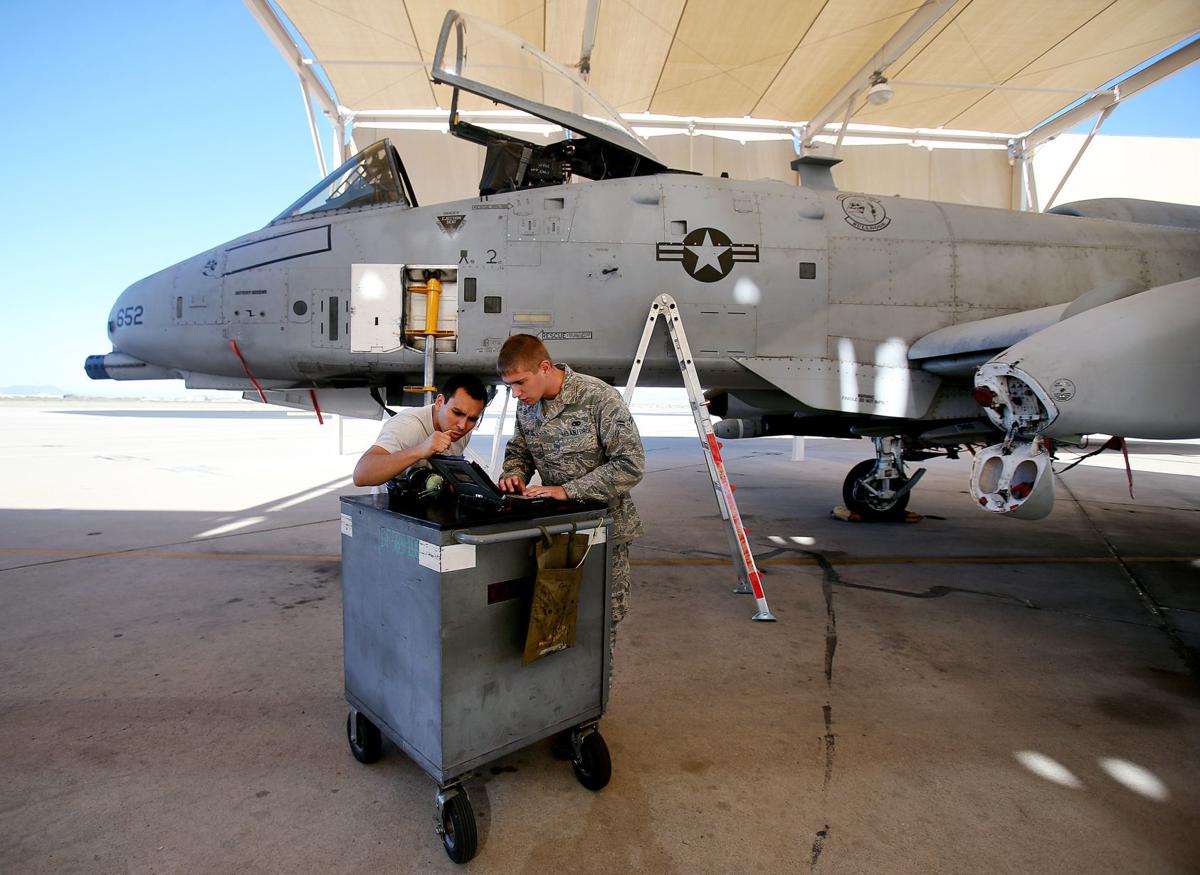 A key House committee has backed millions of dollars in new funding to extend the lives of more A-10 Thunderbolt II ground-attack jets — a mainstay of operations at Davis-Monthan Air Force Base — and to buy more Tomahawk cruise missiles made by Tucson-based Raytheon Missile Systems.
The House Armed Services Committee on Thursday passed its version of the fiscal 2019 National Defense Authorization Act, a policy document that generally guides the appropriations process. The Senate Armed Services Committee is to take up the defense act starting May 23.
According to Arizona Rep. Martha McSally, R-Tucson, a former A-10 combat pilot and armed services panel member, the committee approved $163 million for A-10 enhancements, including $65 million more than the Pentagon's request, for a wing-replacement program meant to keep the venerable "Warthog" flying until 2030.
After turning back attempts to retire the entire A-10 fleet over several years, McSally and other A-10 supporters last year won new funding to restart a rewinging program to extend the life of about 100 of the 280 A-10s in active inventory.
In March, Air Force Secretary Heather Wilson told Congress the A-10 will remain flying through at least 2030.
But the Air Force has set up a long process to award a new contract to start wing production, since original rewinging contractor Boeing bowed out.
And an Air Force official in April indicated that some A-10s would have to be grounded as soon as this fiscal year because they will have reached their maximum flying hours before replacement wingsets are available.
The legislation also directs the Air Force to consider multiyear funding "to get the job done cheaper, quicker, and more efficiently," McSally's office said.
The committee also added $216 million to procure 198 Tomahawk missiles for the Navy, which had requested no new Tomahawks.
A few years ago, the Navy was looking to halt Tomahawk production to save money as it sat on an inventory of some 4,000 Tomahawks and looked toward developing a cruise missile.
But that plan was turned back by Congress and production continued at a minimum sustaining rate, as Raytheon took on a multi-year contract to recertify and upgrade the Navy's existing Tomahawks to extend their service lives by 15 years.
The company also is looking to compete for the Navy's next-generation land-attack missile.
Among other items of interest in Southern Arizona, the House committee's version of the NDAA also:
Backs the administration's full funding request of $108 million to adapt the electronic warfare capabilities of the EC-130 Compass Call aircraft — now based solely at D-M — to a new aircraft platform and directs the Pentagon to accelerate the program.
Supports $15 million for a new Aerospace Ground Equipment facility at D-M.
Allocates $58.9 million for increased testing resources for ranges at the Yuma Proving Ground and the Electronic Proving Ground at Fort Huachuca, including procurement of advanced-threat radar .
Calls for $128 million for Global Hawk surveillance-drone modifications, affecting more than 342 Arizona suppliers and supporting 220 jobs in Sierra Vista.