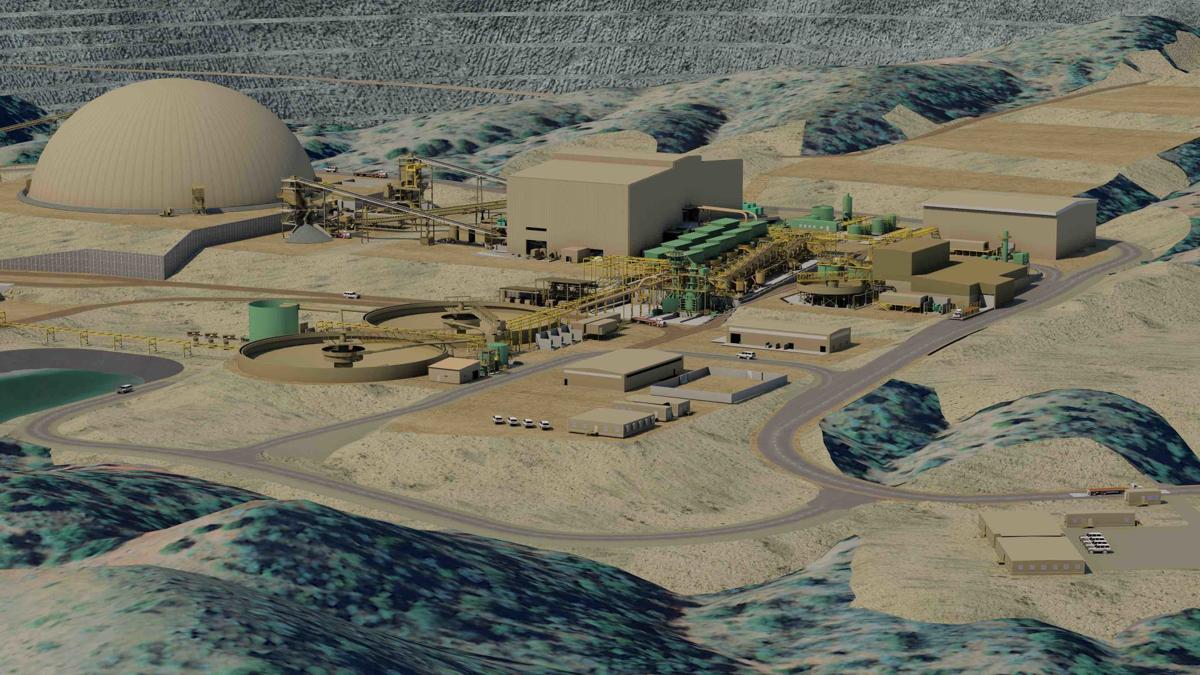 Hudbay Minerals Inc. will spend $75 million to buy out South Korea-based partners who have held a minority interest in the Rosemont Mine near Tucson, the Toronto-based mining giant said Wednesday.
The announcement strongly suggests the mine won't be shipping 30 percent of its copper concentrate to the South Korean partnership as the contract called for. The partnership had bought a 7.95 percent stake in 2010 in the mine project in the Santa Rita Mountains.
Hudbay's news release on the buyout didn't mention the South Korean partnership's previous commitment to buy 30 percent of Rosemont's copper concentrate, and did not say where the copper will go instead.
Hudbay will pay United Copper & Moly LLC $45 million upfront when the deal closes in April, and pay it three annual installments of $10 million each, starting in 2022.
At the same time, Hudbay will soon launch an effort to find a long-term joint venture partner to help finance the mine's total $1.9 billion construction tab, said Alan Hair, Hudbay's president and CEO, in a news release announcing the buyout.
Since September 2010, United Copper has had an interest in the project, having invested $70 million then with the promise of investing another $106 million once the permits were granted.
The buyout frees United Copper of "any and all obligations related to the Rosemont project," Hudbay said.
United Copper is jointly owned by Korea Resources Corp., a South Korean, state-run company and LG International Corp., a Seoul-based multinational company.
The Rosemont Mine would be built on more than 5,000 acres of federal and private land in the Santa Ritas, about 30 miles southeast of Tucson. Hudbay now has all the federal permits it needs to build the project, but faces lawsuits aimed at blocking construction.
"This transaction simplifies the ownership structure and improves our financial flexibility for the development of Rosemont," said Hair. "There is continued positive momentum at Rosemont as we recently received our ... water permit and we look forward to advancing the project into construction as we finalize a prudent financing strategy.
"As part of our financing strategy, we will shortly launch a process to seek a development joint venture partner for Rosemont. We expect there will be substantial interest in a minority stake given recent precedent transactions and Rosemont's unique status as a world-class, shovel-ready copper project in the United States."
The announcement comes five days after the U.S. Army Corps of Engineers approved the final government permit needed for construction. Issued under the federal Clean Water Act, the permit allows Hudbay to discharge fill material into washes on the site to accommodate the mine's construction.
Hudbay hasn't said when it hopes to start construction.
But a report this week from the website Mining.com quoted a Hudbay analyst as saying that with the U.S. Forest Service expected to approve a formal mining plan for Rosemont in about a month, "early works" on the project will start in the second half of 2019.
"The first full year of construction will be 2020," Pierre Vaillancourt, a mining analyst who covers the company for Haywood Securities of Toronto, wrote in a research commentary. He noted that construction is expected to take about 33 months.
Hudbay's buyout of United Copper comes after recent news reports of financial troubles for the Korea Resources Corp.
The company, also known as Kores, is engaged in global mining operations to help South Korea overcome a chronic shortage of mineral resources at home. The country imports more than 99 percent of its mineral resources, the company's website says.
But last August, the South Korean government announced a plan to combine the Kores firm with another company, Business Korea reported. Business Korea, an official South Korean government news agency, reported that the value of Kores' capital has been impaired due to excessive investment in unprofitable projects. The Korean ministry plans to sell off all of the company's overseas assets under a phased restructuring scheme, Business Korea reported at the time.
In February of this year, Business Korea reported that Kores was going to sell its 10 percent stake in the Cobre Panama Mine, in Panama, whose commercial production of copper is expected to start in a year. That mine is the world's 10th largest copper development project, Business Korea reported.