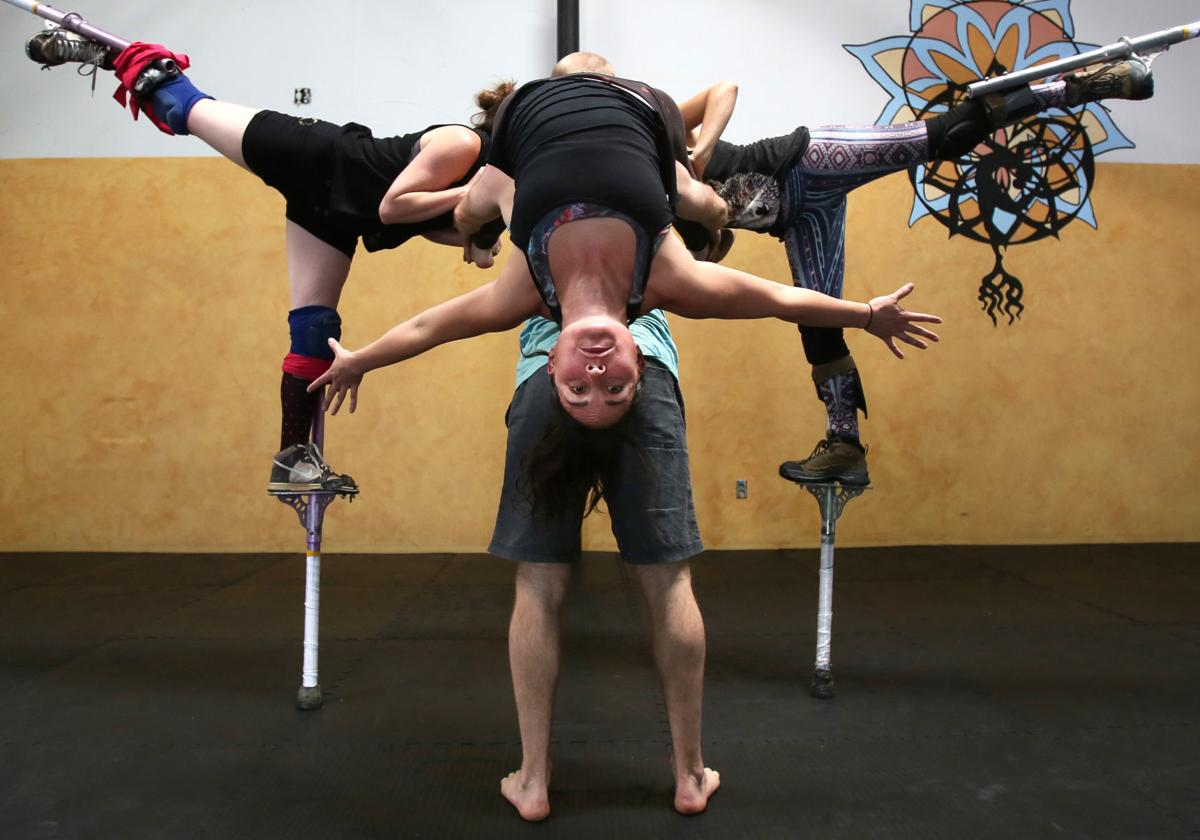 Stephanie Cortes teaches astronomy from the front of a Pima Community College classroom and also while dressed in a colorful cosmic bodysuit atop the shoulders of her acrobat friends.
Cortes, who has a master's degree in astronomy from the University of Arizona, is the director, co-producer and a performer in an astronomy-inspired cirque-style performance dubbed "EXIST: Messengers of the Cosmos." It will stage its next show Saturday.
The performance will walk the audience through the life of stars and various female figures in astronomy throughout history.
Cosmic explorer
Cortes was a business major at the University of Nevada-Las Vegas when she took an Astronomy 101 class.
"I loved it," she said. "I always loved math, but I just didn't really know what to do with it."
She switched her major to physics.
When her undergraduate adviser decided to move to Clemson University in South Carolina, he suggested that she and his graduate student transfer there as well. Clemson had a stronger physics department than UNLV, he said.
The Clemson physics department was small with a few people concentrating on astronomy.
Cortes thrived. She not only received more one-on-one attention and support, but she was able to do research and be the main author on published papers. Such opportunities are fairly uncommon for undergraduates.
"I was really taken care of as an undergraduate," she said.
At Clemson, she studied gamma-ray bursts and star populations in our galaxy.
For her research on stars and the phases of their lives, Cortes was accepted to the UA's department of astronomy for graduate school in 2005 where she studied protostars — a star's fetal equivalent as it develops from a womb made of gas and dust.
Unfortunately, the transfer incited some culture shock.
"This is competitive. This is a really top-notch astronomy program," Cortes said of the UA. "I learned that I don't do well in competitive environments. I do well in nurturing, community-building environments where everyone supports each other."
For six years, Cortes endured this uncomfortable environment and a slew of advisers who left for various reasons — usually students work with one adviser throughout their education.
"It was easy to get lost," she recalled.
During the program, she and her office mate Stephanie Juneau — who is now a staff scientist for the National Optical Astronomy Observatory — discovered hula-hooping as an escape from the pressures of their Ph.D. programs.
"And it helped," Cortes said.
"We got some really huge hula hoops, because we weren't good. I could hardly keep it up at the time," she said. The bigger the hula hoop, the easier it is to keep it up around your waist. Smaller hoops are more advanced.
They eventually improved their hula-hooping skills and incorporated dance routines. Cortes and Juneau decided to start a hula-hoop performance company on the side "just for fun," Cortes said.
She started to meet more people involved in hooping, acrobatics and more.
But school was still leaving her burned out, stressed and uninspired. Cortes decided to leave the program for good.
"I was just like, 'You know what? I'm out of here. I quit. I'm going to go start a circus company with my best friends,'" she said.
Cortes used Craigslist to connect with more hula-hoopers.
"It was just a wild time. There was a lot of turmoil in my life," Cortes said. "It was just really hard to quit graduate school."
She remembers thinking, "I don't know how I'm going to make money. I'm going to be a starving artist." At least graduate school was secure, she said.
The company's first studio space was part of Solar Culture Gallery, at 31 E. Toole Ave. downtown.
In 2011, Cortes — along with Zoe Anderson and Brittany Briley — founded Cirque Roots Productions and Studio.
cirque performer
In 2015, Cirque Roots moved to the Splinter Brothers and Sisters Warehouse, 901 N. 13th Ave.
The company puts on about four shows a month, including fire dancing, variety shows and stilt walking. Every year Tucson Medical Center hires Cirque Roots to perform during its annual gala.
Cirque Roots has also put on five larger productions. "EXIST" is their sixth and largest.
But "unlike earlier performances, 'EXIST' is really literal," Cortes said. "We have a narrator walking the audience through it the entire time because it's using art to teach about astronomy."
They've already performed once at the Science of Consciousness Conference in Tucson in Aprll.
Among the attendees was one of renowned physicist Stephen Hawking's collaborators, Roger Penrose.
"I got to meet him and he loved the show. It was really cool," Cortes said with a smile.
Cortes was glad to have her first audience be a room of scientists, she said. "I had people come up to me and say, 'Wow that was really scientifically accurate.'"
To produce "EXIST," she secured a $2,500 New Works grant from the Arts Foundation for Tucson and Southern Arizona.
She and Natalie Brewster-Nguyen are co-writers.
"Natalie took my teacher jargon and turned it into this beautiful spoken word, poetic narration," Cortes said. Brewster-Nguyen will be narrating the performance, with monologues from the other performers interjected throughout.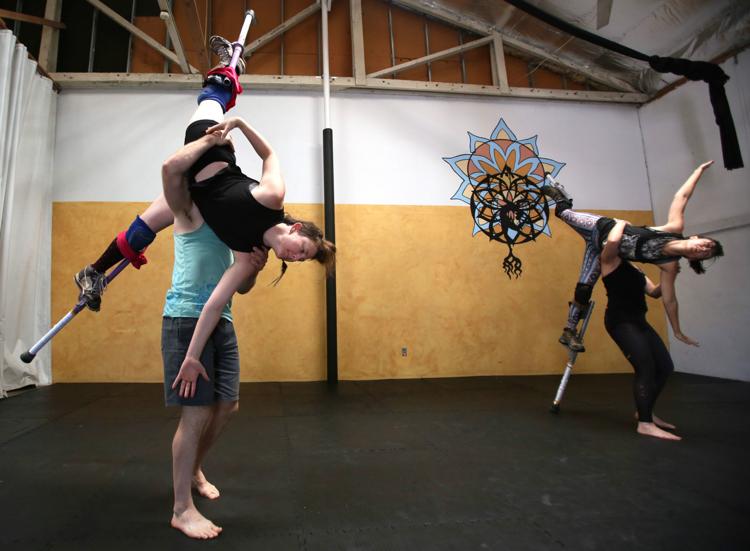 The show will walk the audience through two timelines: One is the life cycles of stars and the other is of notable women from 400 B.C. to the present who have contributed to astronomy.
Brewster-Nguyen is a performer, social justice trainer and activist, "so I always look at the work I'm doing through that lens," she said. "We're teaching about science, but we're talking about the human condition."
Cortes is planning to apply for more grants to study if the audience can retain more astronomical information than students in a classroom.
She also plans to make her science-inspired performances into a series by Cirque Roots.
Episode one is "Messengers of the Cosmos." Episode 2 will possibly cover climate change, she said.
Both Cortes and Brewster-Nguyen recognize the magnitude of the endeavor.
As Brewster-Nguyen was editing her narration one night, she grew frustrated at the sheer amount of information she felt compelled to incorporate.
Her partner joked: "Yeah, well, it seems like your topic is pretty broad. It's more like 'Life in the Universe and Literally Everything.'"
Despite this, they persisted. "These are things that people really need to pay attention to," Cortes said.
Before deciding to create astro-cirque, Cortes missed astronomy. She has taught astronomy classes at PCC on and off since 2011. She also does freelance astronomy on the side, such as image analysis and programming.
"I loved getting back into it because I'm doing astronomy exactly how I wanted to be doing it," she said.
"So even though (leaving school) was the hardest decision ever and really scary, it was also the best decision that I've ever made. Now my life is split between my two favorite things."
Contact Mikayla Mace at mmace@tucson.com or (520) 573-4158. Follow on Facebook or Twitter.