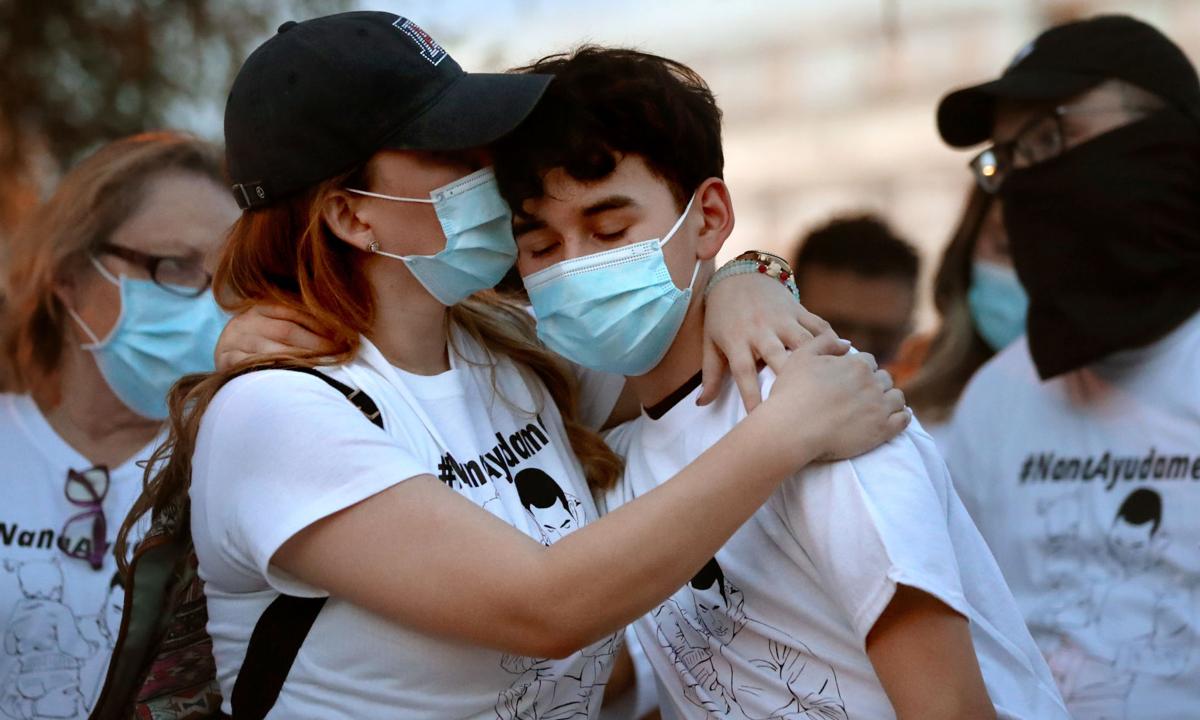 Carlos Adrian Ingram-Lopez's family stood side by side near a shrine filled with candles to honor their loved one. They all wore a white T-shirt with a picture of Ingram-Lopez carrying his child, "#NanaAyudame" and his name on it.
About 400 people attended a vigil Thursday evening, at El Tiradito, a public wishing shrine south of downtown Tucson, to show Ingram-Lopez's family support.
Ingram-Lopez, 27, died in the early hours of April 21 after being restrained by police, an officer's body camera footage released Wednesday shows.
Ingram-Lopez had cocaine in his system and went into cardiac arrest while restrained, but the manner of death listed in an autopsy report from the Pima County Medical Examiner's Office lists the manner of his death as "undetermined."
Officers restrained Ingram-Lopez after his grandmother called the police to report he was behaving erratically and running around the house naked.
The body camera footage showed officers handcuffed Ingram-Lopez and placed him face-down after a struggle. He screamed and groaned, saying "Nana ayudame" ("Nana help me") and "Nana, please, nana, bring me water."
Protesters chanted "Nana Ayudame" throughout the night. It was also written on protest signs, Ingram-Lopez's cry for help in his final moments of life.
Several local civil rights leaders took the microphone and expressed their condolences to the family, telling them Ingram-Lopez should still be here today and what happened to him was unacceptable.
"Two months ago, Tucson Police Department killed our son, our grandson, our nephew, our brother and a father to a two-year-old girl," said Ingram-Lopez's aunt Diana Chuffe. "Yesterday, they killed him all over again by smearing him in the media."
Chuffe hugged her sister, Ingram-Lopez's mother Iris Lizarraga, while talking about her nephew's death.
"Our pain is great, and we are demanding answers from the police department," she said. "We deserve it, my sister deserves it, our whole family deserves it."
Ingram-Lopez's family told Tucson Mayor Regina Romero the family did not want Magnus to resign.
"We want him to stay on and we want him to deal with this mess that is in the Tucson Police Department," Chuffe said to applause. "It does us no good for him to walk away."
The crowd chanted "Nana Ayudame" 14 times, representing the 14 minutes Ingram-Lopez was restrained on the ground of his grandmother's garage floor before he died.
Just Najima, with Black Lives Matter Tucson, told the family it's unacceptable the way Ingram-Lopez has been presented in the community and it's unacceptable that Chief Magnus lied to the community for two months.
"You asked for help. You reached out to your community and you asked for help," she told them, wiping away tears. "And your son, your brother, your cousin, our community member should still be here."
The community will make sure Ingram-Lopez's name is not forgotten, because his life meant something, Najima said.
Alba Jaramillo, who led the vigil services, asked everyone to hold 14 minutes of silence for Ingram-Lopez.
On the shrine's metal racks, flames flickered in the wind as the sun set, turning clouds magenta. The cicadas sang their high-pitched song in the mesquite trees as the silence grew around them.
People stood quietly. Some closed their eyes and raised their hands, others lowered their head.
After the vigil, a group of more than 300 protesters walked along the back of the police department's headquarters building around to the front, the entire building along their route lined with officers, some with riot gear hanging from their side.
Protesters chanted, "No justice, no peace. Abolish the police," "Nana Ayudame" and "Asesinos" ("Murderers") at police officers standing in front of the department building.
The peaceful protest lasted about an hour, as people left the area around 10 p.m.
A protester who asked to remain anonymous said they attended the vigil because they believe in the power of community.
"I believe if it's not all of us then it's going to be none of us that make it through the hatred, the white supremacy, the horror, the absolute power and control that this system has over its people," they said.
They were appalled when they learned officers and Chief Magnus did not share information about the incident with the Mayor and City Council or with the family or the public. They said the secrecy enforces that the law enforcement system is broken.
"You can't grow good fruit from a bad tree. Period," they said. "And all Magnus has shown me and taught me that he is a major part of that tree and just as rotten as its roots are."
They said they've watched Magnus tout the police department's progressive policies, all while he hid details about this in-custody death for two months. 
"I am here with this community to demand justice for the lies that we have been told, for the information that has been withheld," they said. "But above all else the life that three officers directly, and at least three more who were on the scene, took."
As protesters made their way back to El Tiradito, Patricia Dimperio stayed behind, scolding police for what they did to Ingram-Lopez. She yelled at one officer, shaming him as he drank water, reminding him that Ingram-Lopez died after his constant pleas for water.
"Protect people not kill people! Protect!" she yelled at the top of her lungs.
She said when she learned about the incident, she put herself in Ingram-Lopez's nana's shoes. The grandmother was hoping police would help, Dimperio said.
"Water is not denied," she said in Spanish. "Even to a dog, water is not denied. So why did they deny this young man water?"
Get local news delivered to your inbox!
Subscribe to our Daily Headlines newsletter.