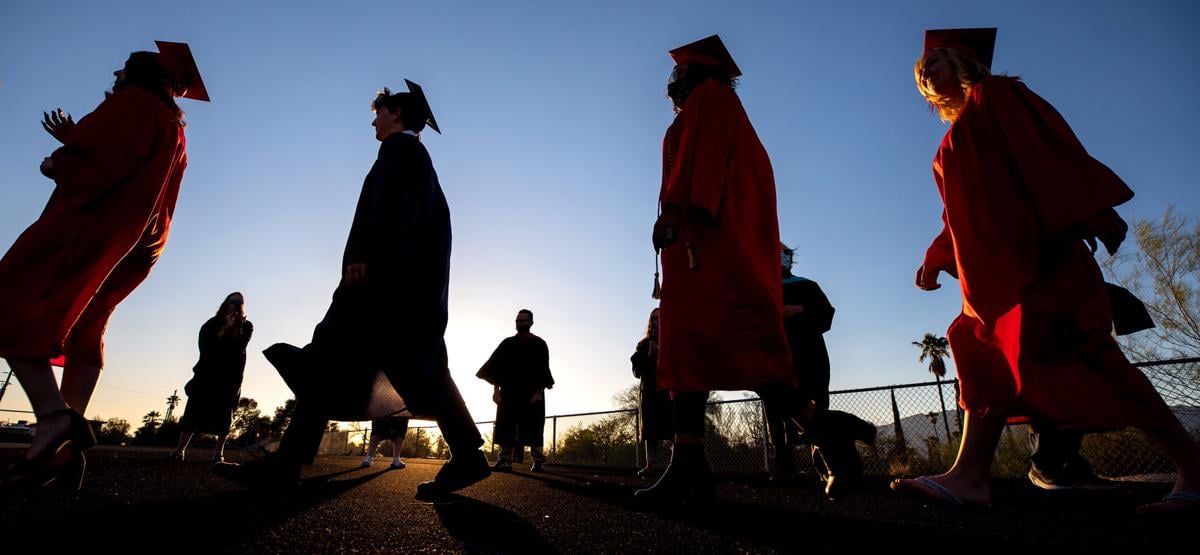 On Thursday afternoon, Erik Hertwig's senior students were marching around the Cholla High School track, practicing for graduation. The junior and senior English teacher turned in grades last week, and most of his seniors are graduating.
Tucson's largest school district saw a 1.3% drop in graduating seniors this year from last, with about 82.4% of seniors graduating in May. Though some of the 594 seniors who didn't make it across the finish line this month will have a chance to do summer credit recovery courses and graduate over the summer.
Sunnyside saw the largest drop in graduates, with about 8.5% fewer graduating seniors for an 82.6% graduation rate. The district expects the majority of the 138 seniors who were not able to graduate this month will take courses to graduate over the summer.
Since the onset of the COVID-19 pandemic over a year ago, concerns have been raised across the country over whether students were getting the level of instruction needed to meet academic requirements via online learning, or if they were even attending classes at all.
Graduation rates this school year across Tucson school districts varied, with some districts' percentages of graduating seniors holding steady, some dropping and some even increasing.
In some, but not all cases, districts with high numbers of low-income students were more likely to see a larger decline in the graduation rate, as those students were more likely to take on adult responsibilities during COVID, such as working and taking care of younger siblings.
Grading practices also varied widely across school districts as did access to technology, which factors into how many seniors were able to graduate.
Support role
Like teachers and students across Arizona, when Hertwig went home for spring break in 2020, he did not know if he would be returning to the classroom.
As school closures went further into the fourth quarter of last school year, and schools and teachers scrambled to do everything from educate students to making sure they had food, Hertwig decided he had to do something.
He created a webpage, with all of his assignments in one place and in several formats, including audio, video and PDF.
"The kids loved it because those students who didn't need me, they could work remote. They could self-pace," he says.
But as a lot of the responsibility of creating an online learning environment fell to teachers, some struggled more than others, and so the remote learning environments that students received varied.
As a published writer with an online presence, Hertwig was already pretty tech-savvy, which worked to his advantage in creating an online learning space that was convenient and supportive of his students' needs.
Cholla is a Title I school, meaning it has a high number of students from low-income families. A lot of Hertwig's students live with extended family. As the coronavirus numbers ramped up, more students had to work their academic life around more pressing responsibilities.
"I said: 'Class is already set up. You go earn the bread for the family. Keep me in the loop. We'll make sure that you get a score,'" he said.
As Hertwig's students began to deal with huge stressors — evictions, supporting their families and deaths due to COVID — he was told to reduce the academic load on his students.
"With the pandemic, a lot of my students have to work — they have no other options," he says.
As far as whether his students are prepared to work or go to school after graduation, Hertwig says his students are ready.
Despite this year's many challenges, students are ready for college, says University of Arizona Provost Liesl Folks.
"We recognize students have had a difficult year," Folks said. "We don't necessarily anticipate that they're going to be academically challenged. Some probably will be, but many have actually thrived in online learning."
The UA has new supports for students, such as the Bartlett Academic Success Center, which offers centralized student services, mentoring, tutoring and career counseling, and the Wildcat LEAP program, which offers math and writing boot camps over the summer, for free this year. The program saw a good turnout since opening registration this week, Folks said.
"So that's terrific, and it tells us that students are keen to get here and get into their studies," she said. "And we're hoping it'll help students who are feeling a little under confident about their preparedness coming out of high school, having had a rough year."
Exposing inequity
Like in Hertwig's class, José Gastelum, chief student services officer in Sunnyside, says many Sunnyside teens had to balance personal challenges brought on by the pandemic with their education.
"We're a Title I community, versus somewhat more affluent communities that don't have the same challenges," he said. "However, our kids have that agency where they will persevere. They're resilient, and a lot of them hung in there."
Adam Ragan, who teaches senior English in Sunnyside, says while more of his students did not graduate this May, many will over the summer.
"I think for sure when they come to summer school, all that they were missing was their in-person face-to-face," he said. "When they have that element, they'll be back on track."
Although Sunnyside has been offering some form of in-person learning off and on since October, a large number of students stayed remote only, in part due to living with older relatives or needing to help with responsibilities at home.
Ragan says most of his students were working, and not just for pocket money. They were helping out with things like rent, groceries and childcare costs for younger siblings.
"My students weren't being lazy; they were going to work because they had to help bring money into the household," he said. "Mom or dad lost a job. There's child care in the household that needs to happen. And in that situation, it becomes an economic necessity to work over school. School becomes secondary, and that's heartbreaking."
The pandemic further exposed structural elements in the current approach to education that don't put equity first, he said.
School districts that have higher numbers of low-income students like Sunnyside and Flowing Wells saw a greater decline in graduating seniors this year. Flowing Wells fell by more than 5%, with 51 students not graduating yet, which appears to be attributable to more students doing remote learning, says Superintendent David Baker. Flowing Wells, like all local school districts, are offering summer courses to help students graduate.
Amphitheater's four-year graduation rate — which was calculated a little differently than the other districts, as it included juniors and younger high schoolers who may have dropped out but would have graduated this year otherwise — dropped by about 5% from last year, according to preliminary data, with 114 students not yet able to graduate.
On the flip side, some more affluent districts, like Vail and Catalina Foothills, actually saw an increase in the number of graduates.
Getting more than 94% of Vail seniors across the stage took "monumental efforts," said Ethan Hurley, the district's director for college and career readiness.
Vail had staff calling students about missing work, students who were behind came to school in-person an extra day a week, teachers from different subjects teamed up to discuss what was working for specific seniors, there were online modules to prove understanding of subject material to improve a grade, and Vail tracked communications with struggling seniors, Hurley says.
Like TUSD, the number of seniors graduating in Marana and Sahuarita school districts dropped by between 1% and 2% from last year, and Tanque Verde has not changed significantly from previous years.
Fail forward
Nate Hockins, an algebra teacher at Catalina High School in TUSD, bases his grading style on the effort his students put in.
"Grades measure effort at best," he said. "My grading scale is very liberal in a sense that I'm trying to measure their ability to try, not their ability to answer every question in every situation."
He says many students arrive in their senior math class already far behind on math skills, regardless of the pandemic. And having a supportive teacher is what makes the difference of whether they succeed or not.
"The more we remind kids: 'You're not only as good as your last grade. You can learn from failure. Failure is something — you can fail forward. It's not a pit,'" he said.
Hockins says grading on effort is a better guidepost for future success than purely taking numbers into account. And for the most part, his students are ready to move onto the next step in life, he said.
"If they can assume a leadership role and get through something even if they don't know exactly what they're doing, I think they're doing way more for themselves than kids who just can get the answer," he said.