Jane Evans was almost halfway through her first year as a volunteer reading coach, and she still couldn't tell if she was getting through to her quietest kindergartner.
The little girl spoke Spanish as her first language and had almost nothing to say when she and Evans would sit for their half-hour reading sessions twice a week at Nash Elementary in Amphitheater Public Schools.
"I could never figure out how to draw her out," the 65-year-old Tucson native said.
Then one day, as Evans was walking the girl to recess after reading her a book about the five basic human senses, she watched her little reader-in-training reach out and run her fingers along the rough brick wall of the school near Glenn Street and Oracle Road.
"She said, 'Oh, I'm using my sense,'" Evans recalled. "Then she closed her eyes and kind of put her hands out in front of her and said, 'Now I'm using another sense.' She was absorbing way more than I ever imagined."
Evans is a volunteer with Reading Seed, a nonprofit initiative that trains literacy coaches and sends them into local elementary schools to distribute free books and help children develop their reading skills.
Teachers say the program provides a valuable boost to struggling students.
Coaches say they get as much out of it as the kids do.
Last year, Evans took time off from work at the desert plant nursery she co-owns to spend about four hours a week with the kindergartners at Nash.
She can't wait to do it all again this year.
"I have to tell you it's the highlight of my week," she said, as she awaits her student assignments for her third year with the program. "I get paid back a million fold."
Thousands of free books for children
Reading Seed sprouted in 1995, when a group of 21 volunteers from St. Francis in the Foothills United Methodist Church began reading to 42 students at a single school.
Since then, the program has grown to serve more than 1,500 children at 37 needy schools in four districts as part of Literacy Connects, Arizona's largest nonprofit literacy organization.
In the process, Reading Seed has given away hundreds of thousands of children's books, including 31,548 during the 2018-19 school year alone.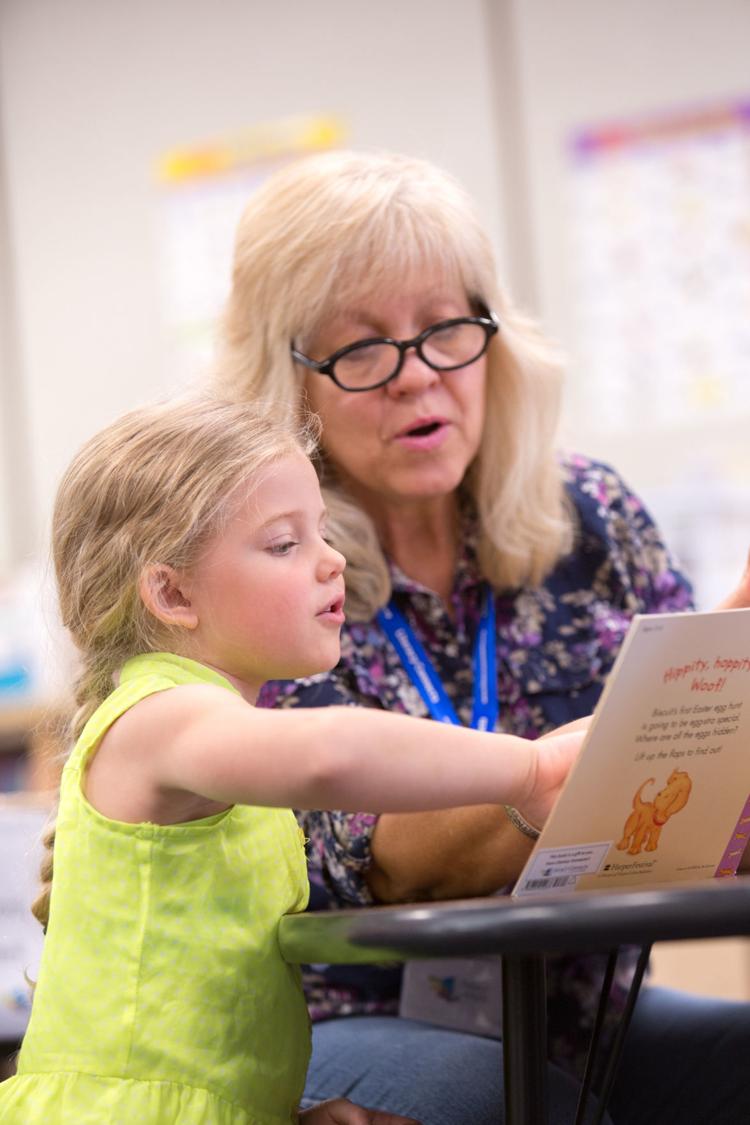 Volunteer recruitment is now underway for the new school year. Organizers don't have a specific goal in mind, but they hope to improve on last year's total of 434 classroom coaches.
"For every volunteer who is accepted into the program, we are able to provide reading coaching to three students," said Reading Seed director Lisa O'Meara. "We'd love to see as many kids as possible receive the benefit of the program."
So would Dulce Balaban, a third-grade teacher with Tucson Unified School District.
Balaban is in her 15th year at Hollinger K-8 Elementary on Ajo Way near Sixth Avenue, where Reading Seed volunteers have been working with some of her students for the past five years or so. She said the extra instruction has made a huge difference in both their attitudes and their abilities.
Kids who once refused to participate in class or do their reading at home began "embracing it and enjoying it" with the help of their coaches, she said.
"The concept is pretty simple — just read with a kid," Balaban said. "But it's so powerful."
Ex-teacher discovers a whole new world
Jill Denton spent 11 years teaching kindergarten in Missouri before retiring and moving to Tucson with her husband a year and a half ago. Now she volunteers as a reading coach for the kindergartners at Lulu Walker Elementary, another Amphi district school near River Road and La Cañada Drive.
She said the teachers she works with certainly seem to appreciate the extra help.
But she also knows from experience that "they might be a little jealous," she said.
Instead of "directing traffic" for a whole class, Denton gets to focus all her attention on the three students she is assigned to coach, sitting with each of them individually for half an hour of "reading, giggling and enjoying stories together."
Then, at the end of each session, she gets to watch the kids gleefully pick out free books to take home from Literacy Connect's extensive library.
It's something she never had the time or the resources to do when she was a teacher, she said, and it has given her a chance to really connect with the kids she has coached so far.
Denton still gets emotional while talking about the three girls from last year: One, a determined worker, who wouldn't take home a free book until she could read it perfectly; another, a dancer, who loved rhymes and would pirouette down the hallway; the third, a quiet little scientist who was quick to spot the hidden details in every illustration.
"They made me feel like the world was new," Denton said, her voice cracking. "I can't thank them enough."
Contact reporter Henry Brean at hbrean@tucson.com or 520-573 4283. On Twitter: @RefriedBrean
Get local news delivered to your inbox!
Subscribe to our Daily Headlines newsletter.