When Tucsonan Arsenio de la Rosa's health deteriorated, he stopped visiting his wife across the border in Nogales, Sonora — as he had done every other weekend for years — while the couple waited out her decade-long ban from returning to the United States.
But on Friday, a few hours after the U.S. government reversed its position and gave Gloria Arellano a 30-day permit to travel to Tucson, she was by his bedside, telling him she was there for him now.
"I came to take care of you," she said, as she took his frail hand. "So you can get strong and we can walk back home."
Arsenio de la Rosa, 85, has been given a few weeks to live after he was hospitalized on Aug. 6 and suffered a stroke.
Customs and Border Protection initially denied the family's request Tuesday to allow his wife to visit, citing her prior denial for a permanent residency card and subsequent 10-year ban for being in the U.S. illegally.
But after public outcry — which included a news conference held by U.S. Rep. Raúl Grijalva and an online petition that amassed nearly 16,000 signatures — additional documentation and support, the federal agency approved the pass on humanitarian grounds.
On Friday, Arellano showed up to the port of entry again, but this time accompanied by immigration attorney Mo Goldman, who assumed responsibility for taking her back to the port once her permit ends. After roughly an hour, they emerged with a thumbs up. 
CBP officials said they cannot comment on individual cases.
Outside the DeConcini Port of Entry in Nogales, Arellano thanked the government and everyone else who supported her family. She said she had wanted to come see her husband one last time, to comfort her children and "be a pillar on which they could lean."
This decision means "the world" to his family, said Bill de la Rosa, one of the couple's four children who mobilized after his mother's first denial.
"I was in complete disbelief when I found out," Friday morning that the government would approve the humanitarian pass. "I immediately started imagining her on this side, in her old home, and us as a family," added the 24-year old Oxford University graduate student, who traveled home to Tucson from England last week.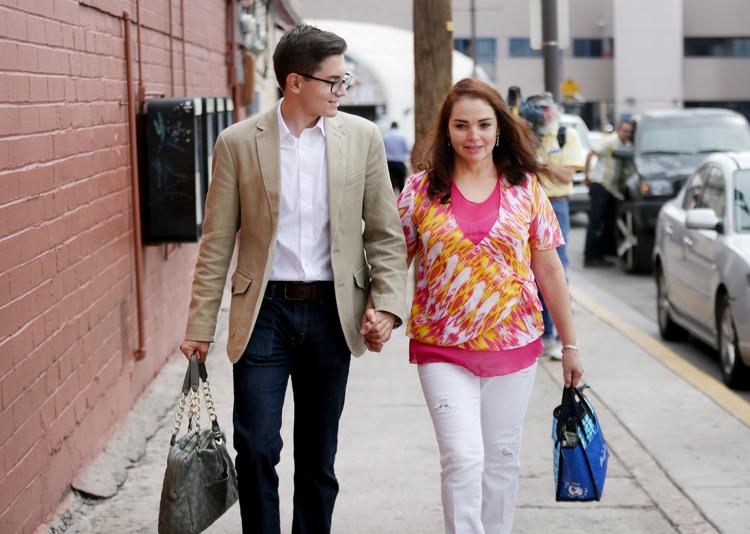 As the news that her request was granted rippled through the family Friday, her children shared their joy through social media.
"Thank you to all for keeping my family and I in your prayers and not giving up on us. Con fe y esperanza todo se puede! (With faith and hope, everything is possible.) Coming home to mommas hugs today," Naomi de la Rosa, 17, posted on Facebook, ending with a heart emoji.
"Thank you to all who shared the petition and supported as well as the news outlets. I'm gonna eat good for a month #mamascooking," eldest son Jim posted.
For Bobby, who is 13 and the youngest of the four siblings, the day ended with his mom picking him up from school — something she hadn't done in nine years.
In 2009, she had gone to what she thought would be a straightforward appointment to get her green card. She was sponsored by her American husband of more than a decade and had four U.S. citizen children and no criminal record. But because she had been in the country illegally after overstaying a visa, she was ordered to stay in Mexico.
"Mi niño, mi niño," my child, Arellano told Bobby over and over Friday as she caressed his face outside the south-side school where he is an eighth-grader.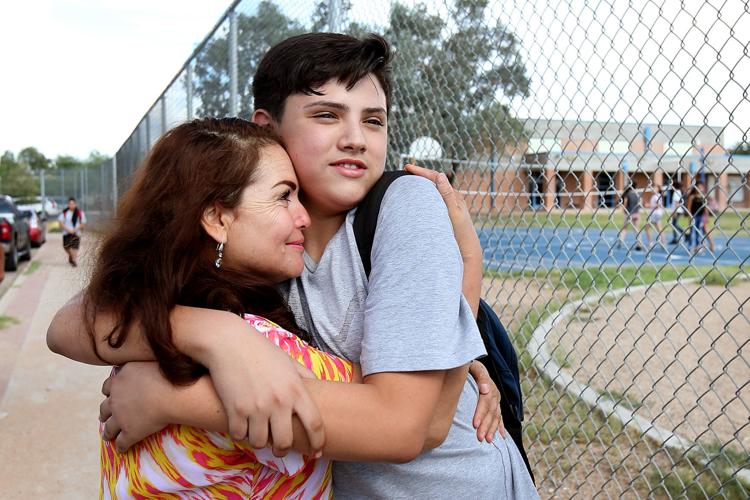 "One is my heaven and the other is my precious," Arellano said as she walked back to the car with Bill on one side and Bobby on the other.
The emotion of seeing her outside his school was "something I never felt before," Bobby said.
His plans for the next 30 days? "Just show her what I do every day. Try to take her everywhere with my brother, the mall, the stores," he said.
"She likes to go to the swap meet over there in Mexico, so I'm going to see if my brother can take her here to see," he said.
For the longest time, Bobby said, all he has wanted was to see his family reunited.
Although all of them are now together — briefly — the reason she was allowed to be here is not something to celebrate, he noted.
"I've been trying not to be sad, to stay strong," Bobby said, although his dad doesn't have much mobility and can't talk.
"It's something I'm a little scared of, but I know my dad is strong."