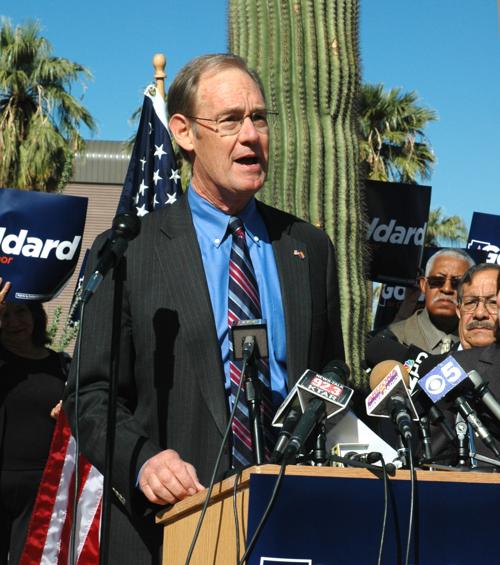 PHOENIX — A former state attorney general wants Arizonans to vote to constitutionally ban anonymous donations from political campaigns.
Terry Goddard is crafting a "right to know" initiative. It would guarantee in the state constitution that voters are entitled to know who is trying to sway their votes on who to elect for everything from statewide offices to school boards. The measure, which Goddard hopes to put to voters a year from now, would also impose the same requirements on those pushing future ballot measures.
Campaign consultant Bob Grossfeld said the effort starts with redefining for voters what he and Goddard are trying to curb, by using new terminology.
"We're done with this whole 'dark money' nonsense," Grossfeld said, referring to the term that has become synonymous in political rhetoric with dollars coming from unknown sources. He said that's technically neither a legal term nor one with a formal definition.
"We look at this as 'dirty money,'" he said.
"This is no different than criminal syndicates who are laundering money," Grossfeld said. "It's for the same purposes: to hide the people behind it."
Goddard, a Democrat who was elected as attorney general in 2002 and won a second term four years later, formed a campaign committee this past week. That allows him to begin raising money for the task of getting the measure on the 2018 ballot.
Grossfeld said the final language is still being tweaked. But he said the bottom line is designed to expose anyone who puts at least $10,000 into any campaign, whether for public office or a ballot measure.
Arizona law already requires anyone who spends money to influence a campaign to file reports.
But there's an exception: Groups that are organized under the Internal Revenue Code as "social welfare" organizations contend they are not required to disclose their donors. So the only thing the public knows is that some group, often with a name that may have no link to the sponsors, has dumped cash into a campaign. That has become an increasing problem for voters interested in finding out who is behind commercials, mailers and other campaign materials.
In the 2014 gubernatorial race, for example, the $5 million spent on the general election directly by Republican Doug Ducey and Democrat Fred DuVal was eclipsed by the $9 million others spent trying to influence the race. Most of that cash flowed to Ducey's benefit.
And two Republicans got elected to the Arizona Corporation Commission with more than $3 million spent by outside groups.
Arizona Public Service, the state's largest utility, which is regulated by the commission, has refused to confirm or deny whether it was the source of any of that cash.
A related issue goes to what might be called "chain" donations, where Individual A gives money to Organization B which then funnels it to a third organization that does the ultimate spending on the race.
Grossfeld said the language of the initiative would force disclosure of all major sources of funding. He said it is worded in a way to pierce the multistep donations, requiring that the ultimate sources of the dollars be disclosed, not only in reports filed with the Secretary of State's Office but also in advertising, mailers and other campaign materials.
"It creates a right for citizens, in the constitution," Grossfeld said. "And that's a right to know, specifically, the source of campaign funds."
None of this would help voters when choosing presidential or congressional candidates. Grossfeld said states have no say over federal campaign-finance laws.
This isn't the first time Goddard has attempted to force public disclosure.
In 2016, he paired with former Phoenix Mayor Paul Johnson, who was pushing his own ballot measure for open primaries. Both efforts collapsed when funding ran out.
Grossfeld said several things are different this time.
The first is that the campaign spending measure against what he calls "dirty money" will stand on its own and not be linked to other ballot issues.
He and Goddard said they believe they can gather the 225,963 valid signatures needed by July 5 to qualify for the ballot solely with volunteers, minimizing the need for up-front cash.
He said they have the backing of members of Save Our Schools Arizona, the group that managed to gather enough signatures to force a referendum on legislation to vastly expand the system of vouchers that allows parents to use public dollars to send their children to private and parochial schools.
Save Our Schools Arizona spokeswoman Dawn Penich-Thacker said her organization has not taken an official position. But she confirmed that key members of the group are working on the issue because they have common interests.
More to the point, they have a common foe, if you will: the Koch brothers.
Americans for Prosperity, a group financed by the billionaires, already is involved in a lawsuit designed to keep the voucher referendum from making the ballot.
Separately, the brothers are financing the Libre Initiative, which is targeting Hispanic households nationwide in an effort to get support for vouchers — and to oppose ballot proposals like Save Our Schools — with what Penich-Thacker contends is misinformation about who benefits from funneling state dollars into private schools.
Under current laws, the only information that voters would get if and when the voucher referendum is on the ballot next year is that the Libre Initiative put a certain number of dollars into defeating it, with no requirement to tell voters which individuals and groups provided financing, and in what amounts.
Goddard's political career also includes six years as mayor of Phoenix in the 1980s and two unsuccessful bids for governor, losing to Republicans Fife Symington in 1990 and Jan Brewer two decades later.
Get local news delivered to your inbox!
Subscribe to our Daily Headlines newsletter.