Four years ago, Chris and Rose Faitsch lived in a 1,000-square-foot apartment space inside the building that houses the Maracana Indoor Sports Arena.
The Faitsches own the entire building, including two businesses inside of it — a moving company and their newest venture: a taproom.
The Faitsches and Cory Carpenter are managing partners of Iron John's Brewing Co., which in mid-October moved their South Plumer Avenue taproom into Maracana, 555 E. 18th Street, on the eastern edge of the Armory Park Neighborhood downtown.
The trio has been involved with Iron John's since 2017 but took over the business early this year as founders John Adkisson and John Markley parted ways.
The Maracana arena is in an industrial area, near South Park Avenue, within walking distance of Barrio Brewing on East 16th Street. It's home to several adult and youth leagues, in addition to pickup games of soccer, lacrosse and basketball.
The building also houses Premises Park, an indoor BMX park. The Faitsches' old apartment was housed in what's now the park's lobby.
The company's other taproom is at 222 E. Congress St., near South Sixth Avenue. It opened last year.
The Plumer taproom, near East Broadway, is closed, though brewing still happens there two or three times a week. That'll soon change, however, as the Maracana location offers more space with which to work.
The Plumer location is about 1,600 square feet. The Maracana space has about 8,000 square feet.
The Iron John's crew plans to use about 4,000 square feet of that space, at least initially, which includes the taproom and expanded brewing operations.
The company eventually plans to double its production capacity, from a two-barrel system to a four-barrel system.
The company's brewer is Brian Dougherty, who has been brewing with Iron John's for four years.
"He's done a really great job at managing the beers — they come out consistently well," Carpenter says. "We're excited to put him on a bigger brewing system."
When 2019 is over, Iron John's will have released more than 40 unique beers. Those beers include Golden Gueuze, a long-awaited sour that was brewed two years ago and was finally released on Friday.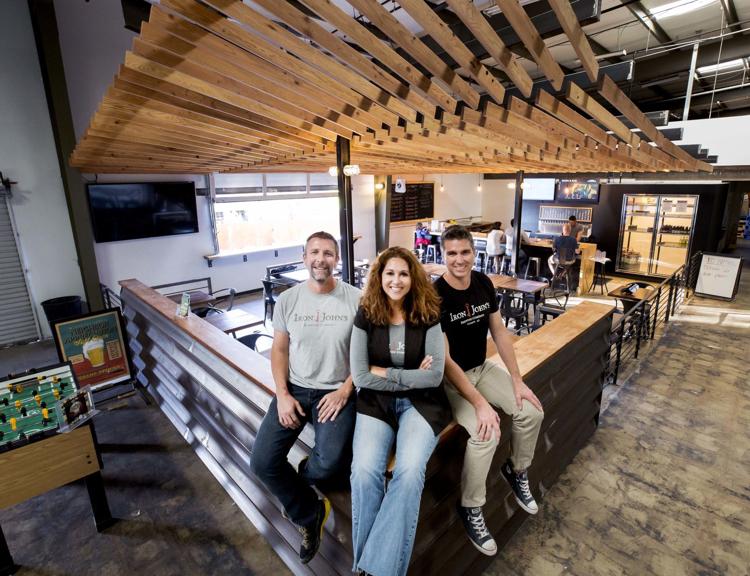 Another, to be released Thursday, is the Petey Mesquitey porter made with mesquite flour and coffee. Next week, the brewery will serve up the seasonal Pumpkin Dad Slice.
Several of the beers at Iron John's are brewed with desert-inspired ingredients, from prickly pear to creosote. "We have a lot of variety — there's something for everyone," Chris Faitsch says.
Inside the new taproom at Maracana is a colorful chalkboard displaying 18 beers on tap. The bar is crafted from refurbished material from the lanes and gutters of Golden Pin Lanes — which date to the late 1950s through the 1970s. Golden Pin closed this year after 59 years in business.
You'll spot more repurposed items including chairs and tables throughout the taproom, a giant window to bring in fresh air and lots of electric outlets for people to plug in laptops.
Chris Faitsch's 83-year-old father, who was a furniture builder, also helped make the space come to life.
Just feet away from the taproom is the sports arena. That means friends and families can catch up with a drink — while also being in view of a live sports game, depending on where you're seated.
Parents can also catch up on work or meet with a colleague while their kids are playing soccer close by.
Before the taproom moved in, Rose Faitsch Googled "soccer and beer." One of the results pulled up a taproom in an outdoor soccer arena in Minneapolis.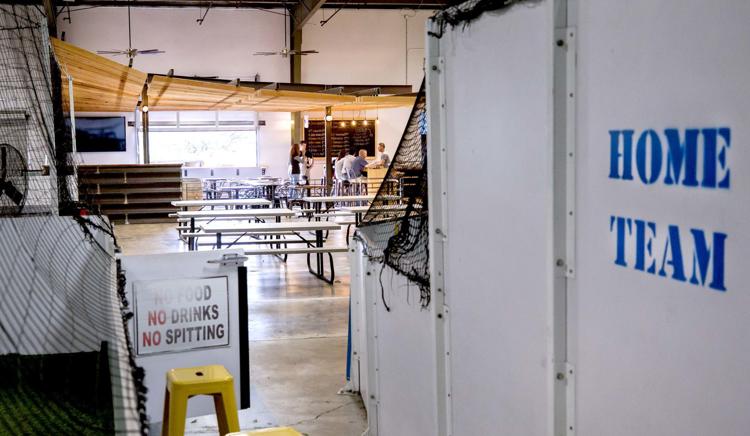 "We all have kids and we think we need a place where people can come and just hang out with their friends and family while you can still see the kids playing," she says. "It seemed like a natural fit."
Although the new taproom has been open less than a month, Chris Faitsch says the company is already seeing their customer base expand.
"I love the life of it," he says.
"We're hoping to be a neighborhood taproom to Armory Park — more of a place for meeting and conversation," Carpenter says.
"This is different from our Congress location," he says, adding that the team hopes to grow with more taprooms in the future. "Each of our locations will be different and will be something for everyone — without sacrificing who we are."
Carpenter says he sees the Maracana taproom being event-driven, "giving people a reason to come together."
"We're very proud of this space," Carpenter says. "This is like Iron John's 3.0. I want people to know our soul is the same but our appearance is evolving."