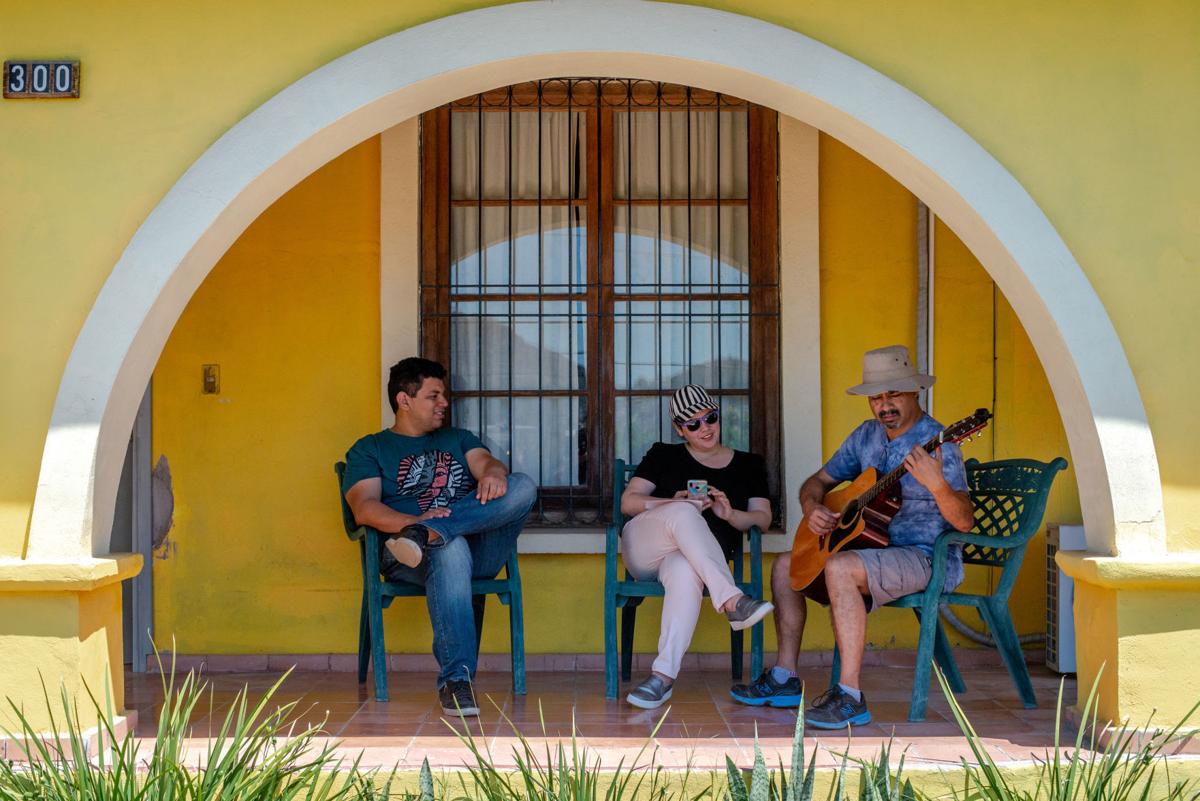 GUAYMAS, Sonora — At Easter, Valeria Quijada is usually surrounded by dozens of family members. They attend Mass before relaxing on the beach here, roasting carne asada on the grill for hours and indulging in traditional desserts like capirotada.
But this Easter, the 30-year-old singer and music teacher will be 100 miles from her mother and aunts, who live in Hermosillo, Sonora, and even farther from her brother and sister, who live in the U.S. and can't visit this year. She'll attend an online church service from inside her home, about 20 minutes from San Carlos. And she doesn't plan to set foot on the beach.
The novel coronavirus set the agenda this year.
"This is not easy for us," said Quijada, sitting on her front porch . "Everything's changed."
In coastal towns throughout Mexico, police are enforcing beach closures and erecting roadblocks, warning Mexican and foreign tourists to stay away during the normal festive week leading up to Easter Sunday.
To combat the spread of COVID-19, the Mexican government has closed schools and nonessential businesses, and issued strict stay-at-home orders, reinforced by state and local police vehicles broadcasting warnings by megaphone.
In a largely Catholic country where for many, faith and family are paramount, social distancing during one of the religion's most important holidays is painful.
But some Mexican families in Guaymas and San Carlos say they've embraced the new restrictions on their life. In an instant, the pandemic has shifted their perspectives, rearranged priorities and spotlighted what really matters, they say.
For Quijada, the pandemic made her grateful for the loved ones who are close. She lives with her husband, Roberto Galván, their 7-month-old baby Roberto, and her father, Luis Quijada, also a professional musician. The family runs a music school out of their home in Guaymas, which is normally alive with music as students sing or play piano, guitar and drums.
Valeria Quijada said at times, she used to long for peace and quiet. But these days, she misses the chaos and noise.
"My wish came true," she joked. "Right now, everything is so quiet. The baby is bored."
The family is finding comfort in creating music together, and this year's Easter celebration will center around board games, Netflix and music, she said.
"Music makes me feel safe and alive," she said. "It's a way to share love."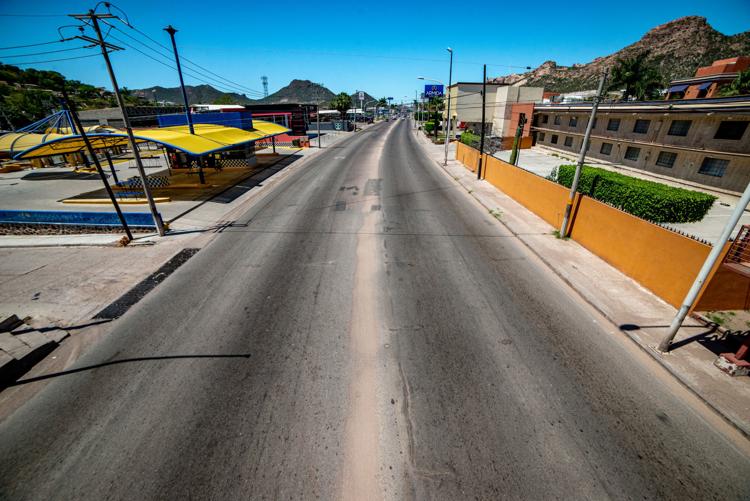 In San Carlos, the streets, restaurants and beaches are normally flooded with tourists this time of year, known as Semana Santa, or Holy Week. But aggressive police enforcement of beach closures, and a roadblock at the single entrance into San Carlos, have so far successfully kept the crowds at bay, said Enrique Gámez, a liaison between the Guaymas city government and the San Carlos community.
But police have cracked down harder on beachgoers in recent days — even prohibiting individuals from walking alone on the beach — due to lack of compliance with stay-at-home orders, he said.
He said he's frustrated by reports of continued parties and Americans playing golf at the San Carlos Country Club.
"They need to stay home and only go out if they need," Gámez said. "We are doing what we can, but they need to help as well."
In Sonora, health officials confirmed the state's first coronavirus case on March 16. Sonora Gov. Claudia Pavlovich declared a health emergency on March 25. The state has now identified 69 confirmed cases of coronavirus, including eight deaths, as of Friday. Eighteen cases were in Hermosillo, two in Guaymas and one in Nogales.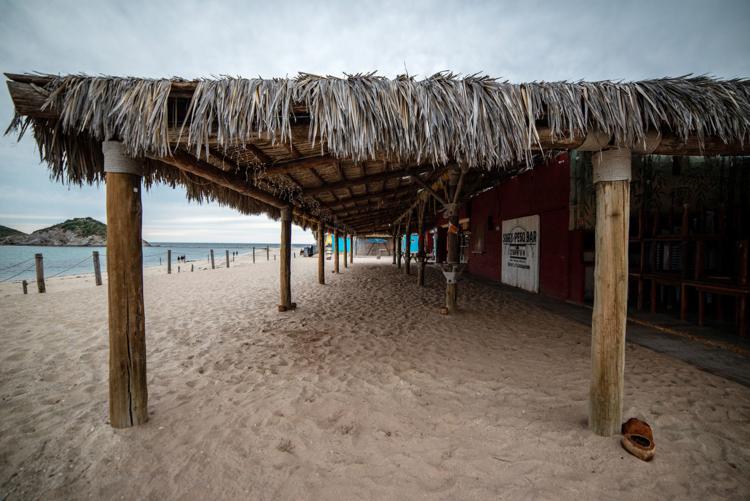 EXPATS FACE A CHOICE
On March 19, the U.S. Department of State issued a dramatic travel advisory urging U.S. citizens to return home immediately or be prepared to remain abroad "indefinitely."
Not all were convinced.
"I never even considered returning," said Jim Bailey, 80, who spent most of his life in Oregon. Since 2003, he and his wife, Francine, have spent every winter in Bahia Kino, known to most Americans as Kino Bay.
While most of his Canadian friends returned home, unsure if they'd be blocked from entering the U.S. on their way north, many Americans stayed, Bailey said.
Experts warn the Mexican health-care system is highly vulnerable to being overwhelmed when COVID-19 cases accelerate, but Bailey sees the same risks for the U.S. health-care system. "Top-notch" hospitals are 70 miles away in Hermosillo, he said.
And he feels more secure about the food supply in Sonora, where it appears panic-shopping is uncommon.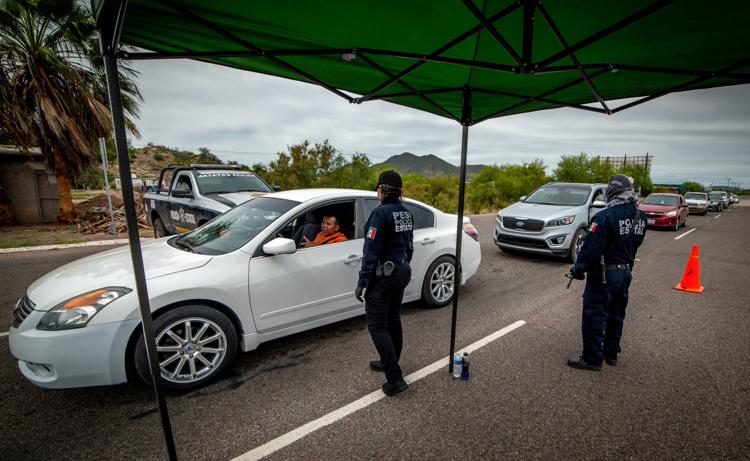 "The stores are stocked pretty good," he said. "I don't see anyone abusing anything or hoarding."
About 6,000 Americans and Canadians live in San Carlos permanently or seasonally, though it's unclear how many have left due to COVID-19, said Asención Sánchez Vázquez, spokesperson for Guaymas City Hall.
Ex-pat Cathy Henkel said it was an easy choice to ride out the pandemic in San Carlos, where she has wintered for the past 11 years, rather than return to Seattle, the site of the first confirmed U.S. cases.
"Why would I go home to a place that was rampant with it?" said Henkel, who worked as a journalist before retirement. "And I had to get from here to there. You're in hotels, restaurants would be closed. I had no idea what (traveling) would be like."
Henkel said some of her neighbors returned to the States at the request of their relatives.
"People were saying they didn't want to go home, but their family wanted them to go home. Like, 'Oh my God, you're in Mexico!' " she said. But Henkel said San Carlos seems like an ideal place to ride out the storm. She lives alone, but feels part of a strong community of people she can count on.
"Unless you're here, you don't realize what a safe, wonderful place it is," she said. "If I were in trouble, I think anybody would help me here."
STRUGGLING WORKERS
In San Carlos, some indigenous families from southern Mexican states make their living entirely on sales to tourists. Those families are now struggling to eat, since tourism has almost dried up recently, said Alex Mendoza, 34, owner of popular San Carlos restaurant Colibri, which is now shuttered .
A native of Oaxaca, Mendoza has helped organize food donations for four Oaxacan families who often sell jewelry outside his restaurant and around town.
Mendoza, who plans to restart Colibri as a delivery-only service in a couple of weeks, said he's continuing to pay his 21-person restaurant staff, at a cost of 29,000 pesos per week, or about 1,200 U.S. dollars. Mendoza said he can't continue that indefinitely, and he's part of a group of 75 restaurants in Guaymas and San Carlos who are petitioning the government for financial relief.
When Colibri was still seating patrons earlier this month, Mendoza said he personally drove his workers home from the job, so they didn't have to take the bus back to Guaymas.
"They're our family," he said.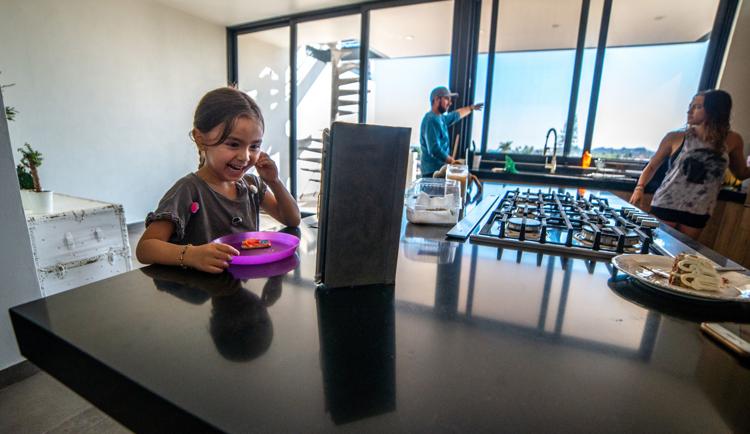 San Carlos resident Juan Romero, 30, runs a home construction company with his father. A spokesman for the Guaymas City Hall said Thursday that construction work is still considered an essential activity. Romero said he's received mixed messages, and he's braced for that guidance to change.
He fears violence could break out if impoverished people get desperate for food, especially as the value of the peso has plummeted. Most workers in Guaymas immediately spend their daily earnings on necessities and will require direct cash assistance to survive without their jobs, he said. Many will continue to work unless forced to stop.
"If they don't work that day, they don't get paid that day. They don't have savings," he said. "I don't judge them (for continuing to work). They're doing what's best for their family."
Romero said he and his wife, Karla Romero Garcia, and their 5-year-old daughter, Emilia, have been doing regular video chats with relatives who they can't see in person because of social distancing.
He's trying to find positive meaning in this global crisis.
"I believe maybe it's God sending a message" about the importance of appreciating what you have, he said. "I'm trying to think that way because otherwise, everybody would go nuts."
DRIVE-IN CHURCH
Easter rituals are changing for expats who remain in San Carlos, too.
The San Carlos Community Church, which has about 250 members during the winter season, has been holding "drive-in" church services for the past three Sundays, and will do the same on Easter, said Pastor Glenn Driedger, a Canadian who has lived in San Carlos for six years.
Parishioners must park six feet apart and are not permitted to exit their vehicles. Driedger gives his sermon, and musicians perform from the patio in front of the church.
The church has gained a few new members recently, perhaps as people seek solace in this fearful time, Driedger said.
"As Christians we believe that we need to be wise, but at the same time that God walks with us and that we're not alone in this process," he said. "There is a peace that comes from that."
NEW EASTER MINDSET
With two young children in her Guaymas home, Myriam De la Torre said quarantine has been tough. She's set up a camping tent in her living room to give the kids, Diego, 10, and Natalia, 7, a change of scenery.
"It's the frustration of being inside, along with the fear to go out," she said. But this week, she's become motivated to explore new hobbies, like making tortillas at home, and devoting time to painting in her home workshop, where she normally runs an art school.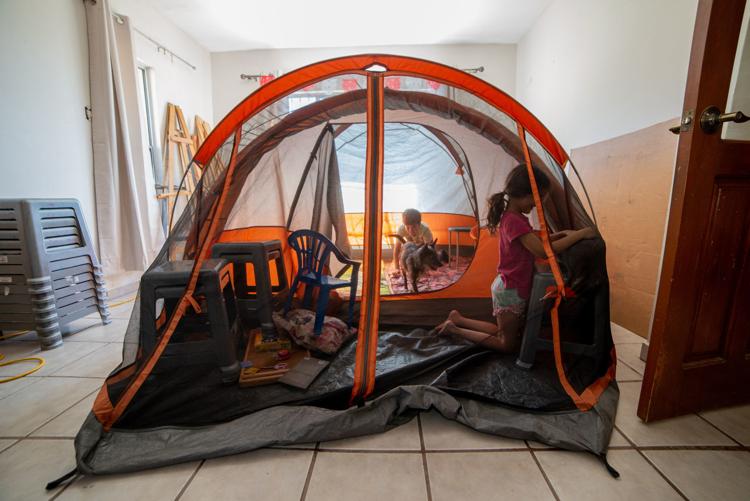 Her husband, Marco Cruz, who runs a small solar energy company, said he has found meaning in the timing of the pandemic so close to Easter, "a time when we're asked to look into ourselves, to separate from worldly things," he said.
With social distancing, "we cannot be provided a better opportunity to reevaluate our priorities as human beings, and as believers," he said. "It would be a shame if we did not come out the other side as different people: more humane, more compassionate."
Valeria Quijada said she typically struggles with anxiety. But strangely, the global pandemic has brought a new sense of calm to her life. Stresses that exist outside the confines of her home have faded into the background, she said.
"I think it's an opportunity to find peace in your own house," she said. "I've always been so emotional, but everything's changed. I don't know why. Now, I'm concentrating on what I'm going to cook, that my baby is healthy, making music. … This time is to see that the most important things are in front of you."
Emily Bregel is a former Star reporter who now lives in Mexico.
Concerned about COVID-19?
Sign up now to get the most recent coronavirus headlines and other important local and national news sent to your email inbox daily.