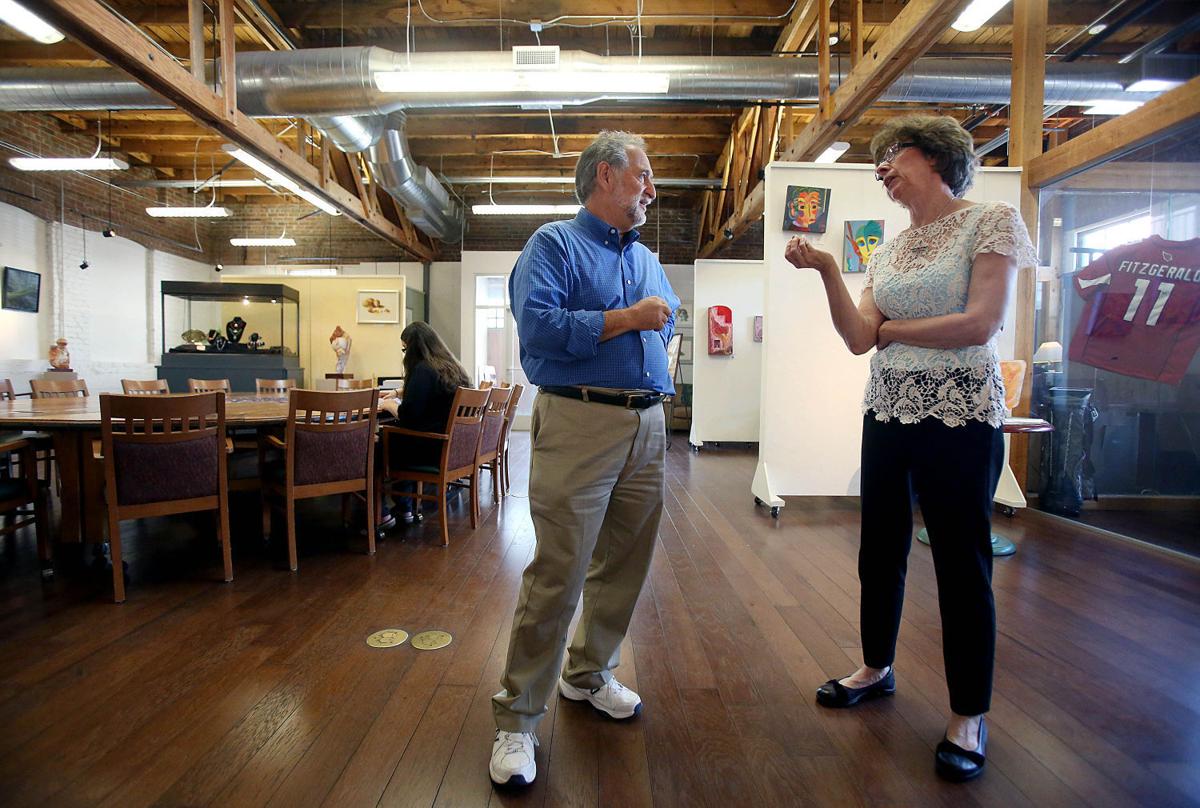 Tucson chef Janos Wilder will open a 4,000-square-foot events center and cooking school early next year in an historical downtown building.
Wilder is hoping to host the first event at the Carriage House, 146 E. Broadway, in January, when he finishes renovating a 1,000-square-foot, two-bedroom apartment, adjacent to a gallery, that he will turn into a commercial kitchen.
The site is now home to Amity's Children & Family Center Dragonfly Gallery.
The gallery space will require minor renovations that can't begin until Amity leaves in December, Wilder said, estimating the project will run in "the mid six-figures" by the time he finishes.
Dragonfly will remain open until its final exhibit closes on Dec. 1, said Director Beth Daum. The agency, which provides affordable housing for Tucsonans, will relocate early next year to a two-story building at 721 N. Fourth Ave. near East University Boulevard that was most recently used as law offices.
The events center opens up on Arizona Avenue behind Janos's 5-year-old Downtown Kitchen + Cocktails restaurant, 135 S. Sixth Ave.
The 3,000-square-foot main event space can hold 160 guests for a sit-down dinner. Two smaller rooms — the Carriage Room that can accommodate 30 guests and a private dining room big enough for 14 guests — will be equipped with flat screens.
Demonstration cooking classes led by Wilder and a faculty of Tucson and regional chefs will be held in a portable video studio in the main hall, complete with cooking and prep stations that can be taken down when there are no classes. Wilder, who has been hosting cooking classes in Tucson since the 1980s, said he will be able to accommodate as many as 70 students.
"This is a super important piece of what we'll do here because it creates a tremendous community outreach" opportunity for home cooks and for Tucson he will invite to teach classes, Wilder said.
"We have so much talent in this city but not enough space to do it," he said.
Wilder said he has been toying with the idea of launching a second downtown project since he returned to downtown in 2010. The James Beard Award-winning chef talked about launching a second downtown eatery three years ago when he closed his namesake Janos and its secondary restaurant J Bar at La Paloma Resort in the Foothills.
Wilder got his start downtown with Janos, which he opened in 1983. After 15 years in a couple of downtown locations, he moved Janos to La Paloma in 1998 and stayed there until 2012.
Wilder said he has been scouting locations for the past couple of years and approached the landlord of the Carriage House last summer.
"When I opened the restaurant five years ago, I was looking at (the gallery space) lovingly as 'what a cool space; this would be cool for something'," he said Tuesday, sitting at a table in the former two-bedroom apartment attached to the gallery, thumbing through a thick stack of architectural drawings.
"Downtown Tucson has captured the imagination," he added. "It hasn't simmered down. Tucson has now taken its place like cities all over the West and the country that have recaptured their downtowns."
Events at the Carriage House will range from private parties and wedding receptions to fundraising and corporate events.
Carriage House is not the only events space downtown. Others include Copper Hall at Hotel Congress, which can seat 150 guests; the Stillwell House, which can fit 200 on the patio and about 150 inside; and the Temple of Music and Art, whose gallery hall seats 80.
Contact reporter Cathalena E. Burch at cburch@tucson.com or 573-4642. On Twitter @Starburch.