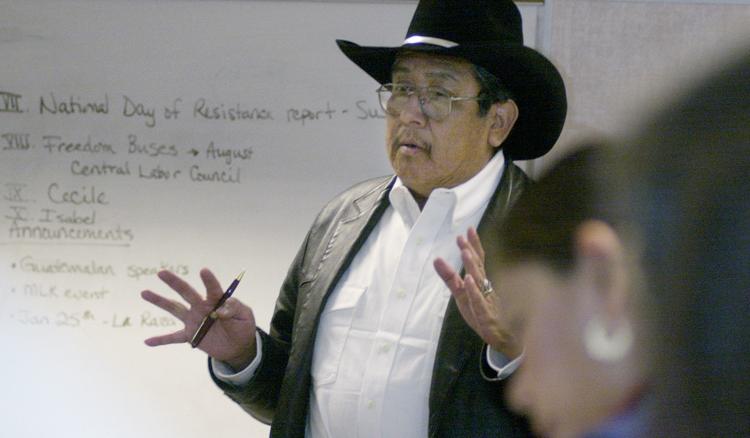 Jose Matus, a spiritual leader in the Yaqui community and an activist who called for more humane policies for indigenous communities on both sides of the border, died Sunday, December 3. He was 66 years old.
Matus founded the Indigenous Alliance Without Borders/Alianza Indígena sin Fronteras.
He was a cultural fixture for the Yaqui tribe: he was a matachinis and deer dancer, who also played the flute and drums during the Yaquis' Easter week religious ceremonies.
Those who knew him and worked with him said Matus devoted himself to his fellow Yoeme, as Yaquis call themselves, and he reached across tribal lines.
"Wherever he went, Jose brought that 'Yaqui plus', a shining example of a people whose identity is rooted in the defense of land, water and indigenous culture," James Jordan, with the Global Justice Center, wrote in an email.
Josefina Cardenas, a west-side resident active in local indigenous efforts, wrote that Matus collaborated on projects including Indigenous Peoples Day, Protect Chuk Shon, and he helped create a relationship with the San Xavier District of the Tohono O'odham Nation.
"Sr. Matus made sure his meetings had food to share a meal together and join a dialogue concerning the struggles of our community," she wrote in an email.
While Matus was a strong advocate for the Yaqui community, in 1998 he was embroiled in a dispute with the south-side Yoeme Barrio Libre Community Council. Some members of the Barrio Libre Yaquis had been celebrating Easter rituals on property Matus owned on West 39th Street in South Tucson. Matus had sought financial help in paying the property tax bill. The dispute forced out the group, which later relocated to property on West 40th Street purchased by the Yaqui tribe.
Visitation hours for Matus are 3-11 p.m. Friday at Capilla San Martin De Porres, 418 W. 39th St.
Ernesto Portillo Jr. is editor of La Estrella de Tucsón. He can be reached at 573-4187 or netopjr@tucson.com. On Twitter: @netopjr