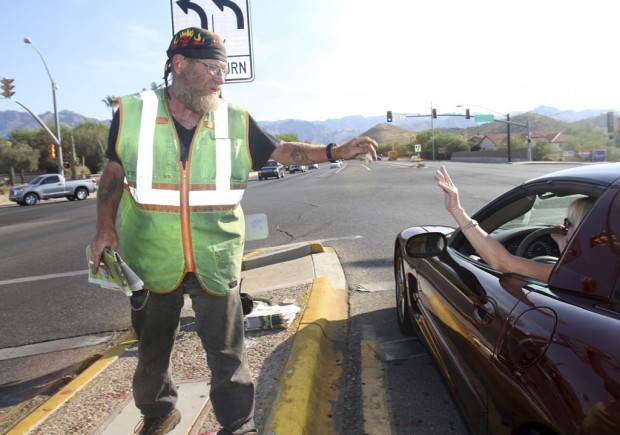 You know those bumper stickers that tell us to practice random acts of kindness?
For some of us, it's more than just a platitude. I witnessed one early Sunday.
I was out for a morning bike ride, waiting at the light at East River and North Sabino Canyon roads, when a woman drove up to a newspaper hawker and handed him a bag of food.
No questions asked. No demands, names, sales pitches, judgments or gimmicks. Nothing but sunshine and an act of kindness.
She drove up in her maroon Toyota Prius and handed over a bag of food. And then, as quick as a stoplight changes, she was on her way.
I watched the mystery driver wheel away, and then pedaled over to the hawker, James Bruce.
For about six months, the mystery driver has brought him food, he said. It's made all the difference.
"She cleans out her refrigerator about once a month, I guess, and she brings me a bunch of stuff," Bruce told me.
He opened up the plastic bag and rummaged through it. There was a lot of good stuff: cake, bread, tortillas, apple chips, crackers, dried fruit.
"A lot of times, it's gotten me by," he said.
It was about 7:30 in the morning, and already the sun was pressing down on us. Bruce said he would hawk papers until he sold out. That might mean staying in the median until 10 a.m. or 2 p.m. He had enough water, either way.
We looked at the stack of papers - 21 of them. It had been a slow morning, he said.
Bruce is 53, and he looks every year and then some. He's got a bushy red beard and deep lines in his face. He's missing a lot of teeth and smells like cigarettes.
He said he's originally from Kansas City, and he has the friendly twang in his voice to show it. He's hoping to get back to Missourah someday soon. He also rattled off a long list of health problems.
For a long time, he worked as a carny, setting up games and running rides. But in August 2010, his wife died, "and from that moment on, I've been out here on the streets," he said.
A pause for reflection. Traffic moved past us.
"And it's done me good, I think."
He started hawking papers in the Foothills in March of 2011, and for his efforts he said he makes about $800 to $1,000 a month. Most of that pays the $600-a-month rent at the El Camino Motel down on Benson Highway and South Fourth Avenue.
It's about as far away from the Foothills as you can get: A sad little place that comes with "free" HBO and a view of the highway. A few days ago, I caught up with Bruce down there. It was mid-morning, and he was laying low, watching TV.
A lot of people have helped Bruce over the last year, and he's grateful for it. There's the man who buys a paper every Sunday - and brings Bruce a bottle of water. There is the woman in the Corvette who hands him $20 every month. There was the man who would bring him a donut and a cup of coffee - until one day he didn't.
And there is the woman in her burgundy Prius, who brings him food.
"Half the people, I don't even know their names," he said.
So, what does the food mean to him?
"It shows me that there are people out there that still care," he said. "The world is not completely hopeless."
Everyone has a story. I can't tell you a lot for sure about James Bruce. A few basic facts: Works hawking newspapers for the Star. Lives at the El Camino. No criminal record I could find in local courts. What brought him to be hustling papers on a street median is as vague as his future.
But that's still more than I can tell you about the mystery woman who gives him food - no questions asked.
She chose to see him in the median when she could have looked the other way, and unfortunately got caught by a columnist.
It was a small thing, and yet a powerful reminder compassion and kindness come in whatever form you choose to give them, and are pretty much never out of place.
Get local news delivered to your inbox!
Subscribe to our Daily Headlines newsletter.