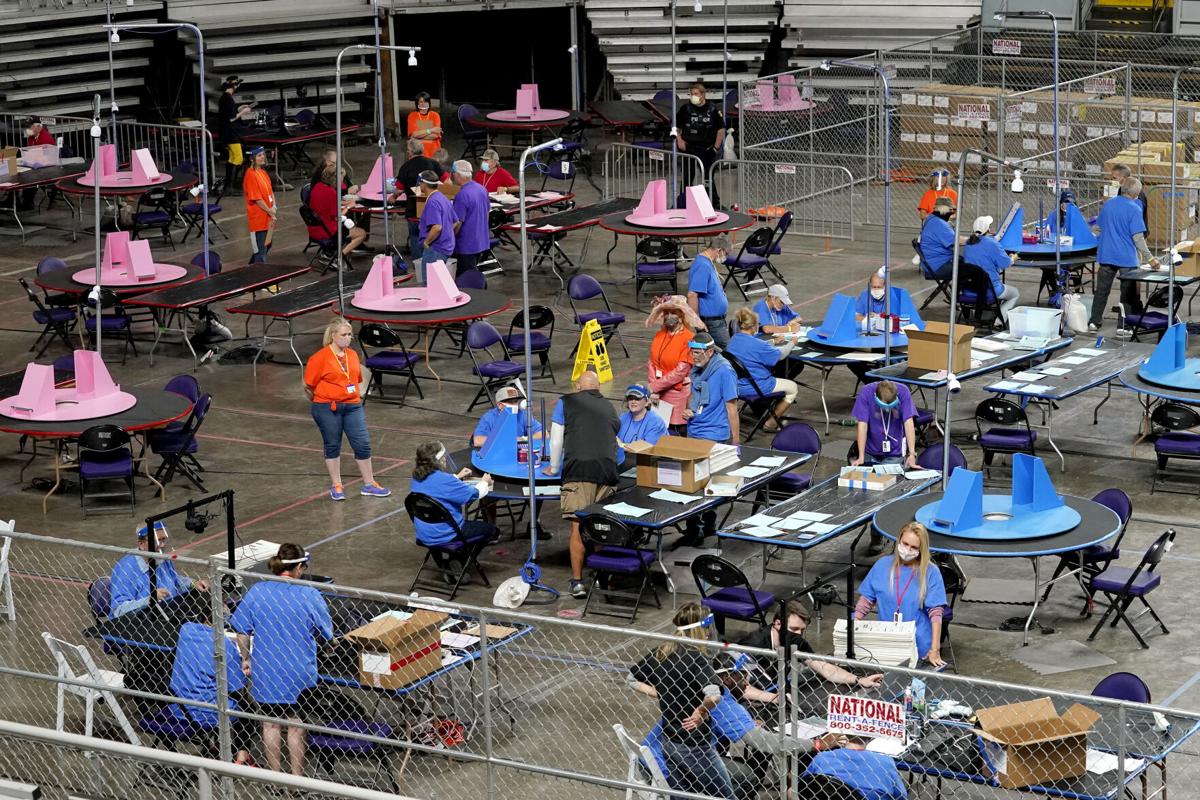 PHOENIX — A judge questioned a Senate attorney's claim Wednesday that the public has no right to know who is paying for the 2020 election audit.
During a hearing, Maricopa County Superior Court Judge Michael Kemp pointed out that Senate President Karen Fann has said the Senate, in hiring an outside firm to conduct the audit, was performing "this important constitutional duty."
"Isn't the public entitled to know who's paying for this, besides the $150,000 the Senate has already appropriated?'' the judge asked Fann's attorney, Kory Langhofer.
"That's a great political argument,'' Langhofer responded. "They should talk to the Legislature about it.''
The records are being sought by American Oversight, which describes itself as a nonpartisan watchdog group, and by The Arizona Republic newspaper in a subsequent lawsuit, under the state's public records law.
But Langhofer said the fact remains the records are not in the hands of Fann or anyone at the Senate, but are held by Cyber Ninjas, the private firm Fann hired to conduct the audit. That puts them outside the scope of what is required to be produced under the public-records law, he said.
He also told the judge that, as far as the Senate is concerned, it really doesn't matter if Fann or her staffers do have what is being sought. He claims the Arizona Constitution pretty much forbids judicial second-guessing of how the Senate conducts its business — and whether it is complying with the law.
"It can be trusted to handle its own affairs without judicial oversight," he said.
And what if there's a complaint that the Senate is not acting responsibly? "They can take it up with the senators,'' Langhofer said, saying people can call their own senators.
Other options are trying to unseat a senator who is "not being cooperative," he said, or lobbying senators to change their internal rules about when they have to surrender documents.
"The solution is not to ask the judiciary to look over the Senate and manage internal Senate rules and procedures," Langhofer said.
The Senate already released many of the records related to the audit, including the contract Fann executed with Cyber Ninjas.
American Oversight seeks everything else that the contractor has obtained or produced while it has been conducted the audit. It also demands anything in the hands of former Secretary of State Ken Bennett, who was named by Fann as her liaison with Cyber Ninjas.
That includes communications between Cyber Ninjas representatives and individual senators. The lawsuit also also seeks other communications that the contractor has had with outside third parties about the audit.
One particular area of concern has been contacts with One America News Network, a conservative, pro-Donald Trump news outlet that has had special access to the audit and also has been involved in getting people to contribute to financing it.
What is not known is how much has been contributed, who provided it, and how much wound up in the hands of Cyber Ninjas without going through the Senate.
Then there are issues of who has been hired, how have they been trained and what oversight has there been.
Langhofer told Kemp there's nothing else for the Senate to produce because it has nothing more. He claimed the law requires public agencies to produce only the records within their "physical custody.''
"Couldn't public entities always hide behind this and say, 'Well, we've hired a third-party vendor, therefore you can't have any of the records'?" he asked, noting it is common for governments to contract out certain functions and services. "Wouldn't this always give them an escape hatch not to comply with the public records law?"
Langhofer said that might be true if there was some evidence that the contract was executed specifically to shield records from view. "There's no such allegation here," he said.
He said that, carried to its illogical conclusion, the argument by American Oversight would require that FedEx surrender its personnel files if its services were used by the state to deliver documents.
Kemp, however, said he sees a difference. He said it was the Senate that hired Cyber Ninjas — and the Senate that has "total control'' of the audit.
"So don't they really have constructive possession of these documents?'' the judge asked.
Nothing in the public records law refers to "physical custody,'' said attorney Keith Beauchamp, representing American Oversight.
Instead, Beauchamp said, the law requires officers and public agencies to maintain "all records reasonably necessary or appropriate to maintain an accurate knowledge of their official activities," including activities supported by public funds.
And in this case, he told Kemp, the Senate has repeatedly argued that the audit is an official Senate function. In fact, Beauchamp noted, the Senate used precisely that argument of official Senate business in earlier litigation to force Maricopa County to surrender election equipment and the 2.1 million ballots cast there in November.
"Here we have a vendor that is retained precisely to conduct the function that only the Senate is permitted to conduct,'' he said. "The work being done by Cyber Ninjas is the Senate's work.''
Kemp promised a ruling within two weeks.