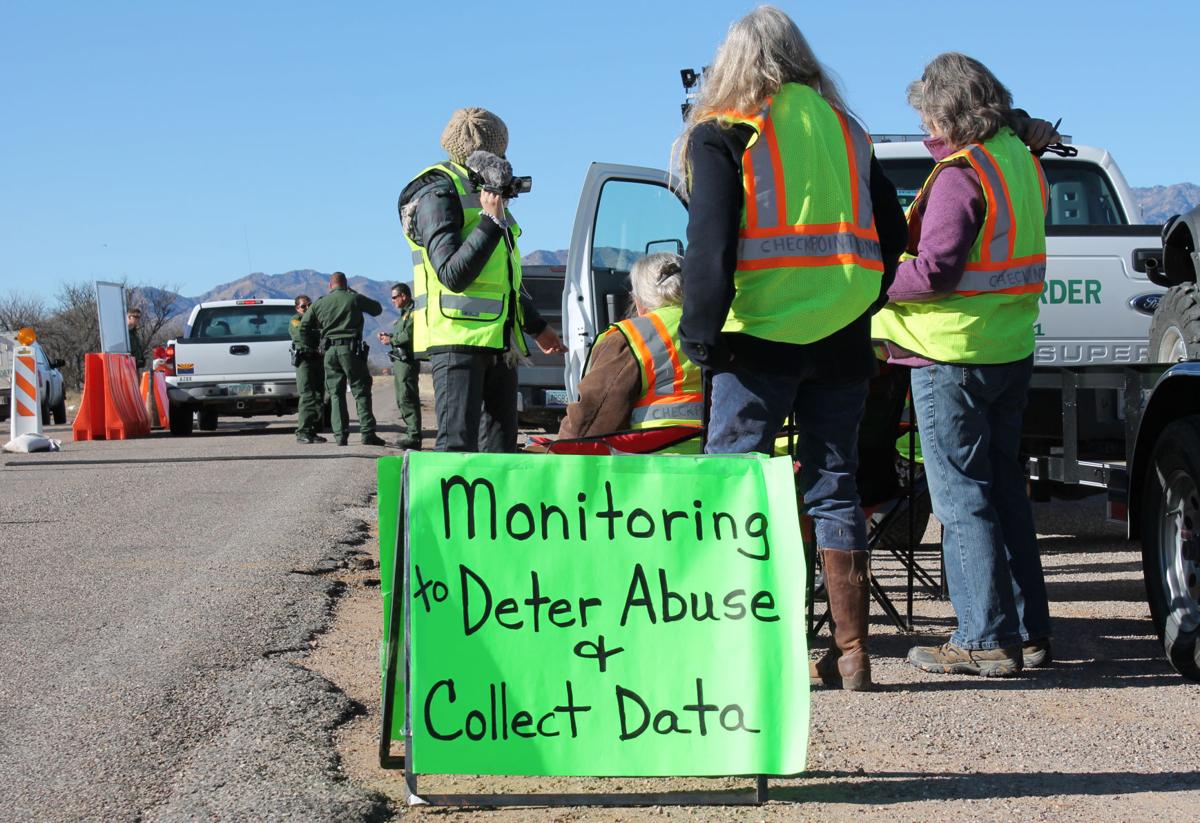 Federal appellate judges grilled an attorney who argued Tuesday that the Border Patrol has the right to keep observers and protesters at least 150 feet in either direction from a controversial checkpoint near Arivaca south of Tucson.
Assistant U.S. Attorney Patrick Nemeroff told the 9th U.S. Circuit Court of Appeals that the entire 300-foot-wide stretch from end to end, including the road and the unpaved right of way, is needed for the federal agency to do its job of screening passing vehicles for people who are illegally in the country.
The checkpoint was established in 2007. Nemeroff acknowledged that police tape and, later, ropes, were not erected until 2013 when individuals showed up to monitor what was taking place and to protest the activity.
But he told the three-judge panel that nothing really changed and, as far as the Border Patrol is concerned, the entire area has been off-limits to outsiders since 2007, meaning it is not an area where people can exercise their First Amendment rights of observation and protest.
"If the government legitimately sets aside an area for some security function, it clearly delineates that area so that the public recognizes 'when I pass this line I'm entering an area that is not devoted to expressive activity,'" Nemeroff said. "It becomes a nonpublic forum."
But Judge Milan Smith Jr. said even assuming there's a legitimate need for the perimeter to conduct legitimate police activity, that still leaves questions.
"Can you bar people from observing that?" he asked.
"Yes," Nemeroff responded.
"That's kind of shocking," the judge retorted.
The checkpoint has been a sore point among some area residents who do not like the fact they are stopped each time they drive eastbound along Arizona 286 between Arivaca and Amado.
They question whether the checkpoint, which has been at the same location for a decade, is effective in finding those in the country illegally.
There have been allegations some motorists are harassed, particularly those who appear Latino.
In an effort to buttress those claims, area residents, along with members of a group called People Helping People, began monitoring the checkpoint in 2013. When the Border Patrol erected the ropes to keep them back at least 150 feet they sued, contending that was too far to do what they wanted to do.
Last year a federal judge rejected their lawsuit challenging the Border Patrol action, resulting in Tuesday's 9th Circuit hearing in San Francisco.
Smith told Nemeroff the Border Patrol has a right to implement policies to keep the checkpoint itself free from outsiders who might interfere with legitimate government activities. But he questioned the unfettered ability of the agency to unilaterally put up ropes to keep observers from getting anywhere close.
"That's not this country," the judge said. "We have an ability and a right to observe what police do, right?"
He had a pointed question for the Border Patrol attorney.
"What is the government prepared to do to give the public the right to observe what's going on?" Smith asked.
Nemeroff countered that there is no absolute right of people for access. He said that's why courts have never set hard-and-fast rules on things such as when and where police can set up a perimeter around a crime scene.
But Judge Sandra Ikuta questioned how much latitude the government has in deciding what area it can set aside where observers are not allowed. She asked what would happen if the Border Patrol wanted a 200-foot or 300-foot buffer zone around the checkpoint.
"I assume it's not your position that the Border Patrol could just decide on their own where the limits was of their area and that would become automatically ... a nonpublic forum," Ikuta said.
Nemeroff said the limits were not arbitrary. He said they start where signs tell motorists to stop and continue to beyond the secondary check area where agents can do more thorough searches.
Attorney Winslow Taub, representing the residents, told the judges that does not necessarily mean the Border Patrol needs the entire area. He said that, if nothing else, the appellate court should send the case back to the trial judge and force the federal agency to justify the perimeter.
Taub also argued that the perimeter erected is not only larger than needed but done specifically to keep out protesters.
Smith seemed to agree, saying he believes such restrictions must be "narrowly tailored," and something the trial judge should have considered. But Nemeroff did not see it that way.
"Courts have never micromanaged the government in terms of where they put these sorts of limits," he told Smith.
To that argument, Smith said it may be that the ropes are appropriate.
"But it seems to me that when you're talking about people wanting to exercise their First Amendment rights to observe, where they're placed is a reasonable, material issue that the court ought to consider," he said. "Somebody has to decide that."
The judges gave no indication when they will rule.