Early this month, a UA researcher spotted on video camera a juvenile male jaguar sauntering 3 miles south of a stretch of newly constructed, but unfinished, border wall.
The rare cat was captured by one of 100 cameras Ganesh Marin, a University of Arizona Ph.D. candidate, had placed on a northern Sonora conservation ranch.
The jaguar's presence showed the importance of the surrounding habitat to the big cat and other mammals, Marin said.
It also showed why he wants at least some of the wall torn down, two months after the last of 226 miles built in Arizona during the Trump administration was finished.
The wall construction, coming from the west, has, at least for now, stopped at a point that would give the jaguar room to cross the border — an important point, Marin said.
The juvenile jaguar's presence also means the borderlands jaguar population could be moving north, Marin and other researchers and conservationists said.
The species is listed as endangered on both sides of the border. Seven adult males have been photographed in the wild in Southern Arizona and New Mexico since 1996.
This juvenile's presence means a female could be relatively close, researchers said. No female jaguar has been seen in the wild in the U.S. since a hunter killed one in 1963 in Arizona's White Mountains.
Marin, a 28-year-old native of the Mexican state of Michoacan who lives in Tucson, has named this jaguar El Bonito ("The Beautiful").
"Finding a needle in a haystack"
The jaguar is about 2 years old, said Gerrardo Ceballos, a biologist and researcher with the National Autonomous University of Mexico.
"El Bonito looks slender, a characteristic typical of juveniles. Mature males are more muscular and bulkier," Marin said, explaining why he thinks it's a juvenile.
El Bonito was roaming a 121,000-acre ranch managed by the non-profit conservation group Cuenca Los Ojos. His discovery was like "finding a needle in a haystack," Marin told National Geographic, which helps finance his research.
For the jaguar's protection, Marin declined to specify where he was photographed. He said the jaguar was captured on four cameras. Video clips show the big cat walking through riparian areas and through prickly pear, cholla and other cacti, he said.
Along a stream, called Cajon Bonito, the jaguar stood next to a narrow strip of cottonwoods, he said. The stream ranges from a little more than 6 feet wide to a little more than 30 feet wide. It is not very deep, but some pools go between 3 and 6 feet deep, he said.
Just that the stream is running is testament to the work of Cuenca Los Ojos, which has spent 40 years restoring a formerly degraded landscape, Marin said. Back then, the stream was dry except after rains.
But by building trincheras, makeshift rock structures laid across low-lying stream stretches, Cuenca los Ojos crews were able to slow down stormwater after floods.
That let runoff seep into the aquifer, raising groundwater levels enough for the stream to flow, said Jeremiah Leibowitz, Cuenca's executive director.
"We've been fortunate through our restoration efforts that the Cajon Bonito, generally speaking, has water year-round," Leibowitz said. "That's brought back a large variety of wildlife. Now we've been very fortunate to catch on camera a jaguar."
It's the second jaguar caught on camera there. In 2019, an adult male was photographed 10 to 15 miles to the east, in mountains almost 5 miles south of the border.
Besides providing Marin a research "laboratory," this project has helped ranch operators learn the location of wildlife corridors on the ranch, he said. That helps them pursue questions about possible impacts on wildlife of the border wall and Mexican Highway 2 running east-west, just south of the border.
"Prime corridor"
The spot where the wall construction was halted comes immediately into view if you walk from where El Bonito was videoed directly north to the border, Marin said. For him, that gap is a real positive for wildlife.
"We have to insure jaguar corridors reach the U.S., and this is a prime corridor for them," he said of this landscape. "Now, the jaguars have to face something big in front of them. Right now we have to start doing thinking about what we're going to do about the border wall.
"It's not only blocking connectivity for jaguars. We're talking about black bears, pumas, bobcats and the whole community of wildlife," said Marin, whose cameras also captured video clips of such animals.
Former President Donald Trump promoted the wall construction as a way to keep drug traffickers and undocumented immigrants in general from entering the U.S. illegally.
President Biden paused wall construction the day he took office and has not allowed construction to resume. He has not responded to calls from environmentalists, scientists and other critics to tear down at least some of the wall.
Biodiversity depends on functional ecosystems
Unsurprisingly, environmental activists who have fought wall construction are thrilled by the jaguar discovery.
The Guadalupe Canyon area north of where El Bonito was videoed is "the place where they blew the tops off the mountains, but they didn't penetrate very far with the new wall," said Randy Serraglio, conservation advocate for the Center for Biological Diversity.
"They shrank the corridor, but the corridor is still open. It remains some of the best cross-border jaguar movement corridors in existence."
Marin is "spot on" in saying the wall will not just harm jaguars, said Myles Traphagen, the Wildlands Network's borderlands project coordinator.
"Food and water sources are unevenly spaced across the landscape and over seasons," he said. "Therefore animals need a lot of space — more than in other places that have more abundant surface water."
University of Wyoming researcher and college dean John Koprowski — long a UA natural resources professor — is Marin's main Ph.D. adviser.
Not wanting to make a political statement about the wall, he agreed the jaguar discovery highlights biological challenges the wall and the adjoining Mexican highway pose — and the fact that wildlife connectivity still exists.
"Our future as humans and the future of biodiversity is intimately tied to the connection, the connectivity that enables us to maintain functional ecosystems," said Koprowski.
Former director of UA's natural resource school, he's now dean of the Wyoming university's Haub School of Environment and Natural Resources.
Koprowski, Ceballos and Traphagen also agree the juvenile jaguar's discovery could mean that a female jaguar could be living nearby, closer to the border than previously thought. That's because juvenile males typically travel no more than 60 miles, while adult males commonly travel hundreds of miles.
The nearest known female jaguars until now live in and near the Northern Jaguar Reserve, 100 miles south of the border, that's run by the Tucson-based non-profit Northern Jaguar Project.
In fact, you cannot discount the possibility that a female lives on this side of the border, perhaps in the Peloncillo Mountains that spill into New Mexico from Arizona's far southeast corner, said Traphagen.
"There is the hope that the breeding population is even closer, and this would suggest a more robust northern jaguar breeding population," Koprowski said.
Photos: Meet Reid Park Zoo's new jaguar Bella
Meet Reid Park Zoo's new jaguar Bella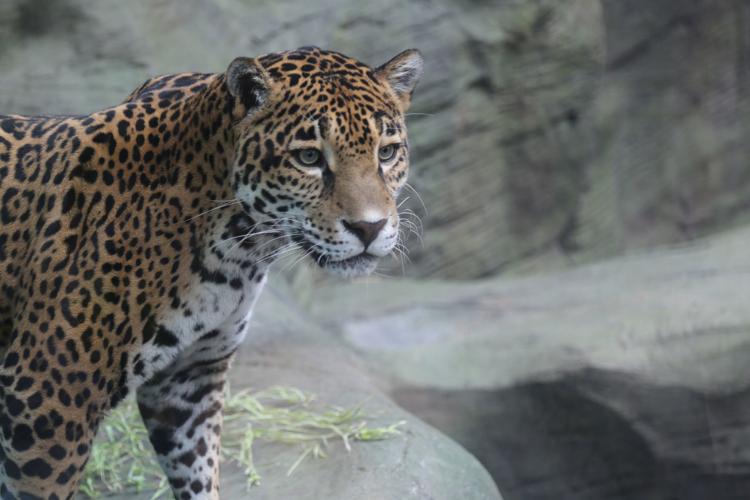 Meet Reid Park Zoo's new jaguar Bella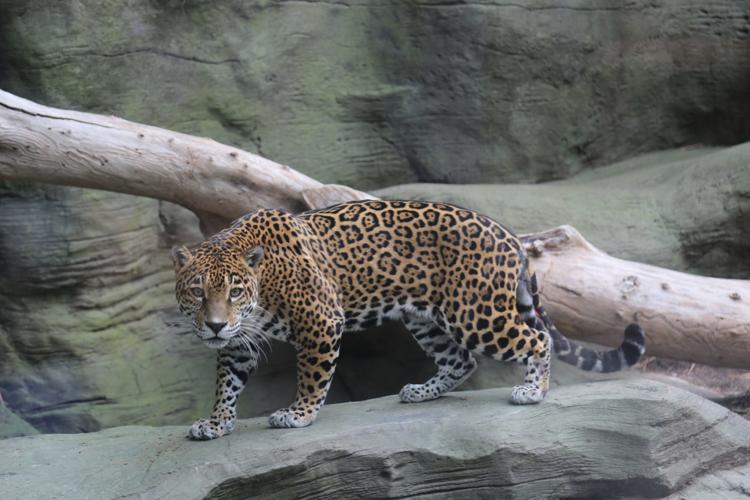 Meet Reid Park Zoo's new jaguar Bella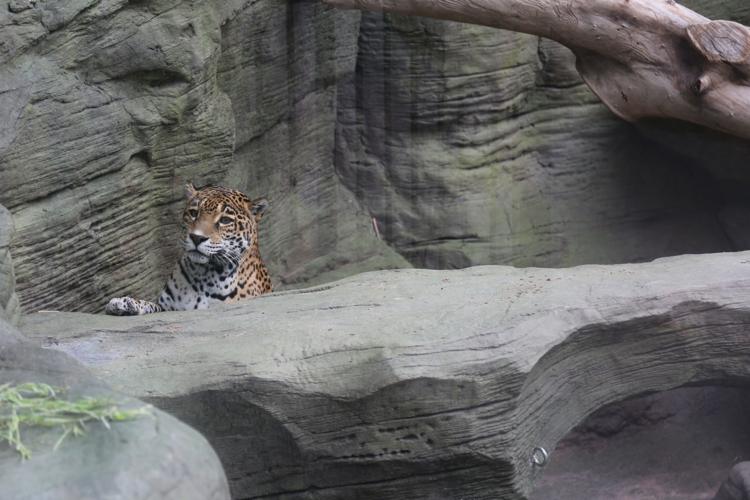 Meet Reid Park Zoo's new jaguar Bella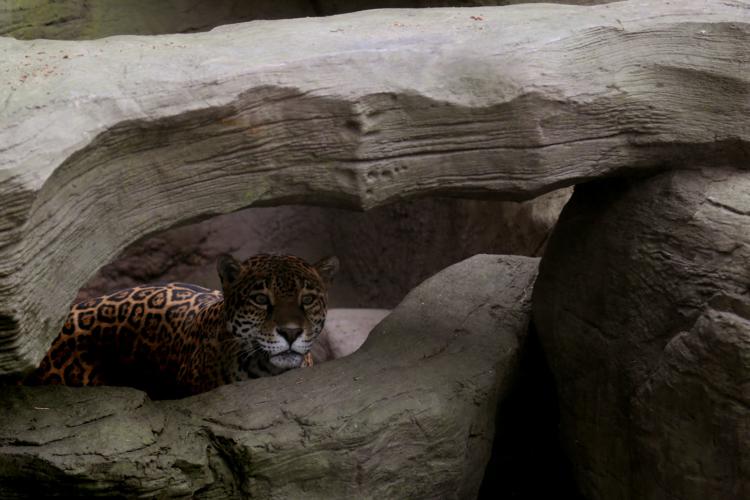 Meet Reid Park Zoo's new jaguar Bella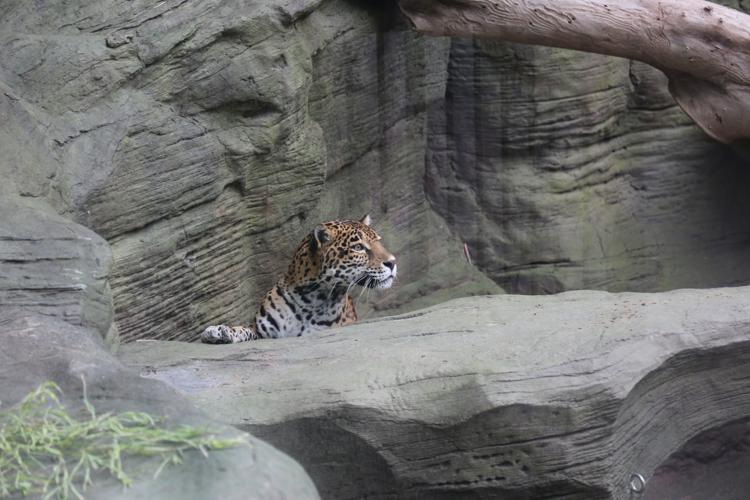 Meet Reid Park Zoo's new jaguar Bella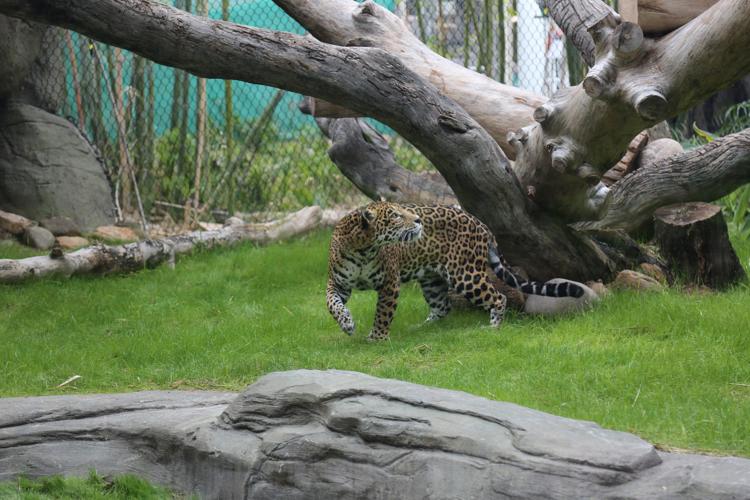 Meet Reid Park Zoo's new jaguar Bella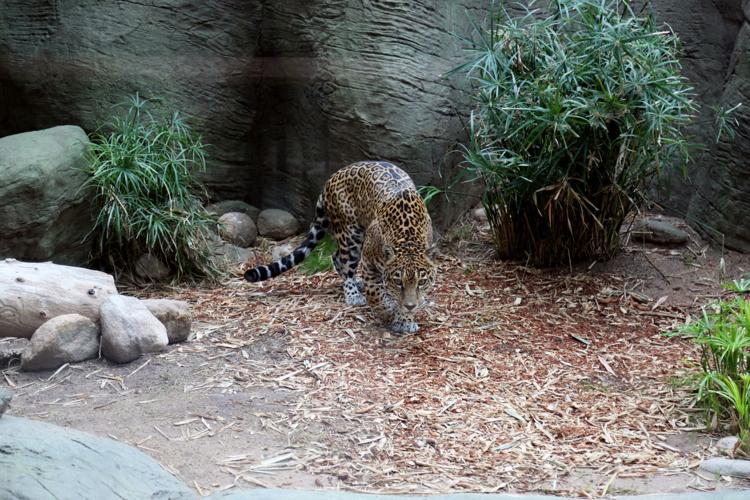 Meet Reid Park Zoo's new jaguar Bella