The Roman Catholic Diocese of Tucson has a new bishop.
For more than a year, the diocese has awaited news of the pope's pick for the job.
Bishop Edward J. Weisenburger comes to Tucson from the Catholic Diocese of Salina in Kansas, appointed by Pope Francis. He will be installed here Nov. 29.
Weisenburger will step into the role held by Bishop Gerald F. Kicanas for about 15 years. He will be Tucson's seventh bishop.
In August 2016, Kicanas submitted his letter of retirement to Rome, as is required for all bishops at the age of 75. A Chicago native, Kicanas plans to stay in Tucson.
"For more than a year, we have been fervently praying to the Holy Spirit to inspire Pope Francis to send us a caring and loving pastor and shepherd for the Diocese of Tucson," Kicanas said at a news conference Tuesday. "The Spirit has heard our prayers and then some."
Standing before reporters Tuesday, Weisenburger admitted this was his first trip to Arizona.
"I was hoping you wouldn't ask that," he said, laughing.
Despite his unfamiliarity with the state, Weisenburger expressed a commitment to migrants and refugees, along with his support for "dreamers," young undocumented immigrants who arrived in the U.S. as children and are temporarily protected by the Obama-era Deferred Action for Childhood Arrivals program.
"I try to recognize the face of Christ in everyone I meet, no matter how good the disguise," he said, referencing an attitude of the late Mother Teresa.
Weisenburger also mentioned the Catholic Church's "value of life" and condemned the sexual abuse of minors, adding that he has spoken with victims and is "completely committed to the safety of the children and young people entrusted to us for their education and formation of faith."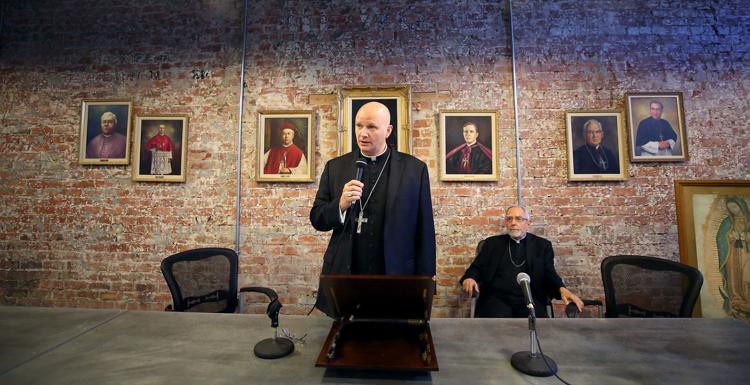 At the news conference Tuesday, Weisenburger also tried out his Spanish — basic but workable — and promised to practice in Tucson.
"It's always a challenge when there's a new bishop, and you don't know which way they'll take the diocese," said the Rev. Gilbert Malu Musumbu, the rector of St. Augustine Cathedral, anticipating how Weisenburger will continue Kicanas' work. "He's younger and we're really looking forward to having him as our new bishop."
Weisenburger was born in Alton, Illinois, on Dec. 23, 1960.
He attended Conception Seminary College in Missouri, graduating in 1983. At the American College seminary at the Catholic University of Louvain in Belgium, Weisenburger earned the pontifical Bachelor of Sacred Theology (a graduate-level degree) and master's degrees in religious studies and moral and religious sciences. Later, he earned a licentiate degree in Canon Law from Saint Paul University in Ottawa, Ontario.
Weisenburger was ordained to the priesthood in 1987.
His years in ministry include serving as a chaplain for rescue workers after the Oklahoma City bombing, as vicar general of the Archdiocese of Oklahoma City and as the promoter of justice for the canonization of Blessed Stanley Rother, a Catholic priest from Oklahoma martyred in Guatemala in 1981.
Weisenburger also served as pastor of Holy Trinity Catholic Church in Okarche, Oklahoma, (1995-2002) and then the Cathedral of our Lady of Perpetual Help in Oklahoma City until 2012.
That's the year that Pope Benedict XVI appointed him as bishop of the Catholic Diocese of Salina.
In Salina's diocese, Weisenburger served about 44,000 Catholics. In Tucson's diocese, he'll serve about 450,000.
Following the installation Mass at St. Augustine's Cathedral, "I plan to have public Masses all around the diocese," Weisenburger said. "I'd rather go to them than make them come to me."
The diocese has been preparing for this. The Rev. Patrick Crino, pastor at Saints Peter and Paul Catholic Church, has served as a priest in the Diocese of Tucson since 1988. He is part of a team that coordinated the announcement and the upcoming celebration.
"It's the sense of being cared for by God, that he's giving us a new pastor," Crino said.
"What has impressed me about Bishop Kicanas is that he never stopped. He never stopped leading, never stopped guiding, never stopped consoling and doing his ministries even though he knew a replacement was coming, and so that's what I think we're hoping for in this new bishop, that he'll be just as dedicated."
Weisenburger has no plans for his early months of ministry — only to get to know the people and places in the diocese. He commended the diocese for its parish life and social outreach.
"My real goal is not to mess it up," he said.