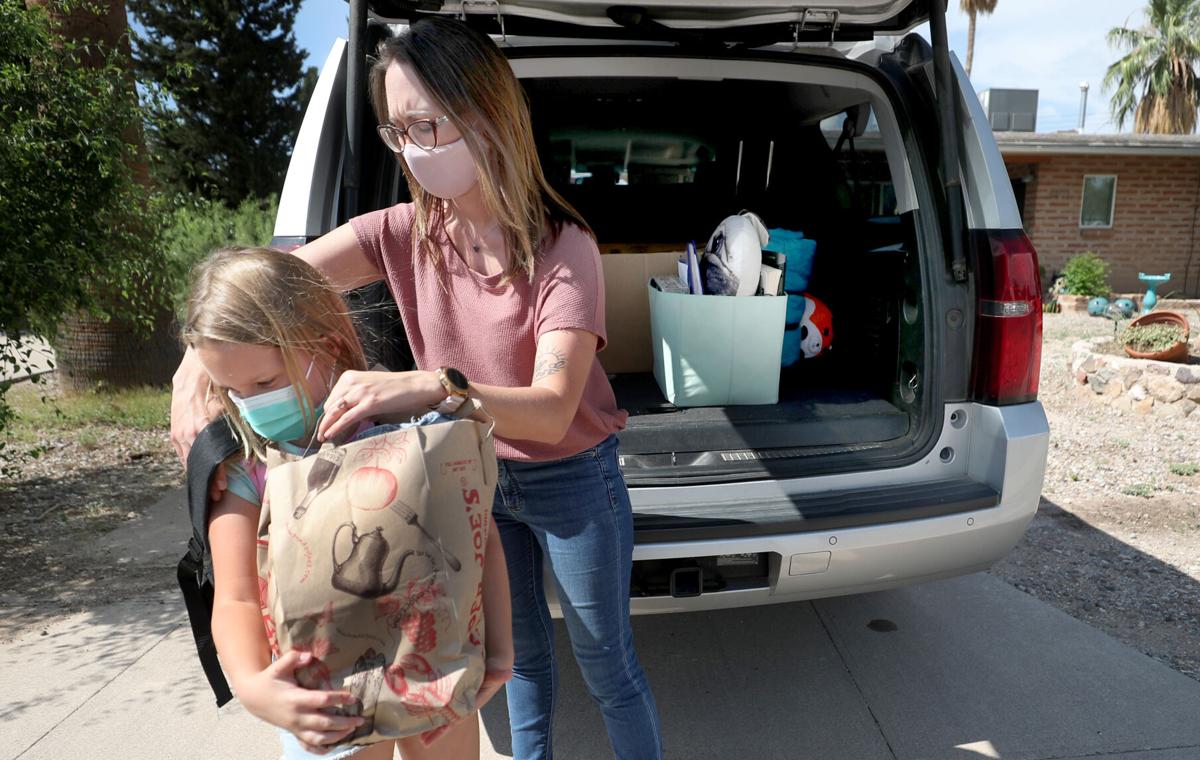 Children 16 and younger are accounting for a growing number of new COVID-19 cases in Pima County and nationwide.
And that rise comes at a time when more than 100,000 county residents — those younger than 12 — are ineligible for the vaccine as schools reopen across Arizona, a state that has prohibited mask mandates in classrooms.
"We're seeing the perfect storm of another resurgence," said Dr. Helene Felman, chief of general pediatrics at Banner Health in Tucson.
She noted the combination of age restrictions on the vaccine, the spread of the much more contagious delta variant, fewer people wearing masks — though some school districts are defying the state and requiring them — and a decline in social distancing.
"Children and young adults will be the demographic most affected."
Since July 20, when county schools first reopened, there have been 212 school cases of COVID reported in Pima County and 14 outbreaks, which means at least two non-family member cases were reported for the same school.
More than 18% of the new cases in Pima County since July 1 are in people 16 and younger.
In total, about 370,000 county residents — including the 100,000-plus children — have not been immunized against a virus that has killed more than 18,000 Arizonans.
During the height of the pandemic, about 14% of cases nationwide were pediatric. But at the end of July, data from the American Academy of Pediatrics shows, that percentage climbed to more than 19%.
Cosme and Marisol Guerrero's 6-year-old son was sick with COVID-19 a week ago — not from school, but possibly from a relative who'd been hospitalized — and they were shocked at how it "knocked him out."
"We didn't know anybody that had their kids get COVID," Cosme Guerrero said. "It was always adults."
They kept watch on him constantly, Marisol Guerrero said, because his behavior was so unusual. They'd of course seen him sick before, she said, but not like this.
"He would wake up really disoriented with nightmares, like he was sleepwalking," she said. "I've never seen him like that, sleeping in the daytime and talking gibberish."
Recent data on children and teens currently hospitalized with COVID-19 were not available from the county or the state's Department of Health Services at the end of the week.
Since the pandemic began, 34 Arizona residents under age 20 have died of COVID-19 and more than 158,000 in that age group have gotten sick from the virus.
Respiratory infections up
With this jump in COVID-19 in kids, there's also been an unusual spike in cases of respiratory syncytial virus, or RSV, here and nationwide.
The virus, typical in winter months but not summer, can be deadly for infants and make children with respiratory challenges very sick, said Felman, a clinical associate professor of pediatrics at the University of Arizona.
Last week in Maricopa County, there were 88 RSV cases reported compared to only four here, but Felman says Maricopa County is "almost always the bellwether for Pima County."
The Centers for Disease Control and Prevention has reported steadily increasing numbers of RSV nationwide since June, particularly in states seeing surges in COVID-19 due to low vaccination rates and high rates of the delta variant.
"We are seeing increased testing for RSV, we believe, as a result of testing for respiratory infections," said Dr. Theresa Cullen, public health director for Pima County. "We are definitely seeing increased numbers, but that may be testing bias — we'll need to see if this results in increased hospitalization."
Cullen and Felman's advice is the same that's been offered throughout the pandemic: Get vaccinated if eligible, wear a mask when indoors regardless of vaccination status, and get tested when sick.
Of people currently hospitalized for COVID-19, 99% are not vaccinated, Felman said.
For Cosme and Marisol Guerrero, these last two weeks have been a flurry of tests, of waiting and, most of all, concern.
Their son was throwing up and "couldn't keep anything down," Cosme Geurrero said. "He was like a zombie."
In addition to the stomach upset, he slept constantly, had high fevers and a sore throat.
Marisol Guerrero said she also got the virus, but she's vaccinated and her symptoms were quite mild.
'No good choices'
For Tucson mother Ashley Fletcher, the COVID-19 delta variant here now means waiting out a young one being sick and keeping family members apart until he recovers.
Fletcher and her husband, William Glancy, have a blended family of seven children. Glancy's 11-year-old biological son is sick with the virus right now. Fletcher and her biological children are now staying with a friend.
Fletcher's children had not yet been exposed to their sick stepbrother, and Fletcher tested negative before going to her friend's home.
"My son has severe asthma and Ehlers-Danlos syndrome, so I've had to keep him away from direct exposure," she said, noting he is not old enough to be immunized against COVID yet.
Fletcher said this year feels more stressful than last year in some ways.
"We've got some kids who can get the vaccine and some who can't," she said. "And we can't keep them home anymore, for their mental health and for ours. There are no good choices."
Plus, she added: "The kids weren't getting sick last year and now they are."